The Donnas @ The Viper Room, 9/17
LAist relies on your reader support.
Your tax-deductible gift today powers our reporters and keeps us independent. We rely on you, our reader, not paywalls to stay funded because we believe important news and information should be freely accessible to all.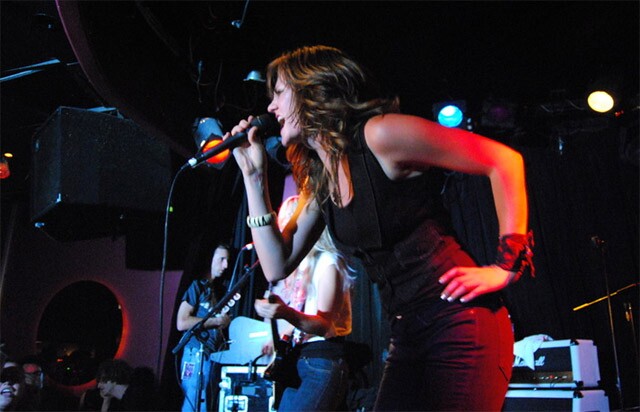 Last week The Donnas held their record release party at the Viper Room to celebrate their new collection of rock, Bitchin', the first release on their own label, Purple Feather.
Opening the mostly all-female Viper Room lineup was Girl in a Coma, followed by our new loves, The Randies. But the night belonged to The Donnas who were all charged up and ready to rock - perhaps more than the audience - and demanded that the glowing crowd rocked out along with them, something that eventually happened.
Playing a set with healthy doses of new material, singer Brett Anderson (they've ditched their Donnas names in favor of their given names) got right into the faces of the sold out clubgoers as her band - Maya Ford on bass, Allison Robertson on guitar and especially Torry Castellano on drums - rocked out as if the hair metal 80s days had never left the Sunset Strip.
Thanking the crowd for busting their Viper Room cherry, Anderson revealed that the band have all now become Los Angelenos, after growing up and spending most of their life in and around Palo Alto.