This is an archival story that predates current editorial management.
This archival content was written, edited, and published prior to LAist's acquisition by its current owner, Southern California Public Radio ("SCPR"). Content, such as language choice and subject matter, in archival articles therefore may not align with SCPR's current editorial standards. To learn more about those standards and why we make this distinction, please click here.
The Donnas @ The Viper Room, 9/17
Support your source for local news!
Today, put a dollar value on the trustworthy reporting you rely on all year long. The local news you read here every day is crafted for you, but right now, we need your help to keep it going. In these uncertain times, your support is even more important. We can't hold those in power accountable and uplift voices from the community without your partnership. Thank you.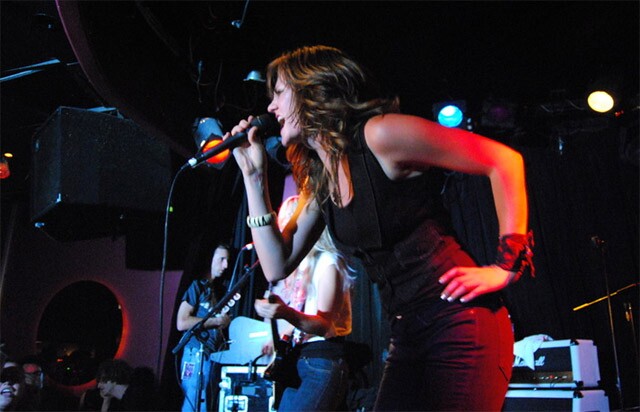 Last week The Donnas held their record release party at the Viper Room to celebrate their new collection of rock, Bitchin', the first release on their own label, Purple Feather.
Opening the mostly all-female Viper Room lineup was Girl in a Coma, followed by our new loves, The Randies. But the night belonged to The Donnas who were all charged up and ready to rock - perhaps more than the audience - and demanded that the glowing crowd rocked out along with them, something that eventually happened.
Playing a set with healthy doses of new material, singer Brett Anderson (they've ditched their Donnas names in favor of their given names) got right into the faces of the sold out clubgoers as her band - Maya Ford on bass, Allison Robertson on guitar and especially Torry Castellano on drums - rocked out as if the hair metal 80s days had never left the Sunset Strip.
Thanking the crowd for busting their Viper Room cherry, Anderson revealed that the band have all now become Los Angelenos, after growing up and spending most of their life in and around Palo Alto.
Although Robertson's guitar moves look a lot like Nancy Wilson, her tone is gnarlier than the Heart sister and she shreds harder. Meanwhile Castellano, more adorable than usual in a bow tie, was non-stop action on the drums, smiling and whipping her hair around and providing a solid foundation.
The Donnas played with a lot of energy, and their new songs are good, however, if they are going to basically play throwback hair rock, they're going to need to either speed up the tempo or realize that just being hot babes playing good, pouty, sexually-charged rock isn't enough these days. Either there needs to be more spectacle or more heart. Both of which was missing at the show.
The Randies, below, always seem to be playing somewhere in LA and yet this was our first time experiencing them. Dude drummer aside, the trio of ladies up front were enjoyable and super cute. And yet, like the Donnas, seemed pretty safe on Monday, but definitely a band we will make sure to see in the future.
Girl in a Coma, below was the first band, but LAist doesn't do a very good job of showing up for the very first band of any lineup. We'll work on that.
The Donnas come back to town October 27 when they return to the Roxy where they played just a few years ago. It's been a pleasure to watch them grow up and master their own style.
And it's always great to see them live.
DJ Anna Dim Mak and Tita Poe provided the sweet tunes inbetween acts. They deserve props too.
bitchin photos by Melissa Renee Hernandez used with permission
But Yeoh is the first to publicly identify as Asian. We take a look at Oberon's complicated path in Hollywood.

His latest solo exhibition is titled "Flutterluster," showing at Los Angeles gallery Matter Studio. It features large works that incorporate what Huss describes as a "fluttering line" that he's been playing with ever since he was a child — going on 50 years.

It's set to open by mid-to-late February.

The new Orange County Museum of Art opens its doors to the public on Oct. 8.

Cosplayers will be holding court once again and taking photos with onlookers at the con.

Littlefeather recalls an "incensed" John Wayne having to be restrained from assaulting her and being threatened with arrest if she read the long speech Brando sent with her.