The Donnas @ The Viper Room, 9/17
Stories like these are only possible with your help!
You have the power to keep local news strong for the coming months. Your financial support today keeps our reporters ready to meet the needs of our city. Thank you for investing in your community.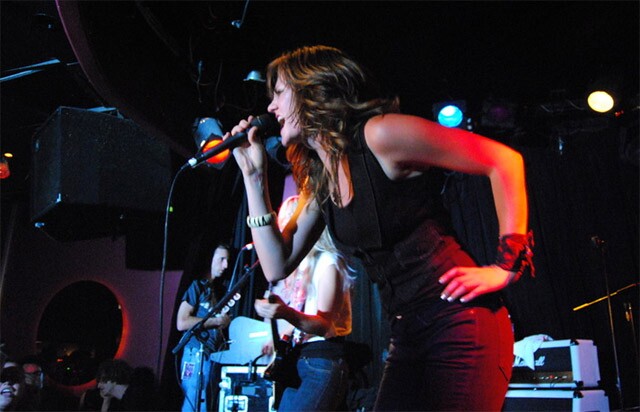 Last week The Donnas held their record release party at the Viper Room to celebrate their new collection of rock, Bitchin', the first release on their own label, Purple Feather.
Opening the mostly all-female Viper Room lineup was Girl in a Coma, followed by our new loves, The Randies. But the night belonged to The Donnas who were all charged up and ready to rock - perhaps more than the audience - and demanded that the glowing crowd rocked out along with them, something that eventually happened.
Playing a set with healthy doses of new material, singer Brett Anderson (they've ditched their Donnas names in favor of their given names) got right into the faces of the sold out clubgoers as her band - Maya Ford on bass, Allison Robertson on guitar and especially Torry Castellano on drums - rocked out as if the hair metal 80s days had never left the Sunset Strip.
Thanking the crowd for busting their Viper Room cherry, Anderson revealed that the band have all now become Los Angelenos, after growing up and spending most of their life in and around Palo Alto.
Although Robertson's guitar moves look a lot like Nancy Wilson, her tone is gnarlier than the Heart sister and she shreds harder. Meanwhile Castellano, more adorable than usual in a bow tie, was non-stop action on the drums, smiling and whipping her hair around and providing a solid foundation.
The Donnas played with a lot of energy, and their new songs are good, however, if they are going to basically play throwback hair rock, they're going to need to either speed up the tempo or realize that just being hot babes playing good, pouty, sexually-charged rock isn't enough these days. Either there needs to be more spectacle or more heart. Both of which was missing at the show.
The Randies, below, always seem to be playing somewhere in LA and yet this was our first time experiencing them. Dude drummer aside, the trio of ladies up front were enjoyable and super cute. And yet, like the Donnas, seemed pretty safe on Monday, but definitely a band we will make sure to see in the future.
Girl in a Coma, below was the first band, but LAist doesn't do a very good job of showing up for the very first band of any lineup. We'll work on that.
The Donnas come back to town October 27 when they return to the Roxy where they played just a few years ago. It's been a pleasure to watch them grow up and master their own style.
And it's always great to see them live.
DJ Anna Dim Mak and Tita Poe provided the sweet tunes inbetween acts. They deserve props too.
bitchin photos by Melissa Renee Hernandez used with permission