This is an archival story that predates current editorial management.
This archival content was written, edited, and published prior to LAist's acquisition by its current owner, Southern California Public Radio ("SCPR"). Content, such as language choice and subject matter, in archival articles therefore may not align with SCPR's current editorial standards. To learn more about those standards and why we make this distinction, please click here.
Residents, Businesses Continue to Express Displeasure with the Sunset Junction Street Festival [Updated]
Support your source for local news!
Today, put a dollar value on the trustworthy reporting you rely on all year long. The local news you read here every day is crafted for you, but right now, we need your help to keep it going. In these uncertain times, your support is even more important. We can't hold those in power accountable and uplift voices from the community without your partnership. Thank you.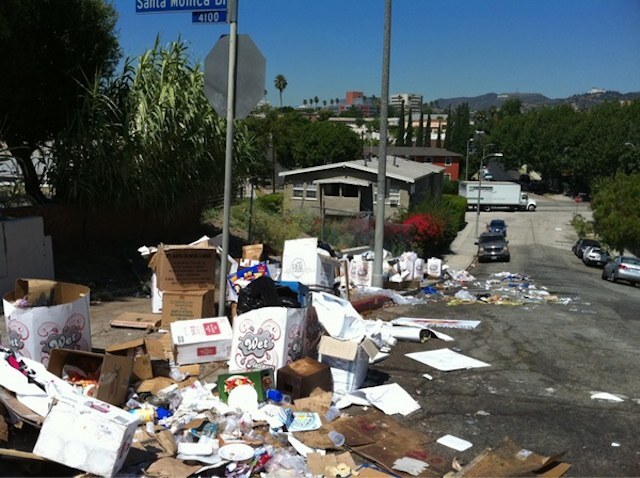 Trash reportedly leftover by Sunset Junction Street Festival organizers | Photo by Devin Pedde via TwitPic
A lot of the music at this weekend's 30th annual Sunset Junction Street Festival was off the hook, but problems from the past persisted. Perception wise, things got off to a rocky start Friday night when the Twitter account for vegan restaurant Flore bemoaned that their employees, save for a few, would have to pay the $20 entrance fee to get to work.
By Saturday morning, a field deputy for Council President Eric Garcetti, who represents the area, dropped by and eventually solved the problem. But the incident was not without exasperation.
"What happened this weekend was unacceptable," said a spokesperson for Garcetti this afternoon. "The organizers committed to us that business owners and employees would have no problems in getting to work. Unfortunately, this did not happen."
Currently, the festival owes the city $259,878 in fees for overtime police, street closures and other services provided. Under a new city ordinance, fees must be paid ahead of time, but organizers and the city came to an agreement to pay within 10 days.
This morning Devin Pedde tweeted out a photo (see it above) of trash apparently leftover from the festival. "'Community Event' aftermath," he wrote, calling attention to various city officials and LAist. Another angry Twitter user posted a video of the mess.
"The state of the streets in the aftermath of the event is absolutely outrageous," Garcetti's spokesman Yusef Robb continued. "Our office has taken on the task of organizing a cleanup ourselves." Robb said cleanup is the responsibility of the organizer and that the city will send them a bill.
A response from the festival could not be immediately obtained. LAist will post one when it comes available to tell their side of the story. [Update: Festival organizers later responded saying street sweepers from the city did not arrive as scheduled to clean the street. Their full statement is posted below.
Reacting to the organizers' statement, Robb saw it another way. "The photographs speak for themselves: the organizers left a mess," he said. "In addition, the organizers are now past due on nearly $260,000 owed to the city."]
Robb also emphasized that Garcetti wants a festival that works. "We want to have an event that makes residents and visitors alike happy. Angelenos should explore each other's neighborhoods. We would hope an event like this would not only bring communities together but would introduce people to the businesses of Sunset Junction. when there's trash in the street, when businesses have to remain closed, when there's an element of chaos, we have to make sure the benefits outweigh the problems."
One store that remained closed throughout the festival stuck out like a sore thumb: Intelligentsia. As one of the most popular spots in the Junction, it was surprising to see it closed. A manager who was cleaning said business tanks during the festival so they take the opportunity to clean the space thoroughly.
Although many question where the money goes, revenues for the Sunset Junction Street Festival are stated to go towards the Sunset Junction Youth Program for at-risk kids. The program was detailed in a rarely-seen 2003 documentary by A&E filmmaker Peter Jones. The intent of the festival 30 years ago was to ease tensions between the gay community and Latino gangs in Silver Lake. Rival gangmembers worked as security.
[Update: The full statement from Sunset Junction organizers:
SUNSET JUNCTION - RESPONSE TO ALLEGATIONS OF TRASH LEFT IN THE STREET We received permission to close the streets with the permit we obtained prior to the event. Technically, the permit should officially put all of the City departments on notice, including the Street Sweepers. The Street Sweepers are supposed to clean the streets after the event, and usually arrive by midnight, with the streets then opened by 4 a.m.

We have long-term relationships with the Street Sweepers having organized this fair for 30 years. The Street Sweepers therefore contacted us independently to check- in. They were concerned as they didn't have anything on record to schedule a clean-up.

Sunset Junction Organizers phoned Ryan Carpio in Garcetti's office on 8/20 to follow-up and to confirm the Street Sweepers for event closing on 8/22, and he said he would handle it.

Contrary to what the Council office states, Sunset Junction independently provided the entire clean-up. Sunset Junction cleaning crews maintained the cleaning of the streets throughout the entire event. Additionally, since the Council office did not provide Street Sweepers as agreed upon with Street Fair organizers and Ryan Carpio, the Sunset Junction cleaning crew was committed to staying over-time, to clean up the entire area, by hand.

Carpio also confirmed that he would arrange a Certificate from the City of Los Angeles to congratulate Sunset Junction on their 30th Anniversary, which would be delivered Sunday (8/22). Our representative spoke to Carpio on 8/20 to re-confirm delivery and he said he would handle it. To date, this still hasn't been received.

Sunset Junction is proud to have presented another successful event for the community, which according to an official LAPD statement obtained by Daily Variety, confirmed that the event went smoothly and "without a hitch."


From the Weekend
-
A Taste of Sunset Junction: Rides, Music, and Eats on the Streets
It's been many, many years since we saw this much snow in our mountains. Going up there right now isn't safe, but here are some places where you can enjoy the view and snap a pic.

April Valentine died at Centinela Hospital. Her daughter was born by emergency C-section. She'd gone into the pregnancy with a plan, knowing Black mothers like herself were at higher risk.

A look at years past when snows creeped into our citified neighborhoods, away from the mountains and foothills.

In the face of a drier future, that iconic piece of Americana is on its way out in Southern California.

Bob Gregory, 62, went missing the same day as Sands. His body was recovered near Mount Islip.