This is an archival story that predates current editorial management.
This archival content was written, edited, and published prior to LAist's acquisition by its current owner, Southern California Public Radio ("SCPR"). Content, such as language choice and subject matter, in archival articles therefore may not align with SCPR's current editorial standards. To learn more about those standards and why we make this distinction, please click here.
Seven Questions: Raekwon, Wu-Tang Clan
Stories like these are only possible with your help!
You have the power to keep local news strong for the coming months. Your financial support today keeps our reporters ready to meet the needs of our city. Thank you for investing in your community.

Raekwon hits the stage at Rock the Bells this afternoon. His long awaited album, Only Built 4 Cuban Linx Part 2 will be released in September.
LA has a diverse cast of characters. Whether it's the characters with stirring stories or interesting occupations or the people who are just simply characters, this town has them all. In an effort to get to know some of those characters a little better, we've created "Seven Questions with..." If you have a suggestion for a future Seven Questions subject send us an email.Today's subject is Raekwon.
Raekwon, born Corey Woods, is a member of the legendary Wu-Tang Clan. Also known as "The Chef," Raekwon won over a following of fans for his incredible storytelling rap flows first heard in the Clan's hit single, "C.R.E.A.M." In 1995 Rae released his debut solo effort, Only Built 4 Cuban Linx, a certified platinum masterpiece that was uniquely narrative driven with a groundbreaking cinematic approach to the album. He followed up the highly influential Cuban Linx, also known as "The Purple Tape" for its distinct purple tinted plastic cassette and CD case, with less successful solo efforts Immobilarity (1999) and Lex Diamond Story (2003).
The Chef, who has also appeared on all five Wu-Tang Clan group albums, has created a sequel to Cuban Linx cleverly titled, Only Built for Cuban Linx Part 2. After several delays, Part 2 which features production from legends Rza, Dr. Dre and J Dilla will finally be released in September.
LAist had a chance to talk to Rae, who has made Los Angeles his second home and will hit San Bernardino's San Manuel Amphitheatre stage this afternoon (approximately 3 p.m.) at Rock the Bells, about the upcoming album, spending time in LA and more.
1) I see you're spending a lot of time out here in LA. Has this become your second home?
I love LA. LA is the land of opportunity for me. It's an opportunity for me to be away from where I'm from but it still feels like I'm home, you know what I mean. We get a lot of love out there. I kind of like it out there. I like the fresh air. I like the people out there.
I think that it's the land of opportunity, there's just so many things that can happen in one day if you're in the right places. Coming from New York, we always felt like California was paradise. The money, the bitches, it just sounds like a fucking paradise for a kid who's never been to this side of the world. To come out there and know that you could bump into a couple of stars, cats are walking down the same street you're walking down. It kind of makes a kid with a dream want to be there. Where we come from there's a lot of broken dreams. We don't think we can wake up one day and see Goldie Hawn walking down the street. I think it's just about admiring the city of dreams and movies.
2) What's the biggest difference between you today, with Cuban Linx 2 and you in 1995 on the original Cuban Linx?
I think the biggest difference is I rhyme better now. I think I got more things to talk about now then I did back then. I think overall, I've become more of a conscience and credible emcee. I think back then I was just getting introduced on how to put words together and make records and albums. I was still living in the inner-city where a lot of things are happening in front of face and I had to write about because that was the only shit I knew when it comes emceeing. You got some emcees who just know how to rhyme, they got vocabulary. That wasn't me. I was a storyteller and drug dealer. I was more of like a moviemaking rhymer. I just stuck to that.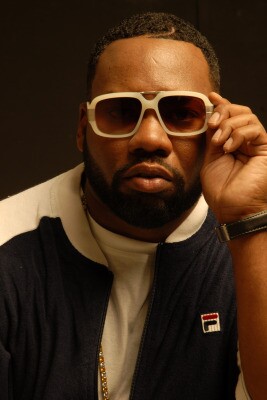 Raekwon has been spending more time in LA. He says, "Where we come from there's a lot of broken dreams. We don't think we can wake up one day and see Goldie Hawn walking down the street."
I think right now, I didn't really change when it comes to going back to this Cuban Linx format. It's nothing for me to go back to something I grew up on. We lived this so when you hear me talk about it, you bet your ass it's going to sound believable. You got emcees who don't know what the fuck they talking about because he never lived it like me. 3) Where do you see hip-hop going?
I think it's all in your mind when you think hip-hop is going somewhere. It's just where are we taking. When people realize that it could make so much money it became more or less about the cosmetic side of it. We forgot all about the nature of it. For people who really love it, they know it's not going nowhere. They know you just got to pick and choose certain fruits that it has to offer.
Right now you got your dance shit, and everyone wants to be happy and have fun. But you got people who want to see growth and development with a new sound. I think these elements get a little stagnant because people don't want to respect the art no more. I don't think there's a lot of emcees who are making art, niggas just want to get on the radio and get their shit on a commercial. It's not about that, it's about a bunch of things. It's different selections of music that we can put our faith into, but we all got our shit on one thing right now.
When you hear my new album, you wouldn't dare play my shit in the club. But then again, you never know because the production is what it is. I may have a new feel on you where you'll think like 'this shit needs to be on the radio.' It's what we make it to be.

For old time's sake here's Raekwon's "Ice Cream" the biggest single off of Only Built 4 Cuban Linx
4) When you put this album together, did you have your fanbase, the people who helped make Cuban Linx a classic, in mind?
Let me tell you something on a scale of one to ten, I would say that my fans are on a 20 mark for me with this album. I realize that I've got older, I'm more mature and all I can do is serve the people who know what I'm capable of. That was a main thing. I was never an emcee who had primetime radio all of the time. We came up out of nowhere. We snatched the crown and we weren't really try to snatch it.
5) In the midst of the delays for Cuban Linx 2, you continue to drop mixtapes and do guest spots on other people's work. How important is that to you to stay relevant while we wait for the new album?
It's definitely important. I got to keep you fed while you wait for the main course. My thing is this, sometimes rules are made to be broken and at that time when we wanted to come out with it, it wasn't sticking the way we thought it should stick. You can never rush a classic. When I go into making an album, I really take my time and I give you your money's worth. In the time in between I've done a lot of touring, a lot of soul searching. I'm a family man, I do have other things that I have to deal with besides making music. This is all growth and development for me as an artist and a person. It's time right now though. Even with the label situation, having to switch and hop from label to label but we got passed that.
6) In the production credits for the album, I see Dr. Dre and J Dilla listed. What was it like working with Dr. Dre? How were you able to get a Dilla beat?
The Dre situation was cool because I'm not only a big fan of Dre but also I go back to NWA too. When I was out there in the streets doing my thing that's the shit that was in my tape deck. It don't matter where it come from, good music is good music. So I was fan of his and Dre was fan of mine. We met through our mutual friend Busta Rhymes. Bus knew I was working on the album and he reached out, he was just being a good friend which is so important in hip-hop, just be real with your peers.
I was like I want to have Dre on the album and Bus was like let me throw that in his ear. Dre was excited, he felt like it was a dream come true because he respected what we, Wu-Tang, was able to accomplish. It's interesting to get a top dog producer from the West Coast on what's basically an east coast vibe album. Dre told me he wanted to work with you for a long time. Next thing you know, it was made. I came up in the studio and and was a machine, I Xeroxed that good shit on his beat. It was an honor.
Working with Dilla was also through Bus. I didn't get the beat from Dilla's hand though. One of his beat CD was circulating and Bus was like you got to hear this. I think Bus' ear is golden so I always listen to him. He was right, I wanted that beat. I got a chance to talk to Dilla on the phone and thank him for making that good shit. He passed away like a month later. Shit broke my heart. He had so much to offer. It ain't always about the producer whose always on the radio, it's about the guys who work so hard. Jay Dilla was definitely a mean dude. He was nice. We wasn't hearing him like that up in New York so for me to get an opportunity to go into his catalog, I'm like 'Oh shit!' It felt so good to have him on the project. Good God he went in on that beat.

Raekwon feat. Inspectah Deck, Ghostface Killah & Method Man - "House of Flying Daggers" (produced by J Dilla)
7) You're pretty active on Twitter. How do you think it's helped your career? Also, I noticed you having some conversations with other artists, for example I saw Questlove and you talking a while back, do you like giving fans the chance to see these conversations take place in the public form of Twitter?
I think it's perfect because it gives me the opportunity to have intimate moments with the fans. I can be more personal. I can have more mature conversations with the people from the industry and it also brings the public into those conversations. It's the biggest form of marketing I've got right now. From the bottom of my heart, I want to give the fans their money's worth. I want to give back to them, if it weren't for fans I don't know where my life would be right now. With Twitter I can hit those people up, it makes your fans feel good. We need to be more hands-on and Twitter's helped me do that.
Questlove is probably a fan of mine because I'm a fan of him. He brought a legend to the table. My thing is, before everything we need to respect the art. That's what we're missing right now. Make good music and listen to good music and everything will be alright.