This is an archival story that predates current editorial management.
This archival content was written, edited, and published prior to LAist's acquisition by its current owner, Southern California Public Radio ("SCPR"). Content, such as language choice and subject matter, in archival articles therefore may not align with SCPR's current editorial standards. To learn more about those standards and why we make this distinction, please click here.
Sunset Junction w/ Radars To The Sky, The Happy Hollows & Castledoor @ Bates Stage, 8/23/08
Support your source for local news!
Today, put a dollar value on the trustworthy reporting you rely on all year long. The local news you read here every day is crafted for you, but right now, we need your help to keep it going. In these uncertain times, your support is even more important. We can't hold those in power accountable and uplift voices from the community without your partnership. Thank you.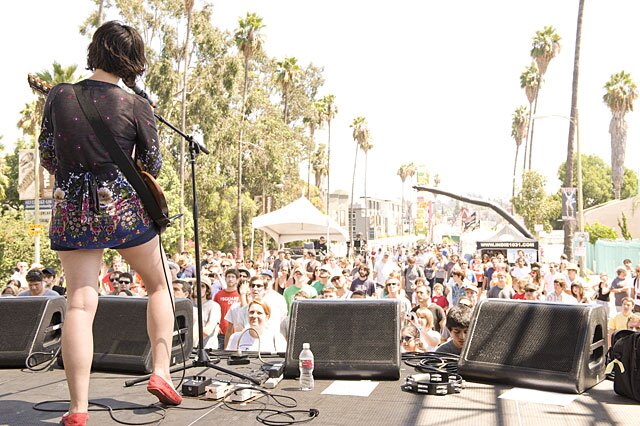 Part one of three.
Monday: Radars to the Sky, The Happy Hollows, Castledoor.
Tuesday: Bodies of Water, Johnathan Rice.
Wednesday: The Henry Clay People, Gram Rabbit.
---
Two weeks ago, the 28th annual Sunset Junction Street Festival (MySpace) took place in Silver Lake. And while much of the fallout has focused on the admission fee and affected businesses, Saturday's lineup at the Bates Stage featured several buzzworthy artists from the indie music scene, starting with three locals covered previously here -- Radars to the Sky (MySpace), The Happy Hollows (MySpace), and Castledoor (MySpace) -- followed by Bodies of Water (MySpace), Jonathan Rice (MySpace), The Entrance Band (MySpace), Langhorne Slim (MySpace), and Menomena (MySpace), and ending with Broken Social Scene (MySpace) and Cold War Kids (MySpace).
Both Travis Woods at Web In Front and Mouse at Classical Geek Theatre covered the festival in laborious detail, with Woods observing that "...despite whatever claims of unity the fair was constructed upon and still tangentially purports to highlight, Day One of the two-day affair was, in nearly all respects excepting the overwhelmingly good music, a massively shuddering and disorganized letdown lost in a sundrunk haze of overblown pricing, gargantuan delays, clueless staffing, and disrespect to both the bands playing and the Angelinos watching. The only unity or unifying theme found within Sunset Junction, at least on the first day, was one of disappointed, disgruntled division," and Mouse agreeing that "...day one of the east LA street fair was a scarcely mitigated disaster, made easier to handle only by a couple of well-played sets by local bands early on."
Said artists remarkably persevered under the circumstances, especially since many of their performances were astonishingly cut to twenty minutes due to an hour-long delay in the overall schedule so the set times could be restored for the evening's headliners.
As for upcoming local shows, Radars to the Sky's is on September 15th as part of Death to Anders' (MySpace) month-long residency at The Echo (MySpace), and The Happy Hollows' are on September 18th at Alex's Bar (MySpace) in Long Beach, September 22nd at The Echo, and The Avalon in Hollywood, opening for Deerhoof (MySpace).
Special thanks to Radars to the Sky, The Happy Hollows, Castledoor, and Spaceland Productions.
But Yeoh is the first to publicly identify as Asian. We take a look at Oberon's complicated path in Hollywood.

His latest solo exhibition is titled "Flutterluster," showing at Los Angeles gallery Matter Studio. It features large works that incorporate what Huss describes as a "fluttering line" that he's been playing with ever since he was a child — going on 50 years.

It's set to open by mid-to-late February.

The new Orange County Museum of Art opens its doors to the public on Oct. 8.

Cosplayers will be holding court once again and taking photos with onlookers at the con.

Littlefeather recalls an "incensed" John Wayne having to be restrained from assaulting her and being threatened with arrest if she read the long speech Brando sent with her.