This is an archival story that predates current editorial management.
This archival content was written, edited, and published prior to LAist's acquisition by its current owner, Southern California Public Radio ("SCPR"). Content, such as language choice and subject matter, in archival articles therefore may not align with SCPR's current editorial standards. To learn more about those standards and why we make this distinction, please click here.
How Public Art In L.A. Was Shaped By The 'Cultural Caudillo' Of The Mexican Revolution
Before you read more...
Dear reader, we're asking you to help us keep local news available for all. Your financial support keeps our stories free to read, instead of hidden behind paywalls. We believe when reliable local reporting is widely available, the entire community benefits. Thank you for investing in your neighborhood.
From the murals of Estrada Courts to Echo Park's famed "Lady of the Lake," many of Los Angeles' most famous examples of public art owe their lineage to the three years that a guy you've probably never heard of spent as Mexico's Secretary of Public Education in the early 1920s.
But, before we get into all that Los Angeles has to offer (and how much of it can be traced back to that former Secretaría de Educación Pública), we should probably address what we mean by "public art" in the first place.
In theory, it's pretty self-explanatory: public art is, by definition, art accessible to and designed for the public.
Public art is free, requires no tickets, and theoretically has no lines. Some works of public art have become essential city landmarks (think Anish Kapoor's Cloud Gate, aka "The Bean" in Chicago's Millennium Park), inextricable from how we envision the city that houses it.
But is just being outside enough to make something public art? Physical accessibility is perhaps the purest requirement for public art, but not the only one. To meet not just the literal definition, but also the spiritual one, public art must have some kind of relationship with the people, and its environment. As Sam Hall Kaplan wrote in the L.A. Times, public art "tells you where you are."
Which makes public art all the more crucial in Los Angeles, long the country's scapegoat city for placelessness—a town alternately slammed and celebrated (depending on whom you ask) for being a private city, centered behind gates and walls.

José Vasconcelos in 1914. (Photo via Wikimedia Commons)
Murals are arguably the most important, and definitely the most numerous, mode of public art here in L.A. The city, long hailed as the mural capital of the world, has a rich tradition of muralists making underrepresented cultures their subject matter. Murals are by nature site-specific—they simply can't be prepared in an artist's studio and then plopped into the landscape. They also encompass the two (often mutually exclusive) poles of public art: on one end of the spectrum, there's the civic commission, hailed from above and laden with bureaucracy, and on the other end, the colloquial work, "art that allows anyone who has a vision and $10 for paint and brushes to turn a garage door into an alternative vision of the city."
José Vasconcelos, one of the most influential and controversial figures in the development of modern Mexico, took the helm of the country's newly created Secretariat of Public Education in 1921 and quickly made it his mission to educate the public through art. He created a government-backed mural program to promote revolutionary ideals, civic pride and Mestizo identity on a grand scale, visually conveying his messages to a population that was then largely illiterate. Vasconcelos was hailed as the "cultural caudillo of the Mexican Revolution for his enormous influence.
Mexican mural traditions may date back three millennia, but Vasconcelos spawned Mexican muralism as we know it today, employing Diego Rivera, José Clemente Orozco, and David Siqueiros, known as "Los Tres Grandes" for their immense influence. Rivera may have been the most famous of the three, but it was David Siqueiros, the youngest in the group, who would go on to create one of Los Angeles' most important works of public art.
LA AMERICA TROPICAL

(Photo by Paul L. via Yelp)
David Siqueiros came north to Los Angeles in 1932 after being expelled from Mexico. The internationally renowned artist received a hero's welcome, fêted by Hollywood and civic society. He stayed in the city a mere seven months, but still managed to invent a new method for painting on outdoor walls in collaboration with Richard Neutra, create three murals in said method, mount two exhibitions and even find time to get married, according to East of Borneo.
Siqueiros was commissioned to create a massive mural for the then-new Olvera Street, downtown's EPCOT-ish and anglicized tourist revival of the city's Spanish past. Who better to depict L.A.'s Mexican heritage, writ large, than one of the Tres Grandes himself? Siqueiros' new method was created in collaboration with Richard Neutra, and Siqueiros used it to complete América Tropical, on the very prominent exterior wall of the Italian Hall building, which faced Olvera Street.
There was, of course, a catch. Leaders were expecting the kind of heavily romanticized version of history befitting of a cultural center that had displaced members of the actual immigrant population it sought to represent...but that wasn't what Siqueiros had in mind at all.
When he finally revealed the 18-foot-by-80-foot work, the audience was said to have audibly gasped. Expecting lush Spanish nostalgia, they were shocked to see the central and symbolic focus of Siqueiros' painting: an indigenous man being crucified on a double cross, capped by an American eagle. The mural was met with great controversy from its unveiling, with many critics declaring it a masterpiece, and civic leaders decrying its revolutionary, anti-imperialist message. Within a few years, the mural had been entirely painted over. The obliteration of the mural transformed it, as Christopher Knight, an art critic for the L.A. Times, wrote "from a blistering emblem of social justice into a gnawing symbol of suppression."
Siqueiros' masterwork would remain largely forgotten until the late 1960s, when a generation's worth of exposure to the elements began to reveal traces of the masterwork beneath the whitewashing, perfectly timed to coincide with the Chicano movement and its murals. Beginning in the late 1990s, the Getty Center teamed with the city for a multi-million dollar restoration effort, which was completed in 2012.
América Tropical is located at 125 Paseo De La Plaza Los Angeles, CA 90012
LADY OF THE LAKE

(Photo by Maggie Mbroh via the Creative Commons on Flickr)
Around the same time América Tropical was slowly being painted over, one of the largest public art projects in American history was taking shape (and yes, it can be traced back to Vasconcelos's influence, just wait).
In 1934, during the depths of the Great Depression, the Public Works of Art Project (PWAP) was first launched (it would be followed by its better known successor, the Works Progress Administration). PWAP was a mammoth effort, according to the Smithsonian, who report that "in roughly the first four months of 1934 [PWAP] hired 3,749 artists and produced 15,663 paintings, murals, prints, crafts and sculptures for government buildings around the country." According to KCET, Southern California's regional PWAP committee featured such luminaries as Cecil B. DeMille and Arthur Miller himself. One of the earliest PWAP projects, a 14-foot Art Deco statue, holds court on a small peninsula at the edge of Echo Park Lake.
Ada May Sharpless, a Santa Ana girl who'd spent a good spell of the 1920s as an artist in Lost Generation Paris, was among the first artists accepted into the program. She completed her ambitious clay sculpture in June 1934, a majestic female figure meant to represent the city's patron saint, the Queen of the Angeles (though officially known as Nuestra Reina de Los Angeles, the statue is far better known as the Lady of the Lake). KCET reports that although funds were initially secured to cast the statue in bronze, it was ultimately rendered, like many Southern California New Deal sculptures, in poured concrete, then "a new cost-effective Depression era favorite." She was neglected for much of the latter half of the twentieth century, and eventually shelved in storage in 1986, fingers broken and graffiti scrawled. The Lady of the Lake returned in 1999 restored.
Lady of the Lake is located at 700 Glendale Boulevard in Echo Park.
MUSE OF MUSIC, DANCE, DRAMA AND HOLLYWOOD BOWL WPA FOUNTAIN

Vintage postcard, postmarked on January 25, 1951. (Image via Jasperdo via the Creative Commons on Flickr)
You've probably passed the Muse of Music, Dance, Drama countless times driving past the Hollywood Bowl, unaware that that it was not just the largest of the WPA projects in Southern California, but also heralded as one of the most ambitious WPA projects in the country. As its name suggests, the Art Deco-inspired monument depicts the muses of the arts, standing high over the Hollywood Bowl's Highland entrance. It was created by George Stanley, whose best known work was only 13 1/2 inches tall (he famously created the original Academy Awards statuette).
The muses stand guard over a gorgeous Streamline Moderne-style fountain covered with slabs of decorative granite quarried in Victorville (who knew?).
Like many of the New Deal projects, the famous fountain also fell into disrepair for decades, and renovations were completed in 2006.

Side view of the fountain and statues. (Photo by Aidan Wakely-Mulroney via the Creative Commons on Flickr)
So how, you may be wondering, does Vasconcelos figure into all these New Deal projects? Pretty directly, as history would have it. Let's backtrack to the early 1930s, when George Biddle, an artist and childhood friend of President Franklin D. Roosevelt, came to Roosevelt with an idea for employing artists during the darkest days of the Great Depression. Biddle based his idea—which originally centered on murals but would eventually become the PWAP, and later lead to WPA art projects like the Muse of Music, Dance, Drama—on the government-sponsored work of the Mexican muralists, directly referencing the movement in the 1933 letter to Roosevelt where he proposed the project.
"There is a matter which I have long considered and which some day might interest your administration," Biddle wrote to Roosevelt in May 1933, explaining how the Mexican muralists worked at "plumbers' wages" to "express on the walls of government buildings the social ideals of the Mexican revolution," and how he imagined that the young artists of America too could "[express] in living monuments the social ideals that you are struggling to achieve." Roosevelt was into the idea and supported Biddle, but Biddle's proposal was initially rejected by the national Fine Arts Commission, who were understandably weary of setting a bunch of lefty artists loose on government buildings. Roosevelt, in turn, subtly encouraged Biddle to persevere with the effort in one of the more badass presidential memos I've ever seen:
You talked of Rivera and "social ideals" and the "Mexican Revolution." You stuck your neck out. I can't have a lot of young enthusiasts painting Lenin's head on the Justice Building. They all think you're communists. Remember my position. Please. I wash my hands. But here's the dirt. Now it's up to you.
The above statement was quoted from George Biddle's 1939 memoir An American Artist's Story, by way of Marilyn Wyman's 1982 dissertation on New Deal art projects in Southern California.
By December 1933, the first government relief project for the arts was formed, with an initial million dollars set aside for the fledgling PWAP.
Muse of Music, Dance, Drama is located at 2301 North Highland Avenue at the entrance to the Hollywood Bowl.
GREAT WALL OF LOS ANGELES

The Great Wall of Los Angeles. (Photo by Kent Kanouse via the Creative Commons on Flickr)
Did you know that one of the world's longest murals is right here in the Valley, running the length of six city blocks along the Los Angeles River, and depicting the entire history of Los Angeles, though not exactly the version found in history books? The Great Wall of Los Angeles, as the half-mile mural is known, runs along the Tujunga Wash in the San Fernando Valley, and depicts the history of California (its official title is, in fact, The History of California), told through the eyes of those often forgotten by history, with an emphasis on the viewpoints of women and minorities. The massive scope of The Great Wall of Los Angeles took five summers to complete, with its leader directing 30 professional artists and an estimated 450 teen workers, a portion of whom were recruited through the juvenile justice system. How does such a thing get done? Enter Judy Baca, a Mexican American artist and activist born in Watts and raised in Pacoima. Baca mixed art and activism for her entire adult life—she was fired from her position as a high school teacher for her role in Chicano Moratorium rallies in 1970, and later took a job with the Los Angeles Parks and Recreation Department, where, according to KCET, she taught students and community members how to tell their stories through murals, "essentially creating the city's first mural program."
But essentially wasn't enough for Baca, who would go on to help initiate the city's actual first mural program in 1974, called the Citywide Murals Program. Two years later, she cofounded the Social and Public Art Resource Center (SPARC), a nonprofit dedicated to community-involved public art. The Great Wall of Los Angeles was SPARC's first major project. She was first contacted by the Army Corps of Engineers (who control the river) about a possible beautification project for the eyesore of a flood control channel in 1974, and she subsequently went to Mexico to study mural techniques, where she was directly influenced by the legacy of Vasconcelos and Siqueiros.
"When I first saw the wall, I envisioned a long narrative of another history of California; one which included ethnic peoples, women and minorities who were so invisible in conventional text book accounts, " Baca said.
Baca set out to work on the 2,754-foot mural in the summer of 1976, and completed it—600 gallons of paint later—in 1981.

(Photo by Urban Bamboo via the Creative Commons on Flickr)
If process—and specifically the role of the artist in the community—is part and parcel of public art (think the New Deal projects), then few projects could be more exemplary than Baca's Great Wall. The teen workers, who were paid for their labor, "had input regarding the mural's narrative structure and design," and Baca also offered job and drug counseling for her workers, along with weekly classes on a variety of topics."I dreamed of a tattoo on the scar where the river once ran as a metaphor for healing our city's divisions of race and class and proposed the Great Wall of Los Angeles, " Baca said.
Great Wall of Los Angeles is located at 12900 Oxnard Street in North Hollywood.
THE MURALS OF ESTRADA COURTS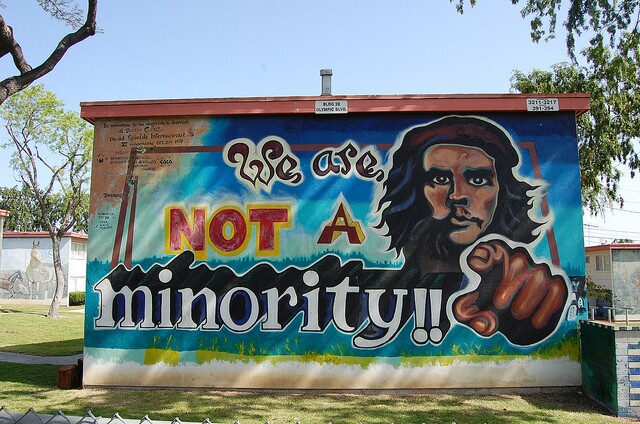 Estrada Courts mural. (Photo by Lisa Newton via the Creative Commons on Flickr)
When construction was completed on Estrada Courts in 1942, it was one of the nation's first racially integrated public housing projects. By the 1970s, the sprawling Boyle Heights apartment complex was predominately Latino, and its walls had become the vivid epicenter of a second Los Angeles mural renaissance, painted at the height of the Chicano Civil Rights movement.
Echoing many of the same themes as Baca's Great Wall, the murals that cover the walls of Estrada Court (and much of Boyle Heights and East Los Angeles), are an outgrowth of political consciousness, indicative of a kind of reclaiming of public space, both physically, and in terms of the cultural pride and heritage that they celebrate.
Much like the América Tropical-era first renaissance, this second renaissance of L.A. murals was very much in the tradition of Mexican muralists, both politically and aesthetically. Isabel Rojas-Williams, executive director of the Mural Conservancy of Los Angeles, has defined the walls of Estrada Courts as "the site of the 1970s birth of the Chicano Mural Art Movement." More than 80 murals were painted on the complex's walls in the '70s, and roughly 50 remain. According to the Los Angeles Conservancy, the art of Estrada Courts is considered to be one of the first "mural clusters" in the country.
Estrada Courts is located at 3200 to 3300 E. Olympic Boulevard in Boyle Heights (it spans three blocks).


(Photo by Lisa Newton via the Creative Commons on Flickr)
Update [Sept. 27]: El Pueblo Historical Monument will be celebrating the 85th anniversary of América Tropical this Saturday with a panel discussion on muralism, kids activities, and more.