This is an archival story that predates current editorial management.
This archival content was written, edited, and published prior to LAist's acquisition by its current owner, Southern California Public Radio ("SCPR"). Content, such as language choice and subject matter, in archival articles therefore may not align with SCPR's current editorial standards. To learn more about those standards and why we make this distinction, please click here.
Pencil This In: Fairy Tale Theatre for Adults, LA Collective Show Opens and Comic Book Discussion at Meltdown
Support your source for local news!
The local news you read here every day is crafted for you, but right now, we need your help to keep it going. In these uncertain times, your support is even more important. Today, put a dollar value on the trustworthy reporting you rely on all year long. We can't hold those in power accountable and uplift voices from the community without your partnership. Thank you.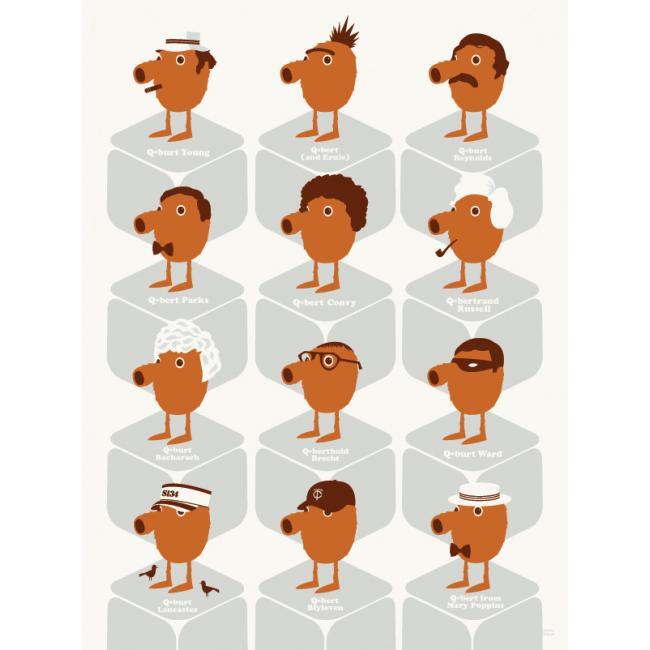 'Multiplayer' at Gallery 1988 in Venice runs through Feb. 4 | Image: Spike Press 'Q*Berts'
FAIRY TALE THEATER
Tonight's the opening night for Fairy Tale Theatre: 18 & Over's monthly residency at ACME Comedy. Written & Performed by J. Michael Feldman, directed by Annie McVey, and puppeteered by Jess McKay, Fairy Tale Theatre helps grown ups with refresher lessons on sex, relationships, financial stability and parking regulations among other topics through a collection of fairy tales and fables. Tickets: $10 online, $15 at the door. Every third Thursday of the month in 2011.
READING
Tonight at 7 pm, the Pasadena Museum of California Art (PMCA) welcomes LA author who'll read new work as part of the museum's Written in California series. Her 2010 novel The American Painter Emma Dial focused on the life of a studio assistant of a famous painter: He dreams the ideas and she does the painting. (Inspiration? She was Jeff Koons' studio assistant.) The museum's galleries are open from 6-7 pm. Exhibits and the program are free. 

ART
Gallery 1988 in Venice opened its Multiplayer exhibition last weekend. It's a show of limited-edition posters that were inspired by video games. Old school video games like Frogger, Q*Bert, Duck Hunt and The Legend of Zelda. Runs though Feb. 4.
COMIC BOOKS*
Meltdown Comics is holding its first meeting of the comic-book-of-the-month club tonight at 7 pm. The evening's discussions will focus entirely on The Walking Dead—books and the television series. Both comic book newbies and experts welcome. Jenna Busch (Huffington Post, Cineboobs) leads a discussion on the AMC show, followed by a discussion lead by Stephanie Wooten from Nerds in Babeland on the comic book series. There will be a zombie make-up tutorial and free drinks to boot. Tickets: $6. The discussion will also be streaming online if you can't make it tonight.
MINDSHARE
Mindshare LA offers learning and cocktails at the same time. Tonight's topics include: Moran Cerf, a neuroscientist at Caltech, UCLA's Department of Neurosurgery and NYU, on "The Illusion of Free Will"; Steve Duncan, an urban historian and photographer & PhD Candidate in History, UC Riverside, on "Finding History in Sewers: Urban Explorations around the world" and Ian Ingram, a "Lamettrian Geppettoist" on 'Worms in Space and Woodpecker Sexbots." Tonight's festivities begin at 7 pm with cocktails and networking, and the official program begins at 8:30 pm. Tickets: $30.
ART
Collective Show Los Angeles 2011 is an artist-organized exhibition of newish (formed in the past five years) contemporary LA-based art groups. More than 30 groups—including 323 Projects, Actual Size Los Angeles, Elephant, The Elysian Park Museum of Art, Eternal Telethon, Human Resources, The Public School, Silvershed—will exhibit artwork, publications and posters at 995, 997 North Hill Street in Chinatown. The opening reception will be held tonight from 6-9 pm. Open this weekend and next. Please see the calendar for listings of screenings, performances and talks.
*Pencil pick of the day
Want more events? Follow me on Twitter (@christineziemba).
Donald Trump was a fading TV presence when the WGA strike put a dent in network schedules.

Pickets are being held outside at movie and TV studios across the city

For some critics, this feels less like a momentous departure and more like a footnote.

Disneyland's famous "Fantasmic!" show came to a sudden end when its 45-foot animatronic dragon — Maleficent — burst into flames.

Leads Ali Wong and Steven Yeun issue a joint statement along with show creator Lee Sung Jin.

Every two years, Desert X presents site-specific outdoor installations throughout the Coachella Valley. Two Los Angeles artists have new work on display.