This is an archival story that predates current editorial management.
This archival content was written, edited, and published prior to LAist's acquisition by its current owner, Southern California Public Radio ("SCPR"). Content, such as language choice and subject matter, in archival articles therefore may not align with SCPR's current editorial standards. To learn more about those standards and why we make this distinction, please click here.
Quentin Tarantino Takes Over New Beverly Cinema After An Uneasy, 'Not Very Nice Or Pretty' Transition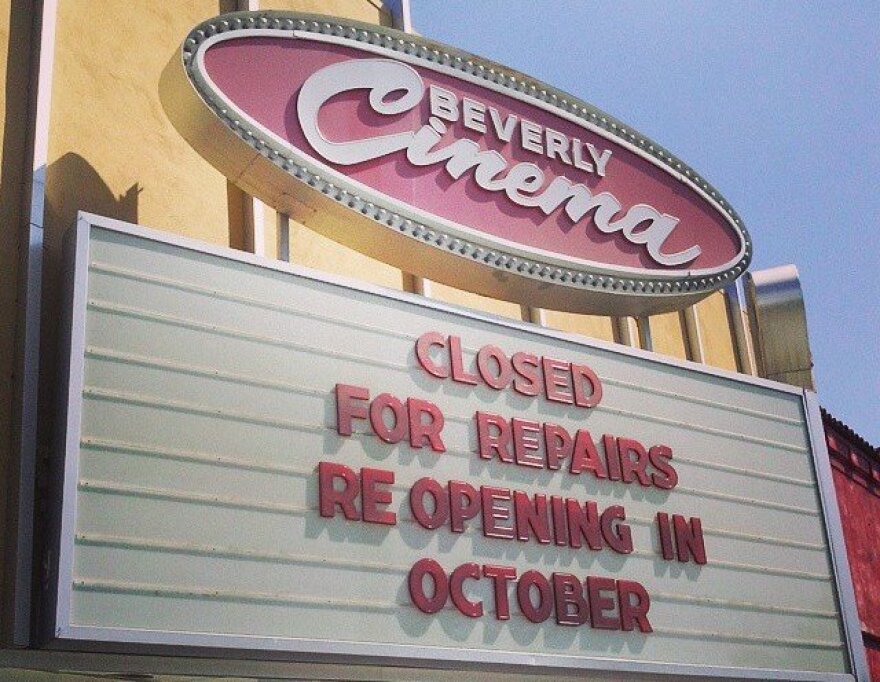 Stories like these are only possible with your help!
You have the power to keep local news strong for the coming months. Your financial support today keeps our reporters ready to meet the needs of our city. Thank you for investing in your community.
On Sunday afternoon the New Beverly Cinema tweeted and posted to their Instagram that their screening that day, a 4K digital restoration of the Barbara Streisand musical Funny Girl, would be the last screening at the beloved movie theater for a month. Patrons of the theater, located on Beverly Boulevard near La Brea Avenue in the Fairfax District, were left without an explanation—they were only told that the theater would be undergoing a renovation and that, "things are not as they appear. All will be revealed" eventually, as theater employee Julia Marchese tweeted the next day. Rumors had swirled among diehard regulars that Michael Torgan, who ran the business since his father Sherman's untimely death in 2007, had been ousted as the manager by his landlord, director Quentin Tarantino. An interview with LA Weekly published this morning confirmed that Tarantino has effectively taken over control of the New Bev.
The New Beverly had been in the Torgan family since 1978, when Sherman resurrected the then-porno theater into a repertory arthouse that played double-features of film classics. That programing became the theater's bread-and-butter in the 36 years since, but despite the regular crowds of Los Angeles cinephiles guaranteed to show up on any given night, the New Beverly's business took a hit as the DVD market and the emergence of streaming services kept people at home. Even though the New Beverly could not top the convenience of watching a movie from your own couch, it still offered what is now a rarity in the contemporary experience of moviegoing: 35mm projection.
To most people, the difference between seeing a movie in any format—whether it be on a DVD or on 35mm—is nil. But diehard cinephiles are like vinyl junkies. Nothing will top the analog pleasures of seeing a film projected on celluloid, no matter how nice of a digital restoration it is. The film grain and the tactility of the image are simply impossible to replicate on a Digital Cinema Package (DCP). One of the most vocal of these celluloid adherents decided to step in and rescue the New Bev from its financial situation shortly before Sherman Torgan's passing. "I heard from other collectors and projectionists that Sherman might have to close down," Quentin Tarantino told the Hollywood Reporter in 2010. He began covering the monthly costs it took to keep the theater open, and eventually bought the property outright in 2007, effectively making Tarantino the New Beverly's landlord.

Quentin Tarantino at Comic Con, earlier this summer. (Photo by Jerod Harris/Getty Images)
Tarantino and the cinephile patrons of the New Beverly would obviously have preferred if the theater remained the last 35mm-only house in town, but Michael Torgan felt forced to eventually purchase a digital projector in May due to the irreversible shift in the movie landscape. The New Bev was always stubbornly old fashioned; it wasn't until 2012 that they finally accepted credit card payments. But studios simply weren't sending out prints of their classic titles anymore, opting instead to send out DCPs of restorations their archivists had worked on, and practically no contemporary films are printed on filmstock anymore. In January, it was reported that Paramount would be the first major studio to no longer distribute prints of their current titles. Torgan wound up having to rent a digital projector every time a rental client would use the space for their own screening, and having a digital projector allowed for greater access to more titles. It was a purchase that made financial sense for the business.
Even though Tarantino owned the property he remained a hands-off landlord and was not involved in the day to day operations of the business, which Torgan ran by himself. "Quentin couldn't be a better landlord. He's involved with suggesting movies when he likes, but he lets us do most of the booking," Torgan told the Hollywood Reporter. However, it seems as if the purchase of the digital projector, done without the knowledge of Tarantino, may have been what led to the end of the Torgan family's management of the New Bev. The timing of the purchase could not have come at a worse time, with Tarantino's slamming of digital projection at a Cannes Film Festival press conference later that month. "As far as I'm concerned, digital projection is the death of cinema," said the director.
A mixture of outrage and sadness colored the conversation following Sunday's screening. Patrons and friends tweeted and posted their eulogies to the Torgan family's time at the New Bev, with some of the anger pointed towards The Wrap's article about the purchase of the digital projector, which pitted the acquisition against the director's fin de cinema declaration to sensationalize the story.
A lot of varying stories about the New Bev, but one thing is definitely true: The Wrap is a bad website written by some bad people.

— Brian W. Collins (@BrianWCollins) September 1, 2014
"After seven years as owner, I wanted to make it mine," Tarantino told LA Weekly. Although the details of the transition have yet to be made clear, it does not seem as if it went smoothly. "It's a very delicate situation and not very nice or pretty," local film archivist Ariel Schudson told LAist. Although Torgan had been removed from managing operations, Tarantino says that he wants him to remain on board with the theater when it reopens in October: "We're still figuring that out. I want him to be involved as much as possible." A source has told LAist that Marchese and Brian Quinn of the Grindhouse Film Festival (which had monthly screenings at the New Bev) are rumored to be more involved in the management of the theater going forward. Attempts to have Torgan speak with LAist on the record about the changes were unsuccessful.
The news of Tarantino's takeover of the New Beverly today has also been met with mixed feelings. Although there was still sadness over the departure of Torgan, local cinephiles were elated to hear that Tarantino would be reverting the New Beverly back to exclusively 35mm programming, including titles from his personal collection as well as screening one of his own films every Friday at midnight. "We'll have Fassbender [sic] double-features, Truffaut double-features... all that... But I like the idea that the base of what we're doing will be my print collection. Some of them are absolutely amazing, and I want people to see them, to enjoy them."
On Sunday evening, after the screening of Funny Girl (selected because it was one of the last films Sherman programmed before his death), Michael Torgan and actor Clu Gulager took to the theater's stage as a farewell to the Torgan family's 36-year run of managing the New Beverly. "The interview was more about the history of the theater than its future. The atmosphere that night was fond memories, not mudslinging," former LAist contributor and screening attendee Ed Yerke-Robins told LAist. "But while Michael said he may be there when the Bev reopens in October, a video tribute to his father from 2007 bore a telling new end card: '1978-2014.'"