Mr. Brainwash Says Banksy Movie 'Gift Shop' is "100% Real"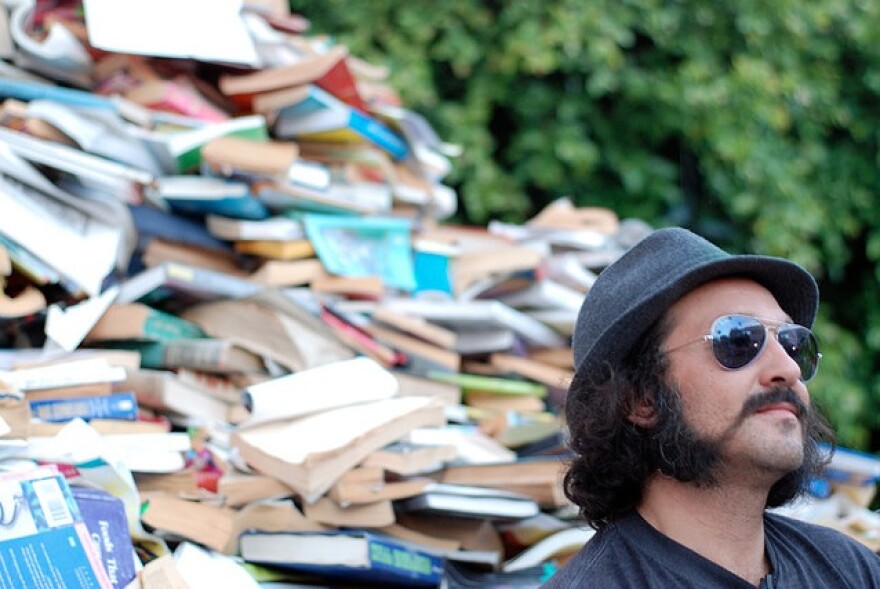 LAist relies on your reader support, not paywalls.
Freely accessible local news is vital. Please power our reporters and help keep us independent with a donation today.
In an interview with the LA Times, Thierry Guetta, aka street artist Mr. Brainwash, addresses all the rumors that the Oscar-nominated documentary "Exit Through the Gift Shop" (aka "The Banksy Movie") is fakery: "This movie is 100% real."
Guetta calls himself Banksy's "biggest work of art," explaining that the elusive, anonymous British street artist who has been inundating L.A. with his work this week caught Guetta at the moment he was "becoming an artist himself." While he calls the film real, he doesn't dismiss the movie's suggestion that Mr. Brainwash--Guetta's nom de paintbrush--was fabricated by Banksy.
There is such a person as Guetta, certainly:
The details of Guetta's unlikely biography are broadly supported by a review of public records, which trace his life in Los Angeles from his arrival as a teenager in the early 1980s. They are also consistent with the accounts of friends, former business associates and employees over those years.
And it is Guetta who uses the space on La Brea as his studio, as seen in the movie, and where recently the wall was done in a Storm Troopers-meets-the Oscars theme, with a hoodie-d mystery man standing in as the Oscar statuette. Guetta says he was happy to take Banksy's advice and begin to create art rather than simply record others doing it, as he had compulsively for so many years. He insists his huge debut show in L.A. was financed by himself, though it is clear that when things got behind schedule, Banksy sent in a "fixer" to help out, and the show got a major publicity boost when both Banksy and Shepard Fairey endorsed it. Were they helping out as a genuine favor, or to help fan the circus' flames in order to make a mockery of what Guetta was doing?
In the Times, "Guetta says he and Banksy remain friends. He refused to comment on whether he'd seen him recently in Los Angeles," or if he would be attending the Oscars. Guetta will be there, though. Will "Exit Through the Gift Shop" take top honors for Best Documentary?