This is an archival story that predates current editorial management.
This archival content was written, edited, and published prior to LAist's acquisition by its current owner, Southern California Public Radio ("SCPR"). Content, such as language choice and subject matter, in archival articles therefore may not align with SCPR's current editorial standards. To learn more about those standards and why we make this distinction, please click here.
Free Lunch - Just Another Day in LA
Before you read more...
Dear reader, we're asking you to help us keep local news available for all. Your financial support keeps our stories free to read, instead of hidden behind paywalls. We believe when reliable local reporting is widely available, the entire community benefits. Thank you for investing in your neighborhood.
Yesterday LAist was invited to watch a taping of The Florence Henderson Showon the AARP's new network, Retirement Living TV. It was a bonus that they shoot it on the same soundstage where they filmed I Love Lucy. Blogger Donna Lethal's presence was required for her sense of irony, incredible database of old Hollywood trivia, ability to spot someone famous at 20 yards, and long red hair that men find irresistible.
We watched the requisite video unveiling the new network and The Florence Henderson Show. I may not be in the demographic yet, but the clips were hilarious and somehow loveable. If college kids can get into The Golden Girls, they can get into this network.
We expected free lunch for the press along with a few moments of Florence doing a Q and A. We got all that and so much more. So much more.
After the jump, listen in as we dish about the luncheon on the ride home...
Donna: I can't believe that we're hanging out with Alison Arngrim – Nellie Oleson, because my very best male friend just went as Nellie Oleson for Halloween. And I just had lunch with Pat Booneat the Florence Henderson taping!
Elise: Did you see her skin? It was like porcelain. I have to start taking better care of my skin. Florence Henderson, I need beauty tips.
D: I don't think she's ever smoked. you can tell that she never smoked.
E: Clean living.
D: Yeah, clean living.
E: Oh, and Tippi Hedren! She's still so beautiful.
D: Tippi Hendren had the best shoes of anyone I've ever seen. I went up to her and said, "I love your shoes!" and then I hit her up for an autograph.
E: …and she drew little birds!
D: …after we talked about animals. She has that animal preserve, Shambala. She was wearing a Shambala Preserve necklace.
E: Right! I want to go there and see lions.
D: and then I helped Mr. Blackwell put his food on his plate
E: I saw him with Alison Arngrim, and I blurted out, "Wasn't she just on your top ten worst dressed list?" Then I was like, oops! Rewind. But they were like, "Oh no, we love each other!"
D: I jumped right up and got in between them, and said, "Aren't you supposed to be enemies?" Then I helped him put food on his plate and walked him to his table. Then him and his boyfriend made me sit down, where they started touching my hair. And his boyfriend asked me how long it had been since I cut my hair.
E: Did he compliment your 70s blouse?
D: Yes he did. Naturally he enjoyed my 70s blouse
E: I wanted Christine Devine's velvet outfit
D: Christine Devine told me to eat a brownie, and it sounded so official. She said, "Have one of these brownies. They're very good." and I felt like I had to.
E: You're just the celebrities' plaything.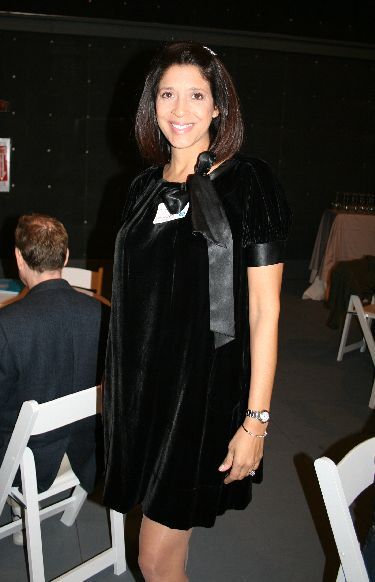 E: So when you weren't at the table, Pat Boone told a story about how Bing Crosby and Frank Sinatra were watching him on TV and called him up because they felt like he was the great white hope. And if it had been a TV special, there would have been that record-scratching sound-effect, like screeeeeech, and I wasn't sure that was really what he said. And then he said, "because at that time, everyone was only listening to race music". And in my head, I was thinking, "Oh my God! Did he really say race music?"
D: Well… they did call it race music
E: I guess when you talk about the past you say what was appropriate at that time.
D: When I first saw Pat Boone, I said, "Oh, Mr. Boone! I have your book in my bathroom! 'Twixt 12 and 20' and he started laughing, and he said it was actually 'Tween 12 and 20.' And I told him, "I just saw you on this VH1 history of rock show about the British invasion, and there was a clip of you saying your music had gone out of style, but you were actually the only licensor in the US of official Beatle portraits and you made more money from that than you did with any of your records!" And we had a good laugh.
E: …and then he came and ate with us!
D …and we talked about Russ Columbo and I told him that I stayed in the room where Russ Columbo was accidentally shot in the 30s, and he didn't even know about that.
E: ...and Freda Paynewas there!
D: Freda Payne, who has had amazing plastic surgery. I'm sure she has.
E: She looked good, but plastic surgery?

D: Yeah, 'cause I saw her profile and she just looked a little… and she was sitting with Barbra Streisand's sister, Rosalyn Kind, who may have been driving a car with the license plate B KIND
E: Shhhh! Now people will be looking that up on the internet and stalking her!
D: I had to explain to this Spanish journalist from 'La Opinion' who everyone was. It was, like, "That's Barbra Streisand's sister. She's a singer too. But of course everyone calls her 'Barbra Streisand's sister'. But she is a singer." And Mr. Blackwell did his "of course I know you" routine, which is why you can talk to anybody because they don't know if they ever met you before. I met him at Skip E Lowe's birthday party.
E: I asked Florence Henderson if she would be singing on her show because I loved her so much in the Paul Lynde Halloween Special. She said, "Well, I wanted to try different kinds of shows…and…I did. Once." I felt like she was embarrassed. But The Paul Lynde Halloween Special was fantastic! That Tarzan dress!
D: Yeah she had that one-shoulder number and did the disco version of 'That Old Black Magic'.
E: It was fantastic! And she had Dorothy Hamill ice skater hair.
D: I think Pat Boone would have been happy to have spent the rest of the afternoon with us.
E: He had pretty eyes. They were kind of weird, they were like milky blue
D: The Spanish guy said to me, "I find it very strange. How come Tippi and Pat Boone have skin the same color as me?" I said, "That's California color"
E: Or Palm Springs.
D: I'm sure he's probably Mr. Golf…I can't believe we missed Rose Marie! When I told Tippi we had the Spanish guy at our table, she said, "I can't believe he didn't ask me about Antonio." I totally forgot Antonio Banderas was her son-in-law.
D: When someone asked Florence Henderson who her dream guest would be…and she said she "wants Tom Cruise" and there was a long pause – "as a guest!" Like you know everyone was just watching that video, and going, "Oh my God…"
E: Like she's a cougar – rawrrr. We're going to have to invent a step above the cougar for the senior citizen dating show they're doing. Why was Alison Arngrim there? She's our age!
D: I don't know, but it was really great to hang out with her. And she was the first punk girl character. We were bad girls, like Nellie Oleson.
E: She's so nice! And she's a band wife!
D: Like us! She's one of us.
E: It was fun, it didn't feel like a press event. I felt really at home; everyone was really comfortable and chatty.
D: For some reason I got stuck holding the box while Mr. Blackwell gave Tippi Hedren a piece of jewelry.
E: You started helping with him with his food, and I think he's just used to being helped. He probably expected you to follow him around all night, holding things, like "Here, hold this! Get me another water!"
D: And I would have too!
E: You became his man-servant
D: The best was his boyfriend pulling my hair! And I was saying, "I swear! They're not extentions!
E: Like Santa's beard.
D: And then as we're leaving the studio with Nellie Oleson someone came over with Donnie and Marie puppets while Nellie was wearing a hat someone gave her that said CUNT.
E: Yeah, that was probably the greatest moment of my life.
D: That one journalist who sat down and was talking to Pat Boone about this luncheon and that luncheon, and he was saying, "Oh, she's wonderful! Give her my regards!" So they all go to these testimonial, ceremonial, honorary lunches.
E: Probably like three times a month. But they never get to eat. It's like being at your own wedding.
D: Poor Pat didn't get to eat. I said, "Pat Boone, you have to eat!"
E: Florence Henderson was starving, and I saw them yanking her away from the buffet table. It was terrible. Nobody got to eat.
D: That one table, with Mr. Blackwell and Tippi got to eat. Harlan [their agent] co-ordinated their table for them.
E:. People weren't grabbing them. There was strength in numbers.
D: Pat Boone just showed up on his own.
E: And he was wearing that cool sweater. Like you think it's an act, but it isn't. He really is the sweater guy.
D: I was talking to him and you were just sitting there, laughing, like, "Ha! Ha! Ha!"
E: I had no idea what to say to him at all.
D: I was going to tell the Spanish journalist about his heavy metal album.
E: I forgot about his heavy metal album!

D: When we were watching him rehearse, they were running stills on one of the monitors, and they had one of him in the heavy metal outfit.
E That song, it was touching.
D: The song for his wife?
E: I was touched...you know, we're like the only people this week who SAW Mr. Blackwell.
D: And I can't believe we're going to see Tippi Hedren and Florence Henderson in two weeks.
E: I hope they remember us.
D: Of course they will.
E: Because we're like Lucy and Ethel. I thought you were Lucy, but I kept saying,. "Let's sneak over here!" and you kept saying no. Like, I'm the one saying. "Let's dress up like marimba players! Put this basket of fruit on your head!"
D: Yeah, like when they see William Holden at the restaurant…all these people are happy to see us.
E: Oh! I'm so happy! I want to take Harlan Boll out for martinis every night. Who else is on his roster? He has Witchy-poo!
D: I don't know, because you know how some people just use people's first names because they assume you know them too.
E: You're already doing it, like, "Oh, Alison!" Like she's our best friend.
D: We are the same age. Well, you always rooted for Nellie. You always liked it when Nellie would be mean. And she turned out totally cool. She didn't turn into some fucked-up ex-child actor. I can't believe I ate lunch with Pat Boone.
E: At first, I was videotaping his stories, but there were too many of them. Like, you're gonna have to wait for the next luncheon to tell that one.
D: I wanted to get his contact info because you know he's the kind of person who would immediately send you an 8x10.
E: Because he wanted to sleep with you.
D: Oh, he's such a goody-goody. You don't even curse around him. He's totally right-wing.
E: That interviewer said "Damn!" and then realized she was talking to Pat Boone and said "Darn!" Like, "Oh, buttons!" It was very surreal.
D: Imagine that Spanish kid, coming to America, trying to cover the entertainment industry…
E: Well, imagine coming to America and within 6 months you're having lunch with Tippi Hedren! Look how long it's taken me to get to this luncheon.
D: I asked her if she was donating that suit [to the Smithsonian] but she doesn't have it. It would have been with costumes. She's donating 3 scripts.
E: Apparently she really was afraid of birds and Hitchcock really terrified her in that movie.
D: Well, just like he did with Janet Leigh, who said she never took a shower again. She only bathed. He would zero in on what freaked you out...I told her I really admired her work with animals. I asked her if she's working on getting that bill passed, and she said, "You bet I am!"…Oh, Elise, thank God we were together because no one else would understand that…
E: No one would understand the synchronicity of Paul Lynde with Florence Henderson and Donnie and Marie and Witchy-poo. No one would understand but us …and every gay man in America…they served really peppery steak. Old people can't eat that peppery food. They can't chew it. They didn't plan for an early-bird special.
D: And that one guy with the curly hair? Did he work on the show? Who was this person? Did he just wander in here?
E: A refugee from the Babalu Café.
D: Yeah, the Babalu Café, where Elise told a minor that she would blow people for cigarettes.
E: Not that I actually would, just that cigarette addiction was so intense. I have never blown anyone for a cigarette …but I've probably blown people for worse reasons.
D: I just think it's funny you would say that less than 45 minutes before we're having lunch with Pat Boone. Pat, if you only knew…
E: Oh, I bet he goes out in the parking lot and smokes crack.
D: No, he doesn't have a dark side. I have to say, of all people I've eaten lunch with, Pat Boone was the best.
E: Were those just the morning and afternoon guests? Were they here for the press event or were they today's guests? Because this would be the greatest show! And she had the imagineer who crafted the Small World figures…
D: I wanted to see those.
E: It was such a bizarre mix of people. Living in Los Angeles is great. It's the best city in the world.

D: It's so surreal. It's like being on acid all the time.
Photos by Elise Thompson for LAist