This is an archival story that predates current editorial management.
This archival content was written, edited, and published prior to LAist's acquisition by its current owner, Southern California Public Radio ("SCPR"). Content, such as language choice and subject matter, in archival articles therefore may not align with SCPR's current editorial standards. To learn more about those standards and why we make this distinction, please click here.
LAist Interview: LIGHTS Opens Up About Her Intergalactic Music
Support your source for local news!
Today, put a dollar value on the trustworthy reporting you rely on all year long. The local news you read here every day is crafted for you, but right now, we need your help to keep it going. In these uncertain times, your support is even more important. We can't hold those in power accountable and uplift voices from the community without your partnership. Thank you.

LIGHTS / Photo by Caitlin Cronenberg
If only there could be more pop stars like LIGHTS. The Toronto-based 22-year-old is a refreshing change in an industry where young singers are often better known for their exploits than for their talents. Not only does she make synth-driven "intergalactic music," but she has also created an alter ego called "Captain LIGHTS." The character first appeared in a comic book series on LIGHTS' website, and she has recently taken it to the next level with a short animated series on MTV called Audio Quest: A Captain LIGHTS Adventure.
While LIGHTS is larger than life, there's also something about her that's very girl next door. Her interests span everything from World of Warcraft to fashion. LAist caught up with her last week to learn about her new album, tattoos, and Tuesday's show at the Troubadour.
LAist: You play everything from the guitar to the keytar. Which instrument do you most often use to write your music?
LIGHTS: It's between guitar and piano. I choose something simple, because at the core of it you need to have a good solid song—something that can be stripped down and just played on piano or guitar with vocals. Once you have that, then you can wrap it with all the fun stuff!
In reading the reviews of your song "Lions!" it was interesting to see how varied the descriptions were. Some reviewers said it has spiritual overtones, while others said it's all about World of Warcraft. How do you see that song?
I love that it can be construed in so many ways. At its core, it's definitely about staying strong in situations that are sometimes scary, and that requires a lot of faith for me. I channeled my World of Warcraft character for this song, because life sometimes feels like a battle and we're soldiers having to charge through it all. You have to be brave, so that led me to think about my Warcraft characters—I have a Warrior and a Death Knight. I used them to get some lyric ideas and there are definitely some references to the game in there.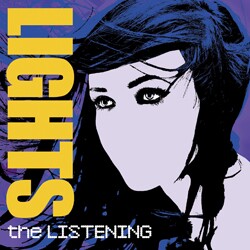 The Listening
Throughout the album, a number of your songs have so many words in quick succession—is it hard to get back on track if you forget a word or miss a beat when you're performing live?That's something I think about a lot. Take a song like "Saviour." I remember writing that song and having to write [Breathe] in brackets, and there were only two points where I could breathe on the lyric page.
With a song like that, it's very important to control your breath, and it's a big downfall when you have to cough. There really is no time to cough. You have to decide whether to cough or breathe in the usual spots, but you can't have both! It just takes a lot of concentration to be able to do it right. Thankfully, I don't generally forget the lyrics, though I've had many a nightmare about it.
The cover of your album is so great and it perfectly illustrates the whole Listening concept. I know you've said you modeled it after the styles of 28 Days Later, Watchmen and Sailor Moon, but when I first saw that poster at the Warped Tour, I wondered…do people ever draw a mouth on it?
I totally knew I was in for that when I decided to omit the mouth and nose. But when I see posters in front of venues, there's often graffiti on them—moustaches and zombie faces and stuff. So this was kinda cool because that's the beauty of something that's left empty. It's up to the imagination whether or not you choose to be creative with it or just deface it. It depends on the person and it's very telling.
Which comic artists did you admire as you were growing up?
The funny thing is that comics were not something I grew up with. It started around five or six years ago, and two of my favorites are Terry Dodson and Adam Hughes.
Did you go to Comic-Con in San Diego this year?
I go to the Canadian version of it, which is Fan Expo. I've gone the past few years. I'd love to go to Comic-Con someday though.

LIGHTS - Audio Quest Episode 1
How did you first come into contact with Marvel's Tomm Coker, who collaborated with you on the Audio Quest animated shorts?
It started with just coming up with a comic book, because I had so many ideas and Captain Lights was always in the back of my mind. When it came to finding someone for me to work with, the amazing people down at Warner Music said, "What about Tomm Coker?" and I flipped out.
I'd seen his stuff on Marvel Digital a lot, and he's amazingly talented and has this dark edge. Previous to now, my comic style has been really bright and positive. I wanted to darken things up with the new record and just make it a little bit heavier.
He was actually looking to go just a little bit lighter, because he said he wasn't able to show his daughter any of his recent drawings because they were starting to get so dark. So we met in the middle and it worked out so well.

Captain Lights
There are so many subtle references in the series, such as the camerawork in the first episode that's reminiscent Battlestar Galactica—the way the camera perspective zooms when the ship loses power.Totally! There are so many little details throughout the videos—references to things we love, such as Star Wars, Star Trek and World of Warcraft. Even that part where it zooms in on the ship breaking down, the smoke fumes coming out of the ship are meant to look like sound waves. Everyone notices different things, and we've tried to throw in a bunch of stuff that'll pique attention, if it's something you're into.
Do most of the episodes end with you saying "Damn!"?
Most of the time, yeah, because it's something that can be construed in so many ways. For instance, if you like something, you can say, "Daaaaaamn!" Or if you're angry, you'll say, "DAMN!" It's such a general bread-and-butter word.
Would you ever like to do a longer animated show?
I absolutely would, or a short film or something. So much could be spawned from this. I would love it if it could be a video game someday!
You're in the middle of driving across the country for your tour. How does headlining compare with opening? Is it a different vibe?
Definitely, because the people are there to see you. There are advantages to being support in that the onus of putting on the best performance of the night isn't on you. If no one really comes out, it's not your fault.
But when you actually do get to headline, it's really special, because even if there are only 30 people there, they're there to see you and they sing along and know all the words. It's an exciting experience!
Do you get a lot of letters from kids who look up to you?
A lot of people have said that they consider me an influence, and I think that's extremely flattering. It opened my eyes to the fact that it's kind of a duty for people who find themselves in the spotlight. You have to consider the lives you're influencing and be watchful to make smart decisions. It's actually been really great for me.
I imagine the Warped tour opened you up to a whole new audience, too. What was that like?
Warped was awesome. It definitely opened a lot of doors. I loved meeting people every day—some people burst into tears when we met and it was so special.
The weather was pretty crazy. We played in Florida and it was hot. Coming from Canada, we just don't experience that kind of humid heat. I got off stage and was dripping with sweat and nearly got sick. It felt like the most intense extreme environments back and forth—freezing days, hot days and wet days. That was definitely one of the interesting things about Warped.
Which song have you found to be the most fun to perform live?
You know, it changes every day depending on the mood I'm in. Take a show like last night where I was a little bit tired and chill—I really enjoyed playing a song like "Quiet." And days when I'm feeling energetic, it's really fun to play something like "Second Go."
Have you already started working on your next album?
I'm definitely already concocting ideas for it and know the direction I want to go, but it's too soon to start focusing on that. There's a lot of touring to be had before I can settle down and think about recording anything!
I read that you just got a Warcraft Twinblade of the Phoenix tattoo. Do you have any others you're thinking of getting in the near future?
They come as they come and as soon as I want one, I get it. At the moment, which is really surprising and rare for me, I actually have no plans to get a new tattoo, but I'm sure that will change in the next couple months. I actually just got a hearthstone tattoo on my ankle. It's a World of Warcraft item that—every time you use it—takes you home no matter where you are.
A month or so ago, there was a break-in and the thieves stole a bunch of shirts with your face on them. Were the culprits ever caught?
No, and the weirdest thing was that they each rifled through the shirts and took their sizes.
So now you see someone with that shirt at a concert and in the back of your mind you wonder…
I'm like, "Hey, where'd you get that?" (laughs) When I go back to Seattle, I'm going to keep my eyes peeled.
Speaking of clothing, what's the latest fashion thing you've been into lately?
Lately it's been almost military in that I'm channeling Lara Croft and Milla Jovovich from Resident Evil and wearing combat boots and military jackets. It's kind of empowering.
You're headed to LA soon. What are your favorite things to do when you're in the city?
Well, I'll start with Pinkberry. We don't have that in Canada and it's my and my manager's addiction. But honestly, I just love being on the coast. There's something really special about that—the fresh air. Every time I go to LA, no matter how hard I have to work, I still relax and enjoy myself far more than anywhere else.
Thank you for speaking with LAist, LIGHTS!
Don't miss LIGHTS at the Troubadour Tuesday night (11/3). Tickets are available here. To hear more of LIGHTS' music and to watch Audio Quest, visit www.iamlights.com.
But Yeoh is the first to publicly identify as Asian. We take a look at Oberon's complicated path in Hollywood.

His latest solo exhibition is titled "Flutterluster," showing at Los Angeles gallery Matter Studio. It features large works that incorporate what Huss describes as a "fluttering line" that he's been playing with ever since he was a child — going on 50 years.

It's set to open by mid-to-late February.

The new Orange County Museum of Art opens its doors to the public on Oct. 8.

Cosplayers will be holding court once again and taking photos with onlookers at the con.

Littlefeather recalls an "incensed" John Wayne having to be restrained from assaulting her and being threatened with arrest if she read the long speech Brando sent with her.