This is an archival story that predates current editorial management.
This archival content was written, edited, and published prior to LAist's acquisition by its current owner, Southern California Public Radio ("SCPR"). Content, such as language choice and subject matter, in archival articles therefore may not align with SCPR's current editorial standards. To learn more about those standards and why we make this distinction, please click here.
LAist Interview: Dan Nigro from As Tall as Lions
Before you read more...
Dear reader, we're asking you to help us keep local news available for all. Your tax-deductible financial support keeps our stories free to read, instead of hidden behind paywalls. We believe when reliable local reporting is widely available, the entire community benefits. Thank you for investing in your neighborhood.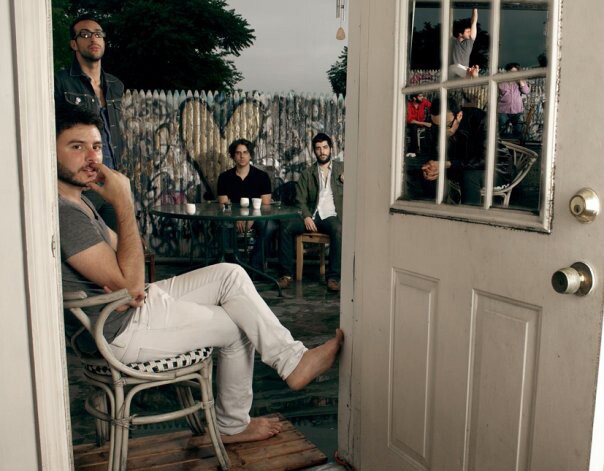 Dan Nigro (front) with As Tall as Lions bandmates Julio Tavarez, Cliff Sarcona, and Saen Fitzgerald. (Photo via their Facebook page)
In 2001, Dan Nigro joined up with some friends from high school and did what surely plenty of young people do in Long Island, New York: They formed a band. It would be glib to say "And the rest is history!" since As Tall as Lions is one hell of a hard-working quartet; they've just kicked off a tour in support of their August full-length release, You Can't Take it With You (Triple Crown Records), serving as support for Mutemath, and you can see them at Club Nokia this Saturday. This tour follows their summer tour with Dredg and Rx Bandits, and by late November through the end of the year they'll be touring in the US with Minus the Bear and in the UK with Frightened Rabbit and Athlete.
LAist got the chance to connect with Nigro, whose band duties include vocals, guitar, and piano, along with songwriting, just before the Mutemath tour got underway to talk a bit about the tour, the album, their experience recording for the first time here in Los Angeles, and the best meal you can buy at Trader Joe's.
LAist: How's the tour going so far? Any favorite venues, truck stops, audiences or mishaps you want to share?
Dan Nigro: Well.. The tour starts today, so I can't say I have a favorite venue yet, but as far as van stops while in the PA, OH area there is a gas station called Sheetz and they make some great breakfast sandwiches. Is it sad that I enjoy stopping at gas stations for food?
At the start of September, when you were heading out on the road Cliff [Sarcona, your drummer] wrote on the blog that California "helped [us] get through one of the darkest times of our career." What made that time so dark, and how did California help you get through?
He was talking about making our record out there. After letting go of our record producer we were at a dark place and there was questions as to the future of the band. California is just a great place. I think the general atmosphere of being of there kept everyone calm while we worked through all the bullshit.
Where do you guys consider "home" these days?
The van, I think I've been in New York for about 2 months this year and it's almost October. We have another three months of touring left so I'd definitely say the van is home.
Your latest album, You Can't Take it With You, was recorded in Los Angeles. Had you recorded here before? What's it like making an album in LA?
We had never recorded a record in LA before. The main reason why we came out to LA was because we had spent the all of 2008 writing our record in New York. We wanted to go somewhere different from New York to make the record. We felt if we stayed there things would have been too stale.
Did working/living in Los Angeles influence your sound?
I don't think so, all the songs had been written already, it was more of just getting the right performances of them once we were out here. We were worked with a producer that has lived out in LA most of his life, so I guess when you include Noah's style of production and recording, it was influenced that way. Does Noah have an LA sound? Heh.

More about the band and making their album, You Can't Take it With You
What music is in heavy rotation these days on your iPod?
Cocteau Twins, The Dirty Projectors, Van Morrison, and going back into a Beatles phase.

So you've just finished a great show or a recording session in LA. You're hungry, you're thirsty, you need to get out. What are you craving, and where in the city do you go to find it?
So many good places...but honestly, I think almost everyday making the record I would head to Trader's Joe's and get the Spicy Lentil wrap. The Cat and Fiddle, however, would definitely be my favorite place to go hang out.
When you're out on the road do you work on new material? How does a song typically come together for you guys, start to finish?
All the songs come together in different way. Everyone in the band writes songs, so it really depends on who in the band is bringing in the idea. As far as working on new material on the road. It can be quite hard when traveling in a van and being the opening band. We don't have much time on stage for soundchecks, so we can't really practice there, and the van isn't to complimentary to writing. Eight people in a small space doesn't leave much room for alone time to stir up new ideas. When I get moments to myself sometimes I'll record 45 second clips of ideas on my phone. I have about 200 stored up right now. It's always fun to listen back to them, some of them.. I'm talking to myself, explaining how I want the beat to be, then I say the chords, then sing a melody. I know at the time of creation it makes so much sense in my head, but listening back a month later, I have no clue what I was trying to do.
Your new album has a resonant theme of haunting/demons both real and emotional (also something I noticed on your previous album) that's evident musically and lyrically. To what do you attribute this?
I think it's self explanatory. YCTIWY is a very introverted and reflective record. And with being reflective, there's a lot of coming to terms with and confronting 'demons' if you will.
What song or songs are surprising on the new album to you as musicians and/ or might be surprising to your listeners?
I think 'You Can't Take It With You' the song was probably the most surprising for me. The song initiated from a demo of [guitarist and drummer] Saen [Fitzgerald]'s which was originally what you hear as the intro and verse. I remember walking into the rehearsal space one day and he was recording. I asked him to play me the idea, he laughed and said, 'oh it's just this silly thing I'm recording, It's quite ridiculous.' and from the second it started to play, I thought he was onto something really special and hoped that we would be able to complete the idea.
You make great use of internet tools like MySpace, Facebook, and Twitter. How does social networking enhance your work? How does is affect your relationship with your fans?
With the music industry falling apart more and more everyday, it's the one way we feel we can really connect with our fans and actually let them know what's going on with our band. If it wasn't for those networking tools I'm not sure how anyone would know we were playing shows half the time.
What's next for As Tall as Lions?
Touring, touring, and more touring. I think we have stuff scheduled into the middle of next year right now.
See As Tall as Lions opening for Mutemath this Saturday, October 10th, at 8:30 p.m. @ Club Nokia [tickets]