L.A. Author Is Among Contenders For Prestigous Man Booker Prize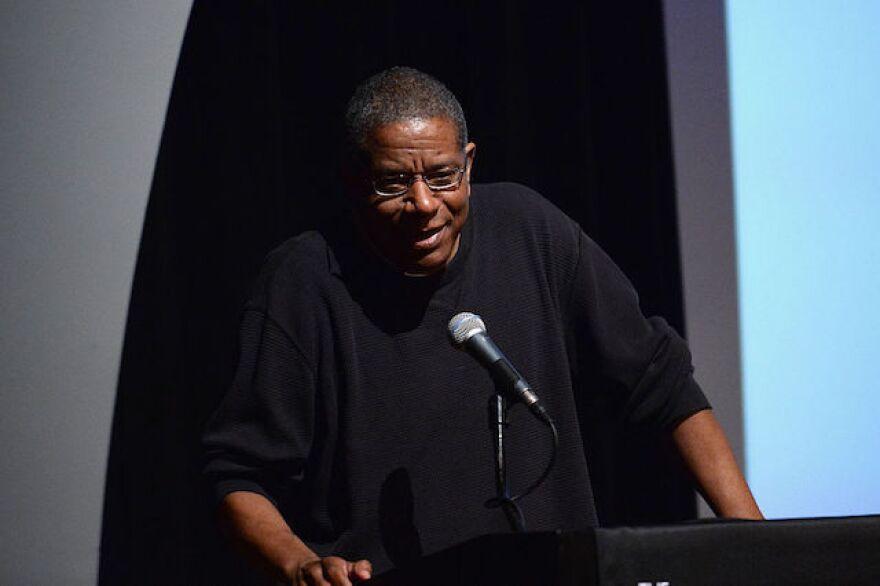 LAist relies on your reader support, not paywalls.
Freely accessible local news is vital. Please power our reporters and help keep us independent with a donation today.
The Man Booker Prize is, arguably, the most distinguished award in the literary world. The issue was that, up until 2013, the prize excluded countries that weren't England, Ireland, Zimbabwe, or nations in the Commonwealth (basically, territories of the former British Empire). Now, all English-language novels are eligible.
Today, organizers announced the longlist of 13 finalists for the 2016 prize. And hey! Almost half of the authors are from the U.S. What's even more exciting is that one of those authors, Paul Beatty, hails from L.A, reports the L.A. Times. He's nominated for his novel The Sellout, a satirical take on race relations in a so-called post-racial America. The book was also a winner of the National Book Critics Circle's Fiction Award. It is Beatty's fourth novel.
In The Sellout, the unnamed protagonist, a Black male, tries his hand at selling marijuana and watermelons on horseback. And then he tries to reinstate slavery and segregation in L.A., which leads to a call-up by the Supreme Court. We mentioned that this is a work of satire, right?
NPR said that "The Sellout isn't just one of the most hilarious American novels in years, it also might be the first truly great satirical novel of the century." Author Kevin Young, writing for the New York Times, had a somewhat tepid response: "If not a classic, The Sellout is destined to be a ­really good cult jam. It's a post-soul ­parody, trying to feel more like the skits between songs than the song itself."
Beatty, also a slam poet who said he takes inspiration from Richard Pryor and Kurt Vonnegut, told Rolling Stone in 2015 that his motivation for writing the book was that he "was broke. The usual crap." Beatty said that parts of his book are a criticism of our lazy approach to discussions on race:
"I don't know what that means when people say, "How do we talk about it?" It feels like people want to have an opportunity to be accusatory. People want to get shit off their chest. In terms of people who feel the need for change and want change, it's a fucking discussion. I'm not sure why [people think] it's supposed to be easier."
The winner of the prize, who will be announced in London on October 25, will also be rewarded with 50,000 pounds (or approximately $66,000 in U.S. dollars).
It's also relevant to note that The Sympathizer, written by USC professor Viet Thanh Nguyen, was the winner of the 2016 Pulitzer Prize for Fiction. Much of the novel, which follows a Vietnamese spy as he immigrates to the U.S. after the war, takes place in the Southland.
Do you remember that "Best L.A. Novel Ever" tournament that LA Weekly held 3 years ago? The candidate pool was a little, uh, weak. Now it looks like we're making some big strides.