This is an archival story that predates current editorial management.
This archival content was written, edited, and published prior to LAist's acquisition by its current owner, Southern California Public Radio ("SCPR"). Content, such as language choice and subject matter, in archival articles therefore may not align with SCPR's current editorial standards. To learn more about those standards and why we make this distinction, please click here.
Adorable Los Angeles Pomeranian Is The World's Fastest Dog On Two Legs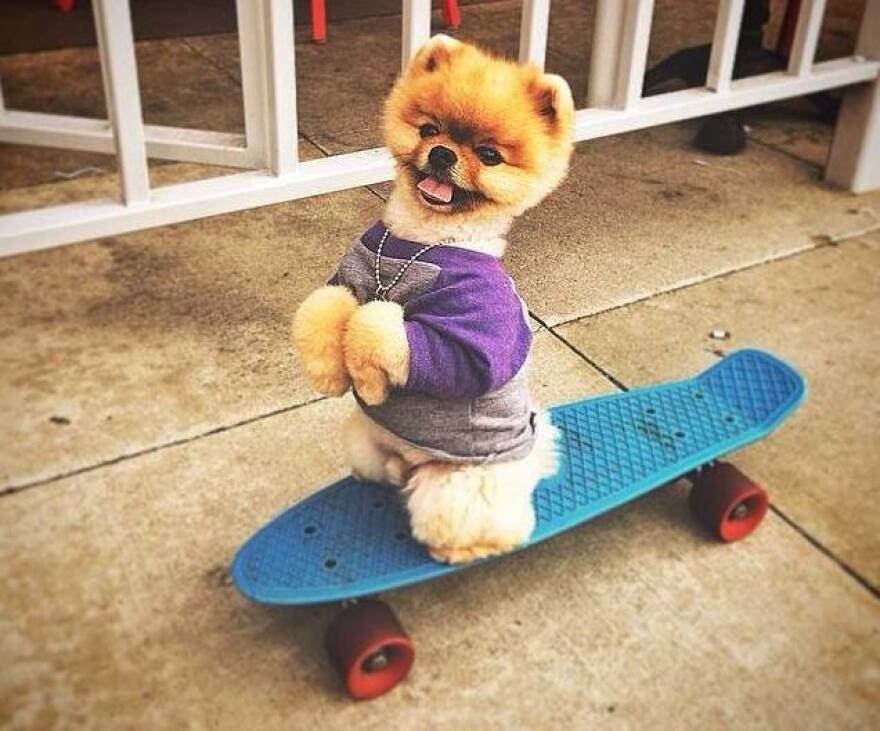 Support your source for local news!
The local news you read here every day is crafted for you, but right now, we need your help to keep it going. In these uncertain times, your support is even more important. Today, put a dollar value on the trustworthy reporting you rely on all year long. We can't hold those in power accountable and uplift voices from the community without your partnership. Thank you.

It's been a big couple of weeks for celebrity Pomeranian, Jiff. The dog moved from the Midwest to L.A. to pursue his career as an actor in 2013, doing tricks on Hollywood Boulevard and making TV appearances. Jiff has appeared on television many times, as well as in Katy Perry's "Dark Horse" video. He even has a small, but burgeoning IMDB profile.
Last Wednesday, the City Council honored Jiff by giving him his very own day: August 20, 2014. Jiff Day began at 10 a.m. at L.A. City Hall with Councilmember Tom LaBonge.
Jiff has also broken a couple world records lately. He is the fastest dog on two legs. He can sprint 10 meters in 6.56 seconds on his hind legs, and 5 meters in 7.76 seconds on his front paws, the the L.A. Times reports. He's not a one-trick Pomeranian though. He can also skateboard and paw his own autographs. Model, actor, stuntdog—this guy's basically a triple threat.
There's a lot of stiff competition in the Internet Pomeranian celeb world—Boo, being the frontrunner, but also Jin Dan, China's 'angry about haircut' Pomeranian. Jiff's tricks, however, may move him to the front of this competitive pack.
Here is Jiff doing an assortment of said tricks:
And here's Jiff touring the American Apparel factory in downtown Los Angeles:
Donald Trump was a fading TV presence when the WGA strike put a dent in network schedules.

Pickets are being held outside at movie and TV studios across the city

For some critics, this feels less like a momentous departure and more like a footnote.

Disneyland's famous "Fantasmic!" show came to a sudden end when its 45-foot animatronic dragon — Maleficent — burst into flames.

Leads Ali Wong and Steven Yeun issue a joint statement along with show creator Lee Sung Jin.

Every two years, Desert X presents site-specific outdoor installations throughout the Coachella Valley. Two Los Angeles artists have new work on display.