Adorable Los Angeles Pomeranian Is The World's Fastest Dog On Two Legs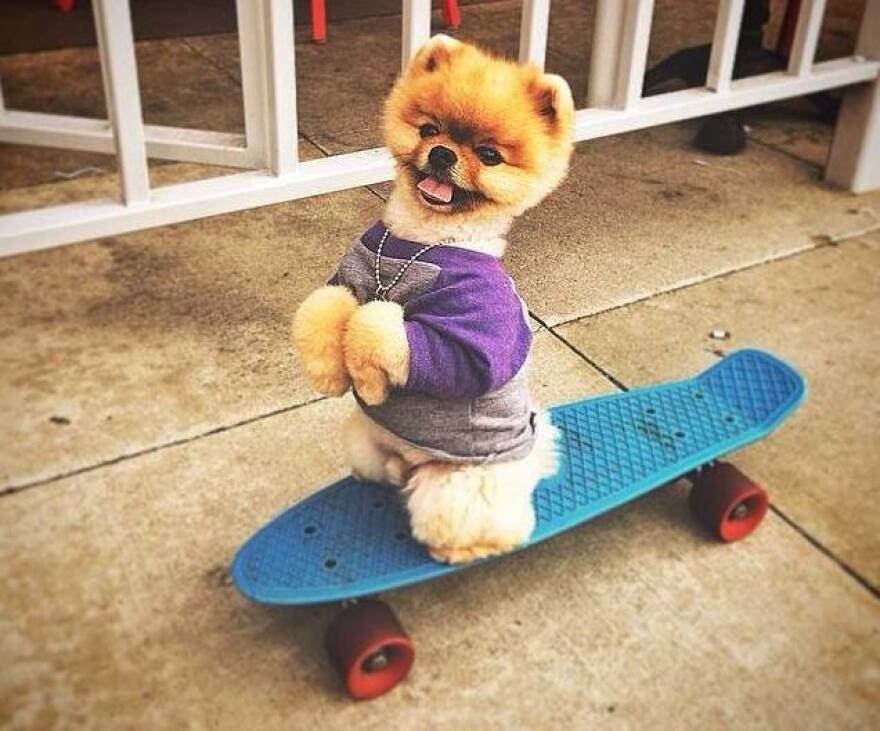 LAist relies on your reader support, not paywalls.
Freely accessible local news is vital. Please power our reporters and help keep us independent with a donation today.

It's been a big couple of weeks for celebrity Pomeranian, Jiff. The dog moved from the Midwest to L.A. to pursue his career as an actor in 2013, doing tricks on Hollywood Boulevard and making TV appearances. Jiff has appeared on television many times, as well as in Katy Perry's "Dark Horse" video. He even has a small, but burgeoning IMDB profile.
Last Wednesday, the City Council honored Jiff by giving him his very own day: August 20, 2014. Jiff Day began at 10 a.m. at L.A. City Hall with Councilmember Tom LaBonge.
Jiff has also broken a couple world records lately. He is the fastest dog on two legs. He can sprint 10 meters in 6.56 seconds on his hind legs, and 5 meters in 7.76 seconds on his front paws, the the L.A. Times reports. He's not a one-trick Pomeranian though. He can also skateboard and paw his own autographs. Model, actor, stuntdog—this guy's basically a triple threat.
There's a lot of stiff competition in the Internet Pomeranian celeb world—Boo, being the frontrunner, but also Jin Dan, China's 'angry about haircut' Pomeranian. Jiff's tricks, however, may move him to the front of this competitive pack.
Here is Jiff doing an assortment of said tricks:
And here's Jiff touring the American Apparel factory in downtown Los Angeles: