Jazz, A Cappella Music Featured in Walt Disney Concert Hall Holiday Concert Series
Stories like these are only possible with your help!
You have the power to keep local news strong for the coming months. Your financial support today keeps our reporters ready to meet the needs of our city. Thank you for investing in your community.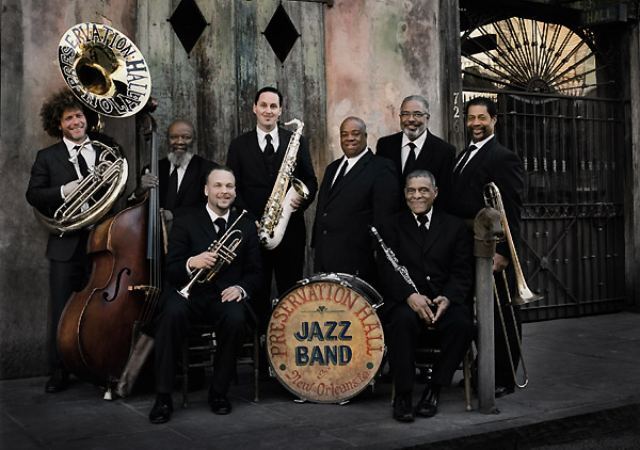 Preservation Hall Jazz Band plays at Walt Disney Concert Hall on Dec. 23. | Photo: Shannon Brinkman
Still feeling kinda Grinchy this December? Not yet in the holiday mood? You can blame it all on the rain, but you can also do something about it. The LA Phil's Deck the Hall holiday concert series at Walt Disney Concert Hall has a slate of concerts that run through New Year's Eve to get toes tapping and wash the blues away.
The series kicked off last Wednesday with a concert featuring WDCH's grand organ. But there are six still left to choose from:
Handel's Messiah on Tuesday and Wednesday (Dec. 15-16 at 8 pm) is a traditional, classical favorite with all those hallelujahs and all. This concert will be conducted by Bernard Labadie and feature the chamber orchestra of Les Violons du Roy and the voices of La Chapelle de Québec. Tickets are $37-$95 on Tuesday and $29-$83 on Wednesday.
On Thursday at 8 pm, the SF-based vocal ensemble Chanticleer brings its eclectic program of Christmas, featuring 12 male voices that range from countertenor to bass. This chorale has been around for more than 30 years. Tickets $29-$83.
On Saturday (Dec. 19), there are two family singalongs at 11:30 am and 2:30 pm featuring the 130 voices of The Angeles Chorale with the LA Phil. Tickets are $25-$72.
The following week, the music gets jazzier and the rhythms a little more toe-tapping:


Sweet Honey in the Rock, a vocal ensemble comprised of African-American women, brings African storytelling and world holiday music on Dec. 22 at 8 pm. The entire concert is simultaneously sung and sign-interpreted by one of the members of the performance troupe, Shirley Childress Saxton. Tickets are $25-$72.
On Wednesday, Dec. 23, the Preservation Hall Jazz Band--founded in 1952-- brings A Creole Christmas to the stage. It's New Orleans jazz at its finest. The only thing that would make the music better is if they were serving crawfish etouffe and Dixie beer at set breaks.
The holiday concert series fittingly ends on New Year's Eve with two concerts featuring the jive and swing by LA's own Big Bad Voodoo Daddy. Tickets for the 7 and 10:30 pm shows are $60-$175 each.