This is an archival story that predates current editorial management.
This archival content was written, edited, and published prior to LAist's acquisition by its current owner, Southern California Public Radio ("SCPR"). Content, such as language choice and subject matter, in archival articles therefore may not align with SCPR's current editorial standards. To learn more about those standards and why we make this distinction, please click here.
LAist Interview: Janelle Brown, Author of All We Ever Wanted Was Everything
Our June member drive is live: protect this resource!
Right now, we need your help during our short June member drive to keep the local news you read here every day going. This has been a challenging year, but with your help, we can get one step closer to closing our budget gap. Today, put a dollar value on the trustworthy reporting you rely on all year long. We can't hold those in power accountable and uplift voices from the community without your partnership.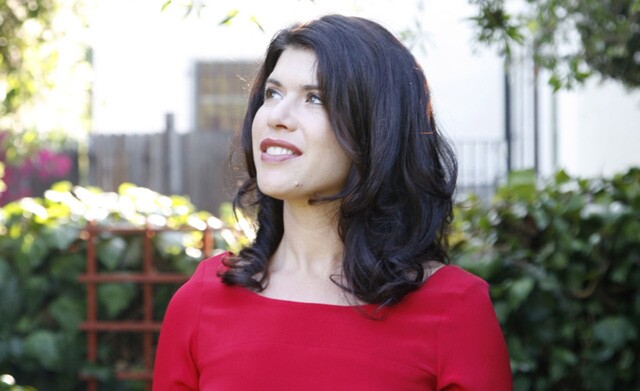 Janelle Brown will be reading tonight at Skylight Books @ 7:30pm | Photo by Margo Silver
Janelle Brown's debut novel, All We Ever Wanted Was Everything, is just out and it's generating serious buzz for its funny, yet painful look at a family that can no longer keep up appearances. Brown will be reading tonight at Skylight Books @ 7:30pm.
You moved from the Bay Area to Los Angeles not too long ago. Why LA? What about it inspires you? Worries you? Surprises you? I moved for love – followed my future-husband down here. It's been about five years now and I finally feel like a pretty full-fledged Angeleno, though I'll always be a native San Franciscan at heart.
What inspires me: The number of people truly, devotedly pursuing their creative ambitions. People in LA will decide to do something and just go for it – there's a lot of motivated dreamers here. The wonderful arts scene. Also: The weather. Tank tops at midnight: Bliss.
What worries me: The escalating price of going out: When did a glass of wine become a standard $10, and a side-salad at a local Italian joint start costing $12? The cost of living here just keeps skyrocketing – especially when you factor in gas and housing -- and it's marginalizing more and more people.
What surprises me: How little I actually drive. I live in Los Feliz, within walking distance to several grocery stores, cafes, restaurants, a wine bar, and a gelato shop; and I also work from home. My poor neglected car gets awfully dusty.
Top five things to do in LA?
1) Cinespia in the Hollywood Cemetary
2) Eating strawberries at the farmer's market in Hollywood
3) Dim Sum in the San Gabriel Valley
4) Hiking with my dog in Griffith Park
5) Disco-dancing and drinking cocktails in my own backyard on warm summer nights.
Favorite LA restaurants? I'm a foodie, so that's a dangerous question...
For brunch, Square One. For sushi, Sushi Ike. For everyday, Yuca's, Viet Noodle Bar, Park's Korean BBQ, Canele. For wine & snacks, Lou on Vine. For special meals, Jar, AOC, Mozza. For atmosphere, Café Stella.
What is the biggest misconception about Los Angeles? There's so many old hackneyed chestnuts – "oh, the terrible traffic, the vapidity, everyone's in the industry, all the women have fake breasts" – that it's hard to know where to start. Truly, it all gets so boring to listen to.
But the one that gets me the most is probably the "there's no literary scene in LA." You hear that a lot from people on the East Coast. Come on, really? Half of my friends are writers, and there's readings and events every night of the week here, not to mention some great literary magazines (Swink, Black Clock) and several of the best up-and-coming creative writing programs in the country.
Poor LA. People are so condescending to her.
Quintessential LA reading – what books and writers perfectly capture LA for you? It's hard to capture all of LA, with its vast geography and long history, in one novel. But here's some LA books that I've read and enjoyed lately:
Joan Didion – Play It As It Lays
Dana Spiotta - Lightning Field
Michelle Huneven - Jamesland
Marisa Silver – Babe In Paradise
And anything by James Ellroy, TC Boyle, Mike Davis or Aimee Bender
In your novel, Margaret flees her affluent circle of well-heeled friends in Los Angeles to wrestle with family demons in Silicon Valley. While this group of women could easily fall into the stereotype of what many outside of (and in!) Los Angeles think about LA women (beautiful, great shoes, excellent handbags, only the finest champagne will do), you've given each of them significant careers, serious artistic endeavors, a genuine concern for their friends, etc. As a resident Angeleno, do you find that these types of women are often incorrectly judged? Or does the stereotype exist for good reason? One of the things that amazes me about Los Angeles is how many incredible, ambitious, creative women are here: filmmakers, artists, writers, musicians, entrepreneurs, producers and so on. One of the wonders of this town is that, on occasion, those women are also financially rewarded for their talents, and therefore are able to indulge in the finer things in life. And yet there's this persistent stereotype that to prove their seriousness, women should reject anything involving conspicuous consumption.
Yes, there are plenty of frivolous women (and men) in LA that are only interested with labels and appearances – as there are in any major American city -- but some of the most serious women I know here also sometimes splurge on a designer shoe or fancy meal. Hell, I own a Marc Jacobs handbag (gift) and am eating at Mozza next week (anniversary) and have a secret weakness for purple eyeshadow. I also buy a lot of clothes at thrift stores and eat $2 asada tacos and do volunteer work. It's called complexity, and that's what makes interesting characters – in real life Los Angeles, and in fiction too.
As a side note, I actually think that, perhaps because of the endemic sexism in Hollywood and its ancillary industries, women in LA do form really tight-knit networks and friendships. I spend a lot more time in groups of women and listening to women talk about feminist issues here than I did in San Francisco. Which is ironic because I actually ran a feminist zine in San Francisco for a while.
Your characters wrestle a great deal with appearances. They not only fret about how they look, but they worry about how their actions are perceived. They are desperate to seem "appropriate" in an attempt to avoid social scrutiny and judgment. As their lives crumble around them, their ability to keep up the charade falters. There is a real fear of being found out, of their peers and their neighbors learning about their true selves vs. the selves they show to the world. What about these types of characters and these particular struggles interested you? We live in a very appearance-oriented society – the belief is that the appearance of success is in itself a form of success, and will somehow bring yet more success. And there's an awful lot of vitriol (hi, blogosphere!) flung at people who do attempt ambitious things and then fail, so it's no wonder that so many people are gunshy about what they want the outside world to see.
I was interested in exploring this idea through a couple of characters – a late twenty-something who was panicked about her crumbling career, an older woman who was concerned about social acceptance among the country club set, and a teenager who worried about fitting in to her high school. It's all the same paranoia about failure and being judged, just in different spheres.
Of course, the sad irony is that there's a lot of catharsis and emotional growth that comes through those moments when that "true self" – the flop – is brought out into the light for the world to examine. And of course we also love our redemption stories, as much as we love to crucify those who trip and fall. So there's still hope for those who are torn apart by the bloodthirsty throngs; just look at James Frey.
At the heart of it, your book is about women at various stages in their lives. You examine how they become who they are and how they become more than the sum of their circumstances, more than the men in their lives ever thought they could become. In many ways, your book could be deemed a modern day feminist manifesto. How did you arrive at this particular tale of these women? Has the "feminist" label surprised you? I can't say I'm particularly surprised by the feminist label – I do have the characters spend a fair amount of time talking about the subject. I also packed the book with sex, teen pregnancy, drug-addicted housewives, etc – which, besides being fun plot points, happen to be hot-button feminist issues.
How did I end up with these characters? Hard to remember, really, since it's been a five year process! I do recall that I came up with Lizzie first – she kind of sprang, Aphrodite-on-the-half-shell-like, into my mind; and then I invented Margaret, and then was curious what their mother would be like, and so on. Mostly, I liked the idea of having three woman at different ages, each with a very different idea of what "womenhood" means – Janice the proper stay-at-home mom, Margaret the vocal post-feminist, Lizzie the sexually active teen.
Growing up in Silicon Valley & San Francisco, and then living in LA, I was also really fascinated by what the modern cult of success – the supersized American Dream, with all its boggling riches and instant celebrity and conspicuous trappings, that so many people compare themselves against these days – has done to women's expectations for themselves. (Although really that's less of a woman's issue, in particular, that a social issue in general: The men I know tend to puzzle over this stuff just as much.)
So I threw a half-billion dollars on the table, and a crisis in the form of Janice's husband Paul leaving her for her best friend, and then let the characters begin to tell me their own stories from there.
You perfectly capture the awkward, needy, insecure-yet-brave angst of teen girls everywhere in Lizzie, who explores her sexual identity at a young age and becomes both empowered and confused along the way. How did you tap into that inner teen? Maybe because I was a confused teenager myself? Not that I was in quite as bad shape as Lizzie – nor was I having sex with half my class -- but good grief, my high school years were miserable. (Aren't everyone's?) I actually did spend some time in a Christian youth group, too. And fortunately, I kept journals.
I also live down the street from a high school. Just watching the parade of teenagers go by every day, you can see those emotions written on their faces: the bravado, the fear, the Borg-like attempts to fit a social mold, the desperate desire to be loved. And the horrible, horrible, hideous clothes.
You wrote a great piece about wedding registries for Altared, a collection of essays about modern day weddings and all the insane trappings that go along with them. You noted then that you had a "schwag" closet full of wedding gifts that remained unopened years after your wedding. Do you still have the closet? What remains unopened? We built a new cabinet in our kitchen earlier this year, so almost everything has finally been unpacked. That doesn't mean it gets used. I suppose we just don't trust our friends – or ourselves – with that crystal stemware. We also tend to barbecue a lot, and somehow it seems wrong to serve hot dogs on fine china.
Janelle Brown is a Los Angeles writer, essayist and journalist and her work has appeared in Vogue, The New York Times, Elle, Wired, Self, The Los Angeles Times, Salon and numerous other publications. All We Ever Wanted Was Everything is her first novel.
Donald Trump was a fading TV presence when the WGA strike put a dent in network schedules.

Pickets are being held outside at movie and TV studios across the city

For some critics, this feels less like a momentous departure and more like a footnote.

Disneyland's famous "Fantasmic!" show came to a sudden end when its 45-foot animatronic dragon — Maleficent — burst into flames.

Leads Ali Wong and Steven Yeun issue a joint statement along with show creator Lee Sung Jin.

Every two years, Desert X presents site-specific outdoor installations throughout the Coachella Valley. Two Los Angeles artists have new work on display.