This is an archival story that predates current editorial management.
This archival content was written, edited, and published prior to LAist's acquisition by its current owner, Southern California Public Radio ("SCPR"). Content, such as language choice and subject matter, in archival articles therefore may not align with SCPR's current editorial standards. To learn more about those standards and why we make this distinction, please click here.
Vin Scully 'Really Can't See' Returning After Next Season, Means It This Time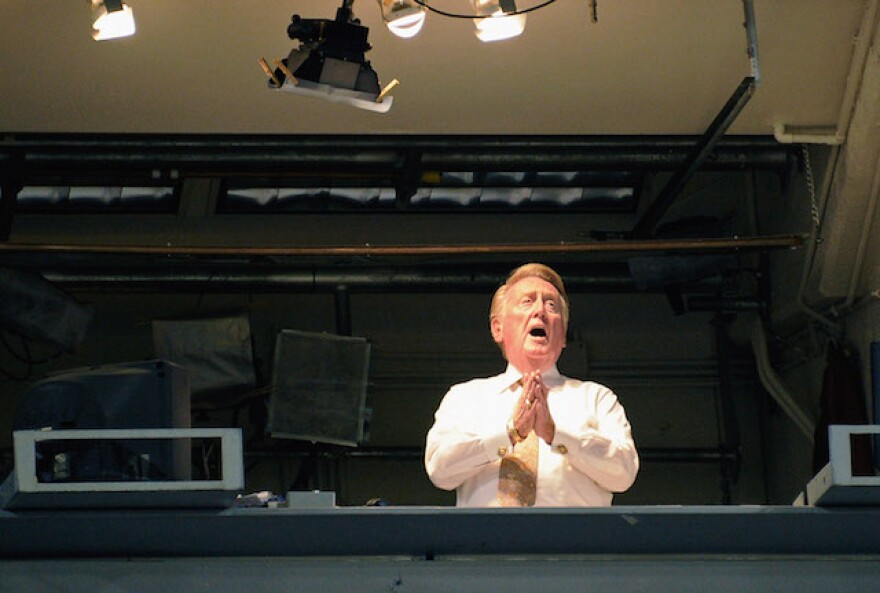 We need to hear from you.
Today, put a dollar value on the trustworthy reporting you rely on all year long. The local news you read here every day is crafted for you, but right now, we need your help to keep it going. In these uncertain times, your support is even more important. We can't hold those in power accountable and uplift voices from the community without your partnership. Thank you.
They say all good things must come to an end, but it's hard to believe that one of the best things about living in Los Angeles, about baseball, and really, life itself, is ending for real this time.
We thought there was a slight possibility that we might have a bit more time with Vin Scully, despite the fact that he said in August that the 2016 was likely to be his last season calling Dodger games. The lack of a 100-percent confirmation of Scully's final season gave fans a longshot of a reason to latch on to this tiny sliver of hope that he'd be back, for just one more...please? But, turns out, as the L.A. Times reports, it really, really is the end this time.
"Each year, I knew I was getting closer and closer," said the 88-year-old Scully, who has been the Dodgers announcer for 66 consecutive seasons (unreal stat). "Finally, this past fall and winter — I think it's time. I don't want somebody else to tell me it's time. I would rather do it myself."
Ever so humble, Scully continued:
I really can't see that I would come back...Sooner or later, you have to be realistic. I've done it for a long, long time. I've done reasonably well at it. But I don't want to stay on any longer than I feel I should... Which makes it a very tough decision, but I really do feel it would be time for me to walk away rather than have somebody say, 'Gee, you know, you're not the same. You're not quite this, you're not quite that.' I don't want that. So I think if I can get through next year doing reasonably well, it would be time then to walk away.
Scully was ever-so diplomatic when it came to the SportsNet L.A. debacle that has resulted in 60% of Angelenos not being able to receive cable access to Dodger games on T.V. "Doing the Dodgers games, if we had a full coverage, that's great. But even if we had the tiniest coverage, it would not influence me," Scully said. "I would still try to do the game as if everybody saw it. And I kept that up and will continue to do it, whether they change or otherwise next year." Please, please get this fixed before the 2016 season starts, if only to honor Scully.
The news is an inevitable bummer, but at least there were some poignant gems from Scully to ruminate on. As usual, he managed to transform his #deepthoughts into beautiful, poetic language:
If I stop to think about it — I'll be very honest — I'm somewhat scared to death. When you've run the same motor for all these years and suddenly turn it off, I know there will be a deafening silence. But I'll just have to be fortunate having had a wonderful marriage. I'll spend more time with Sandi, and God willing, with family and smell the roses.
In August, when it was first announced that it would likely be his last season, the Dodger legend quoted Dylan Thomas to the L.A. Times, as only Scully could:
[Thomas] wrote, 'Do not go gentle into that good night. Rage, rage against the dying of the light.' I guess in a way, that's what I'm doing. I'm raging against the dying of my career, which has to be around the corner now. But at least for the God-given time I have left, I'll be raging.
Rage on, Vin.
But Yeoh is the first to publicly identify as Asian. We take a look at Oberon's complicated path in Hollywood.

His latest solo exhibition is titled "Flutterluster," showing at Los Angeles gallery Matter Studio. It features large works that incorporate what Huss describes as a "fluttering line" that he's been playing with ever since he was a child — going on 50 years.

It's set to open by mid-to-late February.

The new Orange County Museum of Art opens its doors to the public on Oct. 8.

Cosplayers will be holding court once again and taking photos with onlookers at the con.

Littlefeather recalls an "incensed" John Wayne having to be restrained from assaulting her and being threatened with arrest if she read the long speech Brando sent with her.