I am Robot and Proud - Uphill City | Songs From Tiny Pieces
Stories like these are only possible with your help!
Your donation today keeps LAist independent, ready to meet the needs of our city, and paywall free. Thank you for your partnership, we can't do this without you.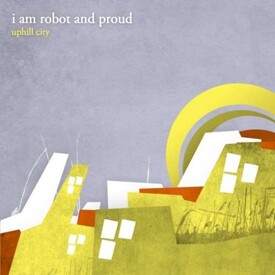 Artist: I am Robot and Proud
Title: Uphil City
Label: Darla
Release Date: October 28th, 2008
Much like Victor Bermon and Minotaur Shock, Toronto-based electronic whiz Shaw-Han Liem, otherwise known as I am Robot and Proud, systematically assembles shards of swarming notes. Each symphonic strain—a puzzle piece comprised of blips, bloops and beats—is pieced together in a hyperactive yet thought-provoking manner. The premise alone prods the spirit of inquiry.
2008's Uphill City is, as the one-man-band's Myspace headline proudly proclaims, a collection of "songs from tiny pieces." The tedious process of mosaicking becomes clear in the album's title track,"Uphill City." Like the volatile particles of an atom, sequences of choppy sound bytes move to and fro at light speed. But amidst the commotion of simultaneously sounded notes Liem's composure shines through. He acts as collected as a conductor—the girdle of such frenetic melodies.
I am Robot and Proud - "The risk"

As with most experimental instrumental albums, however, the topsy-turvy moments are often the most trying. Songs like "The Risk" delineate the uncertainty outright. The scattered fragments appear to be in a muddle, but they are sieved to near perfection. And even the intensity of the overall tone could easily unsettle anyone's equilibrium. Nevertheless, Liem hammers away at each refrain, presenting his peculiar vision with exactitude.
Surely, Uphill City is crafted in robust fashion. Yet what distinguishes I am Robot and Proud from his peers is a curious sense of constancy in speed and direction—the quality of being not only persistent, but melodically dependable.