This is an archival story that predates current editorial management.
This archival content was written, edited, and published prior to LAist's acquisition by its current owner, Southern California Public Radio ("SCPR"). Content, such as language choice and subject matter, in archival articles therefore may not align with SCPR's current editorial standards. To learn more about those standards and why we make this distinction, please click here.
Club Fluffer @ Zero One Gallery 02/23/08
Stories like these are only possible with your help!
You have the power to keep local news strong for the coming months. Your financial support today keeps our reporters ready to meet the needs of our city. Thank you for investing in your community.
Zero One Gallery | All photos by Elise Thompson for LAist
Remember the good old days, when you would just end up at a random artspace downtown sometime after midnight? People would be walking around wearing bowler hats and bunny suits while loud noise/music/artistic expression screeched out from the next room. So you would wander into the next room and find someone bellydancing or putting on a burlesque show. And you would think to yourself, "Oh my God! Who are these people? How did I get here? and how am I getting home?" A few hours later, you would find yourself in some Little Tokyo hole-in-the-wall drunkenly slurping up noodles.
I had thought those days were over, but last night's Club Fluffer at the new space of the Zero One Gallery brought it all back home.
Photos and more after the jump
Cheanteuse Morganne Picard's fantastic coat looked like a giant pink muppet
Tequila Mockingbird can put on one hell of a show. It's one of those events where you have to free yourself and come along for the ride, no matter what comes next. You are either on the bus or off the bus. The crowd last night was definitely on the bus, and that bus was rocking. Everyone was having a good time, getting into the groove, and the line between performer and audience was somewhat ambiguous.
Entertainers included Mick Farren and Andy Colquhoun's "alien electric blues". My Bloody Valentine, Tequila Mockingbird's Alvin and Lucelle, Morganne, Madam Miss La Diva, Vicki Hill, DJ Surfer Mike, and DJ Clare from Killradio.org's CON/SIN and -- The Bunny. OK, I'm not too sure who was doing what - it was all a blur of music, dancing and revelry. And it wasn't just the absinthe.
By the end of the night, Tequila had the theme to Pippi Longstocking cranking out of the very expensive speakers, and somehow that seemed to sum things up pretty well.
Zero One Gallery interior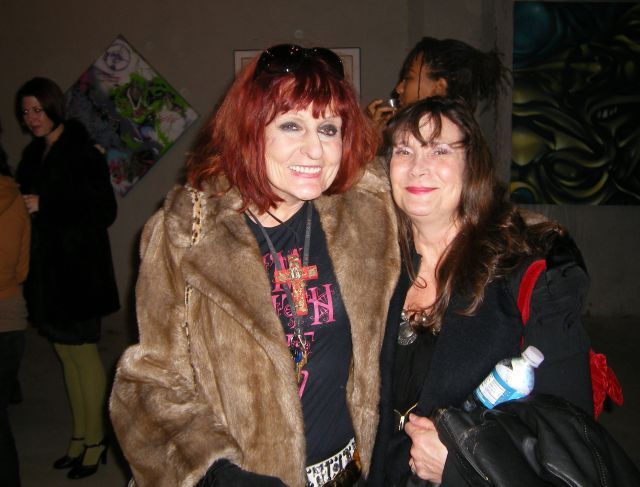 GTO Miss Mercy and the fabulous Jill
Tequila has two turntables
chanteuse Morganne Picard serenades me
Humberto of Kill Radio starts mixing the absinthe. This is where things started to get weird
Birthday girl Clare of Kill Radio rocks out with Morganne
Class is all in the angle. And the era
miss lady la diva burlesque
Humberto gets into the groove | All photos by Elise Thompson for LAist
One of my pet peeves is art that masquerades as furniture, yet is not furniture. It is like the cocktease of the art world
The Fluffer Bunny. What did you think Club Fluffer meant???
All roads lead to Little Tokyo | All Photos by Elise Thompson for LAist
The Zero One Gallery 213.984.4901
746 S Los Angeles Street Btwn 7th and 8th Streets LA, CA 90014
SANTEE VILLAGE (Soon to be moving next-door)