Brett Ratner Options Hugh Hefner's Life Rights For Playboy Flick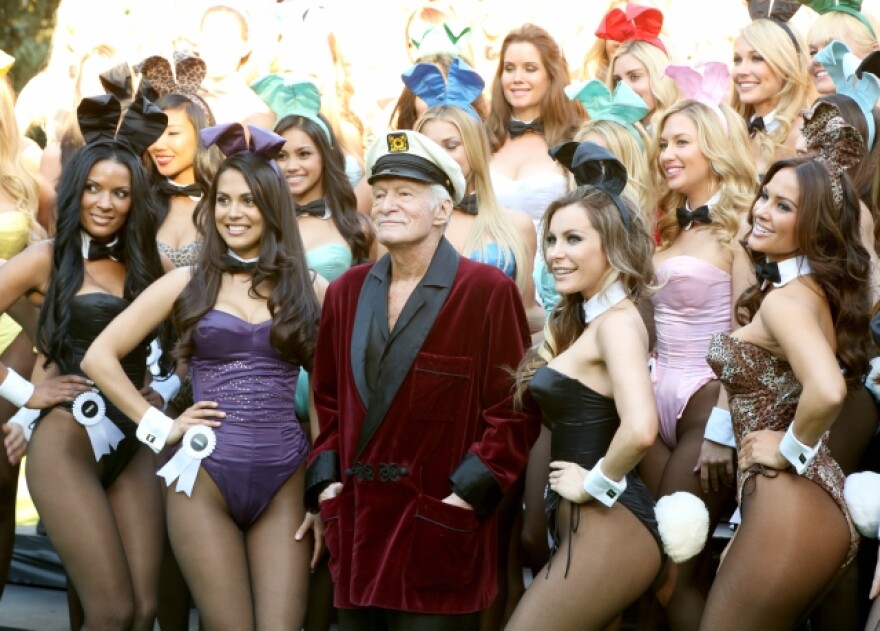 Stories like these are only possible with your help!
Your donation today keeps LAist independent, ready to meet the needs of our city, and paywall free. Thank you for your partnership, we can't do this without you.
Brett Ratner's RatPac Entertainment has secured the life rights to Hugh Hefner in what will be Ratner's second attempt in a decade to bring the Playboy magazine founder's life story to the screen. Hefner himself will also be an executive producer on the project, reports Deadline.
Ratner was attached to a Brian Grazer-produced iteration of the project in 2007. Ratner was set to direct, following several drafts of the script (then called "Playboy") penned by Oliver Stone, notes Variety. The project never made it to the screen, but Ratner directed Hugh and a few playmates in a 2009 Guitar Hero 5 commercial (here are some odd B-roll clips from the shoot).

Director Brett Ratner (L) with Hugh Hefner's son, and Playboy CCO, Cooper Hefner (R) (Photo via Getty Images)
Ratner's revived efforts come on the heels of several noteworthy Hefner and Playboy-related announcements. In August, the 90-year-old Hefner sold his iconic Playboy Mansion for $100 million to his 33-year-old neighbor, Daren Metropoulos, under the agreement that Hefner will continue to live at the property for the remainder of his life. Furthermore, Playboy magazine, which ceased publishing nude photos after their January/February 2016 edition, brought back their claim to fame under new Chief Creative Officer Cooper Hefner (Hugh's youngest son).
"I'll be the first to admit that the way in which the magazine portrayed nudity was dated, but nudity was never the problem because nudity isn't a problem," a statement by Cooper released in February reads.
Ratner isn't the only person translating Hugh Hefner's life and magazine into celluloid. Amazon released a 10-part docu-series on Hefner titled "American Playboy: The Hugh Hefner Story" on Friday.
Hefner has given his seal of approval to Ratner and the RatPac Entertainment project. "In recent years there has been plenty of interest and much conversation about doing a feature film based on my life," Hefner said in a statement, reports Deadline. "I have always believed that when the timing was truly right, the perfect creative partners would come together for this project. I believe we've found those partners in Brett Ratner and RatPac Entertainment. I'm very much looking forward to this collaboration."