This is an archival story that predates current editorial management.
This archival content was written, edited, and published prior to LAist's acquisition by its current owner, Southern California Public Radio ("SCPR"). Content, such as language choice and subject matter, in archival articles therefore may not align with SCPR's current editorial standards. To learn more about those standards and why we make this distinction, please click here.
Andre Ethier Is Our Dodger
We need to hear from you.
Today during our spring member drive, put a dollar value on the trustworthy reporting you rely on all year long. The local news you read here every day is crafted for you, but right now, we need your help to keep it going. In these uncertain times, your support is even more important. We can't hold those in power accountable and uplift voices from the community without your partnership. Thank you.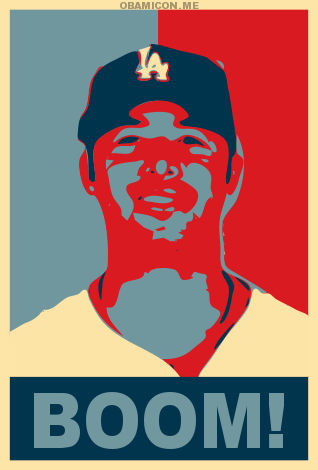 Andre Ethier has the power for the Dodgers. Dodgers official headshot manipulated by Obamicon.Me.
Andre Ethier hit back to the box, struck out, grounded out, then doubled to right in the ninth inning and struck out in the 11th. He is 1-for-5. You have Furcal on first with one out.
Fastball and a high drive into deep right! Back goes Jones to the wall! Gone!
[Dodger Stadium crowd cheers and "I Love LA" starts playing in the background.]
Andre Ethier who could better be known as Mr. Miracle comes up with a walk-off home run, and the Dodgers hang on and beat the last-place Pirates 5-4. A little bit of magic. They brought in Bootcheck to relieve Jackson. They brought in Dumatrait to relive. And Ethier hits it out.
For Ethier his 30th home run, first left-hand Dodger since Shawn Green to have 30 home runs. And leading the towel brigade was Orlando Hudson waving a white flag of victory, not of surrender.
For Andre his sixth walk off winner this year. I mean you go back to Duke Snider, Babe Herman, Dolph Camilli and now Andre Ethier. And the Pirates are in shock as Mr. Magic hits it out.
Everyone who sits down and watches Dodger games knows what will happen. If the Dodgers are down by a run or two in the ninth inning, or if things get into extra innings, everyone is looking for one person: Andre Ethier. 11 times since 2008 he was the last man standing at the plate for the Dodgers hitting the ball to where the defense ain't. Yet as Vin Scully's call of Andre Ethier's last walk-off homer last season in the 13th inning of a game against the Pittsburgh Pirates on September 15 on KCAL9 indicates, it still sends everyone into a frenzy.
After a walk-off homer on August 9, 2009 against the Atlanta Braves Ethier remarked, "They never get old. It's always I guess jaw-dropping once you see it either land or go over the fence or something."
It certainly never gets old for anyone: his teammates, his manager, the fans and most importantly himself.
"Andre, gosh, look at this guy," starter John Ely said after Ethier's most recent walk-off hit: a grand slam on May 6 against the Milwaukee Brewers to give the Dodgers the 7-3 victory.
"Sometimes there are people who are afraid of success because that means people expect them to do it all the time," manager Joe Torre said Monday afternoon. "[Ethier] loves the responsibility. He's pretty special."
And there's no doubt that Ethier is a special player. He has climbed from being looked over by Arizona State University, from being that "other guy" in the Milton Bradley trade to the Oakland Athletics after the 2005 season.
Now he is who everyone looks to when the Dodgers need that crucial hit. He understands the game situation and does not shy away from the pressure.
"It's just going up there, staying in the moment, enjoying the intensity, enjoying the situation or having fun with it and taking swings," Ethier said after his walk-off homer off of Phillies' reliever Chad Durbin on June 6, 2009.
"I think it just going up there swinging at the right pitches and trying to stay in the at-bat and know what they're trying to do to you in a certain situation. Use that confidence to not be overly aggressive, but be aggressive at the right time."
Ethier has that confidence because of how much work he puts in and his dedication to his routine. Not a query from a reporter can stray him from his job: continue to become a better player.
"What I've seen the three years I've been here is a lot of growth in this young man," Torre said. "He's very dedicated to his trade. It's a lot of fun to watch on this side."
Everyone has been having fun watching Ethier bloom over the past few seasons, but now the entire country has been rapt watching him lead the National League in Triple Crown hitting categories: .392 batting average, 11 homers and 38 RBI. In the month of May he has been hitting .490 with five homers and 19 RBI.
Unfortunately as the masses congregate for Andre Ethier bobblehead night at Dodger Stadium, news was released that Ethier will be going on the 15-day disabled list with a broken right pinkie.
"Andre not in the lineup is a blow to us," Torre said. "He's disappointed. It was one of those freak things."
"It's disappointing," Ethier said. "We were really coming together as a team."
Additional reporting by Caleb Bacon.
But Yeoh is the first to publicly identify as Asian. We take a look at Oberon's complicated path in Hollywood.

His latest solo exhibition is titled "Flutterluster," showing at Los Angeles gallery Matter Studio. It features large works that incorporate what Huss describes as a "fluttering line" that he's been playing with ever since he was a child — going on 50 years.

It's set to open by mid-to-late February.

The new Orange County Museum of Art opens its doors to the public on Oct. 8.

Cosplayers will be holding court once again and taking photos with onlookers at the con.

Littlefeather recalls an "incensed" John Wayne having to be restrained from assaulting her and being threatened with arrest if she read the long speech Brando sent with her.