This is an archival story that predates current editorial management.
This archival content was written, edited, and published prior to LAist's acquisition by its current owner, Southern California Public Radio ("SCPR"). Content, such as language choice and subject matter, in archival articles therefore may not align with SCPR's current editorial standards. To learn more about those standards and why we make this distinction, please click here.
A Guide To Anaheim, A Surprisingly Cool City
We need to hear from you.
Today, put a dollar value on the trustworthy reporting you rely on all year long. The local news you read here every day is crafted for you, but right now, we need your help to keep it going. In these uncertain times, your support is even more important. We can't hold those in power accountable and uplift voices from the community without your partnership. Thank you.
When most people think of Anaheim, they think of Disneyland or catching a Ducks game. Without discrediting the glory of the Magic Kingdom or the skills of the Ducks, this Orange County city has a lot going on. Anaheim, though it's only an hour away, hadn't been on our radar until we found out that a couple escape rooms had popped up on the scene—and we can't resist a good escape room. But if we were going to drive all the way past the Orange Curtain, we figured we might as well make a weekend out of it. The Anaheim Tourism Board got in touch with us and offered to show us some of the city's hot spots. We also did our own exploring of the city's dive bars and geeky curiosity shops.
Anaheim is a laidback city with a small-town feel and relatively easy to navigate. Though it's possible to enjoy Anaheim without ever going to Disneyland, it really does permeate everything, which sometimes makes you feel like a big kid. We love L.A., but enjoyed a break from gridlocked traffic, the lack of parking, ridiculous bar dress codes and overpriced mixology drinks. During our 48 hours in Anaheim, we had delicious omelette tacos, swung on a trapeze, drank a beer that tastes like a chai latte, escaped from a possessed doll and angered Tiki gods.

Sing your heart out (Photo via Facebook)
Catch A Show Or Sing Your Heart OutWith all the dives in Los Angeles shuttering, it's refreshing to stroll into a joint that has neon bar signs, great pub food, uninhibited karaoke and a cheap, strong pour. We loved Rio Vista Inn for those reasons and more. One half of the bar is your standard, sports-watching, pool-shooting dive. Start here if you're hungry and order a hearty sandwich or full dinner. It may be the a dive, but the food here is flavorful and filling. We were even informed that the chef had a marinated salmon ready for the dinner special (though we went with the prime rib dip). Once you're full and warmed up, move over to the other, leopard print-carpeted side for some karaoke. They've got a huge book and nearly any song goes. We heard The Boomtown Rats' "I Don't Like Mondays" followed by Katy Perry's "Friday Night," followed by Godsmack's "Whatever" and as we cashed out it was to Backstreet Boys' "Larger Than Life."
You can also catch a show at the Doll Hut, usually of the rock, punk or rockabilly variety, though they do metal on Mondays and occasionally host a comedy or open jam night. It's a small dive, but has a lot of music history—The Offspring supposedly got their start here. You could also hit up The Juke Joint. They're open every day from 6 p.m. until 2 a.m., and boast a rotating selection of 20 draft craft and domestic beers, plus pool and a jukebox.

Creepy doll parts, or clues to escape? (Photo by Juliet Bennett Rylah/LAist)
Escape From A Locked RoomLos Angeles certainly has its share of this relatively new, immersive game that requires players to solved their way out of a 'locked' room. (For safety reasons, you're not ever truly trapped, of course.) David Herbelin's Puzzlemazement is unique from other escape rooms in that it takes place over three stories and changes every four months. Herberlin told us he likes to run his game like a theatre, where a game 'shows' for four months at a time before being completely replaced with a new game in the same space. When we stopped by, we were trapped in a dollmaker's factory with the warning that if we didn't solve our way out in 60 minutes, we'd be turned into dolls. So if you're someone who is creeped out by porcelain dolls, you might find this game pretty unsettling. Otherwise, however, it had no jump scares or dim lights like some of the other horror-inclined games we've played. Paired with eight strangers, we had to solve a number of puzzles and riddles, and each catered to a different type of intelligence. You might not be great at math, but if you can read music or excel at word games, you'll have no problem finding something to solve while your teammates hammer away at something else. Unlike some escape room games we've played, Puzzlemazement doesn't require all hands to be on deck for one puzzle at a time, so a larger team can spread out and accomplish a lot in the allotted hour.
Supposing you escape without meeting a grisly fate, there are also puzzles for play and purchase in the lobby. The Dollhouse will run until September. After that, Herberlin told us he'll be moving onto a theme that might creep a lot of people out: clowns. Tickets are $30/person.
Puzzlemazement is located at 1238 S Beach Blvd. in Southwest Anaheim, (714) 220-9596.

Authentic Middle Eastern cuisine from Olive Tree Restaurant (Photo via Facebook)
Visit Little ArabiaYou can also visit Little Arabia for authentic Middle Eastern food or to try one of the neighborhood's many hookah lounges. Locals recommend Olive Tree Restaurant or Kareem's Restaurant for dinner, followed up by dessert at the nearby Knafeh Cafe. Knafeh is a soft, dessert cheese topped with buttery, flaky dough and simple syrup. The cafe also serves Turkish and American coffee, espresso, smoothies, baklava, hareesh and warbat. You can find dinner buffets at Aleppo's Kitchen, Olive Tree, & Alwadee Restaurant during Ramadan, and to celebrate the end of Ramadan, there's the Eid Festival downtown.
This area is also where you can find Linbrook Bowl, a Googie-style, 24-hour bowling alley with video games and karaoke every night. Huell Howser was a fan of this place.

Don't worry, there's a net! (Photo by Juliet Bennett Rylah/LAist)
Learn TrapezeTrapeze lessons at SwingIt Trapeze are not for the faint of heart or for those with a fear of heights, but the bold will find a lesson here exhilarating. Each two-hour class can hold up to ten people. You'll start by putting a harness tightly around your middle, and then you'll get in some basics about body position before climbing up a very tall and winding staircase to a platform dizzyingly high above ground. If you can reassure yourself that you're going to safely fall into a net, you'll soon advance to backflips and partner tricks. We never quite mastered the partner work, but it was fun! Expect sore abs the next day in places you never knew your abs could be sore. Lessons are $75 for first-time flyers. Those who enjoy themselves can purchase a second class and get a third free. You can also learn other tricks involving aerial silks and hoops here. Students who stick with it will perform their daring feats at periodic student showcases.
Obviously, the people in the video are much, much better at this than we were. We also took lessons with an eight-year-old girl who was much braver and more agile than us, too.
SwingIt Trapeze is located at 350 W Center Street Promenade in downtown Anaheim, (877) 979-4644

This elephant was part of a 'trash art' show (Photo via Facebook)
Visit A MuseumMUZEO hosts exhibitions of all kinds, from the history of the black leather jacket to the the origin of steampunk. Currently on display is an exhibit on cougars, grizzlies and the other wild predators that share SoCal with us humans. You'll see taxidermy of bears and big cats, as well as pop culture ephemera showing how various animals have been used in fiction (yeah, there's totally a poster of that kind of cougar). The museum also hosts events—some related to what's on display and some not—including lectures, classes and poetry readings. The current wildlife exhibit is on display through September 13, and will be followed by a show about King Tut. Past exhibitions include art made from trash, quilts and chocolate, so you never quite know what you're going to see here.
MUZEO is located at 241 S. Anaheim Blvd in downtown Anaheim. (714) 956-8936

Okay, it's not actually that cheap (Photo by Juliet Bennett Rylah/LAist)
Try Some Local Craft BeersThe local craft beer scene in Anaheim is a strong one. Anaheim mayor Tom Tait has actually been very involved in pushing the growth of the scene, and it shows. We managed to stop by four breweries in one day, and we sampled 23 beers. Note: sampled.
Anaheim Brewery
First, we visited Anaheim Brewery, which is right by the Anaheim Packing House. Anaheim Brewery was first established in 1888, but prohibition forced the brewery to close. It stayed that way until 2010, when it was resurrected by Barbara and Greg Gerovac. You can take a seat at the long bar in the bright tasting room, or you can chill outside in the beer garden. They serve a beer called Anaheim 1888, a hoppy brew that follows the same recipe that was used over a century ago. On Tuesdays, they have tacos, so bring some cash.
Anaheim Brewery is located at 336 South Anaheim Boulevard in downtown Anaheim. (714) 780-1888
Noble Ale Works
Here you can get a flight of four beers for $12. We were accompanied by Greg Nagel, who writes about beer at OCBeerBlog. He recommended we try Noble's 'Naughty Sauce,' the beer that put them on the map. Naughty Spice really illustrated one awesome thing about Noble: if you love hoppy beers, you'll probably be happy with any brewery. But if you or a drinking partner of yours doesn't typically like beer, here's a brewery that may change your mind. Naughty Sauce is a stout beer (but it's not dark in color) that's made with oats, milk sugar and coffee as opposed to grain. It's served on nitro for a creamy texture and has notes of pecan pie, cinnamon and cookie dough. It's sweeter than you'd expect a beer to be. If that's not sweet enough, you can try the 'I Believe I Can Chai,' which is a nitro beer that tastes shockingly similar to a chai latte. If that's not sweet enough, they had a beer called 'Soda Jerk' on tap that tastes like a cream soda, but will get you drunk. It's made with a ton of vanilla beans and milk sugar and the lactose intolerant are warned to stay far away. If you don't fancy a dessert beer, they have a number of others. We liked the 'English 201,' a solid English ale, and the surprisingly spicy 'Too Darn Hot,' an IPA brewed with habanero peppers.
Noble Ale Works is located at 1621 S. Sinclair St. Ste B. in Platinum Triangle. (714) 634-2739

The tasting room at Bottle Logic (Photo via Bottle Logic)
Bottle Logic
Next, we stopped by Bottle Logic. This brewery has a fun, pulpy, 1960s sci-fi theme and the names of their beer match. We tried a flight of five brews, containing an Imperial English Brown Ale named after Game of Thrones' Hodor. At 8.2 percent ABV, this ale brewed with cinnamon, ginger and pepper is to be consumed with caution. My personal favorite was the 'Coffea Lupulus' Coffee IPA, but their pale wheat ale—She Shot First—is a great summer beer. They don't serve food, but they do have a rotating cast of food trucks that park outside.
Bottle Logic is located at 1072 N. Armando St. in Northeast Anaheim. (714) 660-2537
The Bruery
This was our last stop. It's fun to get a five-beer flight here, with most samples costing only a buck, though they do have a few beers with ABVs in the mid-teens that'll cost extra. With over 20 beers on tap available, you're sure to find something interesting. Our favorites were the 'Tart of Darkness,' an oak-aged sour stout made with cherries and vanilla bean; the Autumn Maple, a dark ale with yams and spices; and the L'Deracola, a beer meant to remind the imbiber of Coke with lime. That's not all, however: if you're a member of the brewery's Reserve Society, you have even more options. We were able to try the Filmishmish 2015, a sour blonde with apricot; the Imperial Or Xata, a horchata-flavored blonde ale and two interesting stouts that both had an ABV of over 18 percent—the cacao and vanilla bean brewed Chocolate Rain, and the hazelnut-infused Grey Monday 2015.
The Bruery is located at 717 Dunn Way in Placentia, (714) 996-6258.

Get a brew and a trim at Barbeer (Photo by Juliet Bennett Rylah/LAist)
Barbeer
Maybe you want to drink a beer while you get cleaned up. You can get a haircut while drinking a local brew at Barbeer. Barbers provide the trims while bartenders pour pints of craft beer from a bar at the back of the house. They also occasionally host Dapper Nights along with the two men's clothing stores adjacent to the barbershop (we'll get to those later). Expect refreshments, music, deals, giveaways and the occasional tap takeover from a favorite brewery.
Barbeer is located at 165 W Center St. in downtown Anaheim, (714) 533-2727

A truly pleasant shopping area hidden in a strip mall (Photo via Facebook)
Check Out Surprisingly Cool Indie ShopsThe geeky and the crafty will love community, a hidden alley, tucked in a strip mall. This little row of indie shops seems totally out of place round the corner from a dimly lit bikini bar, but venture over and you'll find RSSA Vintage, a retro appliance store; the Makery, where you can learn to craft; Layla & Lisette, a shop full of cute baby and children's clothes and accessories; Naranjita Flamenco, a studio to learn flamenco dancing, True School Barbershop; and lots of vinyl at Ceremony Records.

Fan Alley's grand opening (Photo by Juliet Bennett Rylah/LAist)
Newly opened is Fan Alley, a curiosity shop for fans of comics, collectible toys, art, nerdy accessories and quirky decor. There are often food trucks or carts here, and the area has free wifi, which you can enjoy while sitting in their pleasant courtyard full of knitted art and plants. Check Facebook for events and to see what food trucks might be stopping by.community. 423 S. Brookhurst St. in West Anaheim, (714) 817-0998

The Packing House was designed as an 'anti-mall' (Photo by Juliet Bennett Rylah/LAist)
Wander Anaheim's Anti-MallThe Anaheim Packing House is full of places to eat, drink and lounge. Designed by Shaheen Sadeghi, whose other 'anti-malls' include The Camp and The Lab in Costa Mesa, this airy, upscale food court offers something for everyone. You could spend an entire day here, either by yourself or with a group. It's family friendly, but there are also secret hideaways for adults.
You could start by grabbing a coffee from Cafecito Organico or a juice from Lemon Drop, then follow it up with a meaty comfort food meal at Kroft or soul food eatery Georgia's. There's also Sawleaf, a fresh Vietnamese eatery; Popbar, which serves gelato popsicles rolled in all the toppings; a grilled cheese bar called Black Sheep and a seafood restaurant with drinks called The Kettle Bar. You can also grab a beer at the Hammer Bar or a glass of wine at BXCR (pronounced BoxCar), a gorgeous space made to look like a 1920s train car. On the weekends, bands set up inside and offer live entertainment.

This leads to great drinks, not The Matrix (Photo via Juliet Bennett Rylah/LAist)
If you're feeling adventurous, try to find your way into the Blind Rabbit. The key here is to follow the black rabbit near Roiling Boil, the hot pot restaurant, and not be afraid to tug. Once inside, you'll find a dark, small speakeasy that can only fit 30 guests. This isn't a place that you can linger for the eve: you only have 90 minutes to try as many unique craft cocktails as reasonable before you must make room for the next customers. We sampled an off-menu drink called 'The Boy From Detroit,' made with rye, amaro, coffee-infused Campari, chocolate and vanilla bitters and smoked cinnamon. It comes on sweet and fades into that bitter Campari finish.
You can also do a little shopping here. There's Buy 'n Bulk, where you can purchase bulk granola, candy, nuts, cooking needs and more. Outside, is Farmers Park. You might be able to catch a yoga class or pick up some fresh produce from the farmers market, which runs on Sundays from 10 a.m. to 3 p.m.
Anaheim Packing House is located at 440 S. Anaheim Blvd. in downtown Anaheim. (714) 533-7225

The Shrunken Zombie Head: Rum, tropical fruit juices, falernum and cinnamon. (Photo by Juliet Bennett Rylah/LAist)
Explore Downtown DisneyYou don't have to go to Disneyland to experience a little of that happiest-place-on-Earth charm. Downtown Disney is open to the public and contains plenty of fun surprises. Stop by Trader Sam's Enchanted Tiki Bar for a quick, casual bite and a fruity, but very boozy tiki drink. If you should happen to order the wrong one, you'll anger the Tiki Gods who will either erupt a volcano or conjure a storm to show you who's boss. There are also many places to shop—they have a LEGO store!—or grab a bite. It's a family-friendly place with lots of recognizable characters and photo opps.

The lamb omelette taco and the nacho fries from Pour Vida; a bevy of cheese at Center Street Cheese Shop; and a video about the neighborhood plays on a street installation (Photos by Juliet Bennett Rylah/LAist)
Check Out Center Street PromenadeEat & Drink
You can start by grabbing a coffee at Ink & Bean, a small, old-timey coffee saloon that offers all the caffeinated classics plus cold brew on nitro. The inside is decorated with books suspended from the ceiling and vintage card catalogues. Outside, they have a small, free lending library in an airstream trailer. Grab a cup of joe, choose a book and you've got a relaxing Sunday morning. Be sure to replace the book with another if you decide to take it with you.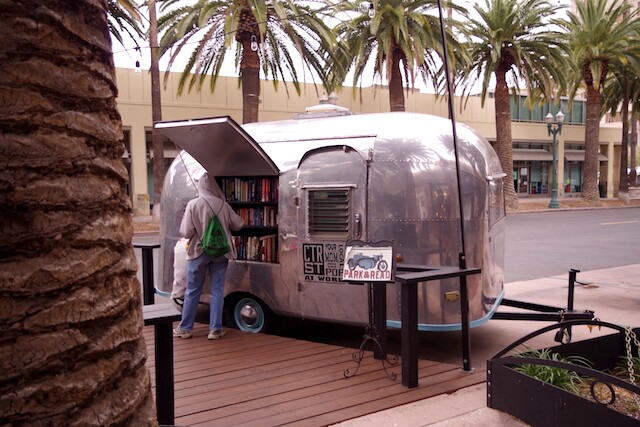 Lending library outside of Ink & Bean (Photo by Juliet Bennett Rylah/LAist)
Feeling peckish? We suggest Pour Vida. On the weekends, they serve fantastic omelette tacos (savory tacos with fluffy egg added), but their gourmet tacos are great any time. Though a little pricy compared to beloved street tacos, we appreciated how hefty these tacos were. We've had other gourmet tacos you could finish off in two bites, but these come packed. They also serve beer, wine and cocktails, as well as fresh juice. We tried a spicy mango juice that was a perfect start to a packed afternoon: refreshing, with just a bit of a kick.
Other eateries nearby include Good Food, which is kind of like a food court. Inside, you'll find Cervantes Mexican Kitchen and Healthy Junk, a gluten-free vegan eatery, and K&A Cafe for breakfast and lunch. You could also hit up Caffe Primo for seafood,Delifornia for fresh, hearty and locally-sourced sandwiches, PokiNometry to build your own poke bowl, or The Gypsy Den for coffee and fresh, modern dishes.
Shop
We also really enjoyed popping into Center Street Cheese Shop. The knowledgeable staff knows all about cheese, including the interesting and rare cheeses they stock alongside all your classics. They also do a monthly beer & cheese tasting night. Gentleman visitors might enjoy Heart & Sole, a men's footwear store, and The Good, an upscale menswear shop that specializes in SoCal-inspired fashion and men's products. Barbeer is connected to these two shops. For those on a tighter shopping budget, we suggest stopping by RARE. While technically a Goodwill store, RARE contains a curated selection of some of the thrift outlet's best goods. There's also an area where you can listen to vinyl records before you purchase them.
Center Street is a growing downtown strip offers a number of fun shops and restaurants.

Hotel Menage's pool and spa are open 24 hours (Photo via Hotel Menage)
Where To Stay
Anaheim is an easy day trip. However, if you want to stick around, we've got a couple hotel recommendations. We decided to spend our weekend getaway in Anaheim at the Hotel Menage. It's a ten-minute walk from Disney, has an American comfort food restaurant for uncomplicated dining, plus an outdoor tropical bar with a heated pool and jacuzzi. The selling point for us here was that the pool and jacuzzi are open 24 hours. Feel like a dip at 4 a.m.? No problem. If you head out to the pool before 9:30 p.m., you can dangle your feet in the water and take in Disney's nightly firework spectacular.

A pretty good view (Photo by Juliet Bennett Rylah/LAist)
Anaheim has many other lodging options at various price points. For a hotel that doesn't feel like a chain, there's Hotel Indigo, a boutique hotel with fresh, modern furnishings and design. If you're feeling kitschy, check out Castle Inn & Suites. Less than a mile from Disney, it's not a resort, but it is a medieval-themed hotel that appropriately looks like a castle. (Anaheim also has a Medieval Times, so you could really make a whole weekend of fantasy LARPing, if you wanted to.) Stovall's Inn, a Best Western hotel, has a whimsical topiary garden if The Shining hasn't ruined them for you. And while none of the original buildings remain, the Disneyland Hotel, though a bit pricier, is still a magical resort with their themed pools and proximity to downtown Disney hot spots.There are also a number of simple, roadside motels just a ten-minute walk from downtown Disney.

There are plenty of ways to get around without a car (Photo via Facebook)
How To Get Around
Once you've parked at the hotel, you might not feeling like driving, especially if you plan to hit up one of those breweries. You can Uber or a taxi, of course, but you can also use Anaheim's public transit. The hub is known as Anaheim Regional Transportation Intermodal Center (ARTIC) and it opened in December of 2014. ARTIC connects with Metrolink, Amtrak and OC Transportation Authorities buses, and this is where you'd arrive if you took the train from L.A. to Anaheim. From there, you can use OC buses or Anaheim Resort Transit (ART), which connects to hotels and other popular destinations.
But Yeoh is the first to publicly identify as Asian. We take a look at Oberon's complicated path in Hollywood.

His latest solo exhibition is titled "Flutterluster," showing at Los Angeles gallery Matter Studio. It features large works that incorporate what Huss describes as a "fluttering line" that he's been playing with ever since he was a child — going on 50 years.

It's set to open by mid-to-late February.

The new Orange County Museum of Art opens its doors to the public on Oct. 8.

Cosplayers will be holding court once again and taking photos with onlookers at the con.

Littlefeather recalls an "incensed" John Wayne having to be restrained from assaulting her and being threatened with arrest if she read the long speech Brando sent with her.