Pedestrians Go Wild Over New 'Zebra' Crosswalks in DTLA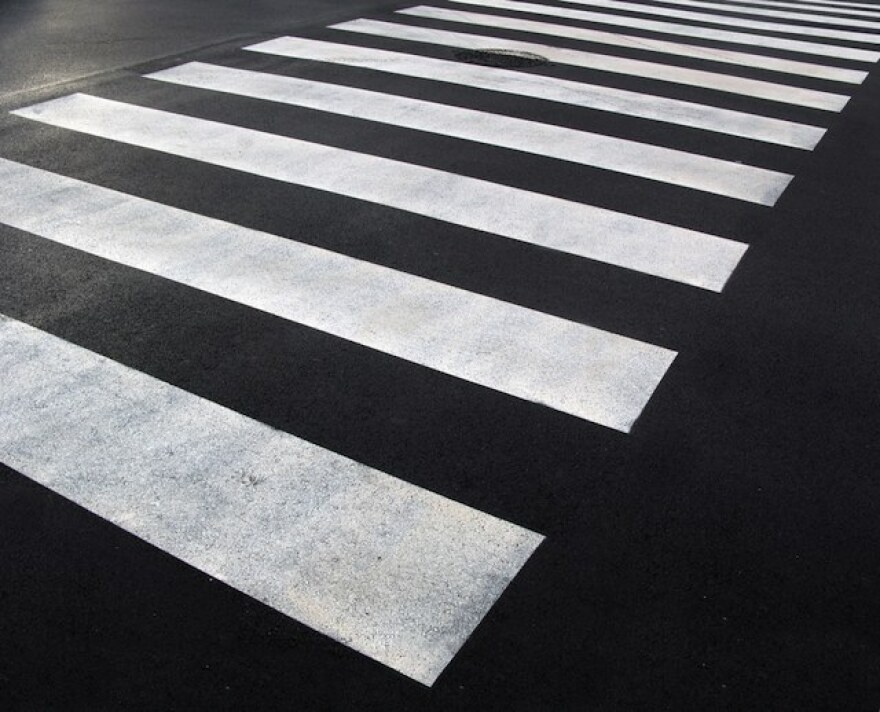 LAist relies on your reader support, not paywalls.
Freely accessible local news is vital. Please power our reporters and help keep us independent with a donation today.
What's black and white and tread all over? At the intersection of 5th and Spring in Downtown L.A., the answer is the new "zebra" crosswalks.
Also known as "continental crosswalks," the striped-patterned crosswalks "are meant to provide higher visibility to the intersection so that crossing the street for pedestrians is a safer experience," explains DTLA Rising.
Zebra crossings date back to post-World War II United Kingdom, and are used in several cities around the world.
This kind of crosswalk is considered to be beneficial for pedestrians, and some believe they also work to raise the profile of pedestrians in cities in which these crossings are adopted.
As Streetsblog pointed out in 2009, when "zebra crossings" seemed to be closer to a reality in hold-out L.A., "studies have shown that the series of vertical lines that create a Zebra Crosswalk are more safe for pedestrians and drivers than the 'box' crosswalks used at most crossings throughout Los Angeles. In short, cars are more likely to respect a Zebra Crosswalk than a traditional one."
It's not known if more zebra crosswalks will be coming to intersections all over L.A. soon, but many pedestrian advocates are certainly crossing their fingers.
Previously: Zebra Crosswalks Coming to L.A.?