This is an archival story that predates current editorial management.
This archival content was written, edited, and published prior to LAist's acquisition by its current owner, Southern California Public Radio ("SCPR"). Content, such as language choice and subject matter, in archival articles therefore may not align with SCPR's current editorial standards. To learn more about those standards and why we make this distinction, please click here.
This Is What The Downtown Skyline May Look Like In Five Years
Stories like these are only possible with your help!
You have the power to keep local news strong for the coming months. Your financial support today keeps our reporters ready to meet the needs of our city. Thank you for investing in your community.
For decades, downtown Los Angeles was overlooked by big-scale developers. Fast forward to the present, and anyone can tell that the area's skyline is in the midst of a massive transformation. By 2020, construction of new towers in the Downtown Loop (the area between the 110, 10, and 101 freeways) will have undergone one of the most intensive 10-year periods in the city's history, and Los Angeles will finally have a world-class skyline to fit its identity.
Now, thanks to a good samaritan on the SkyscraperPage forum, we have an idea of what this new skyline may look like. Forum user "Spantik" created a rendering with many of the proposed (in grey), under construction (blue), and recently completed (green) towers in the western half of the downtown loop. Not a week after the images were posted, two new projects were announced. Here's what the future skyline may resemble:

Rendering courtesy of Spantik via Skyscraper Page


Rendering courtesy of Spantik via Skyscraper Page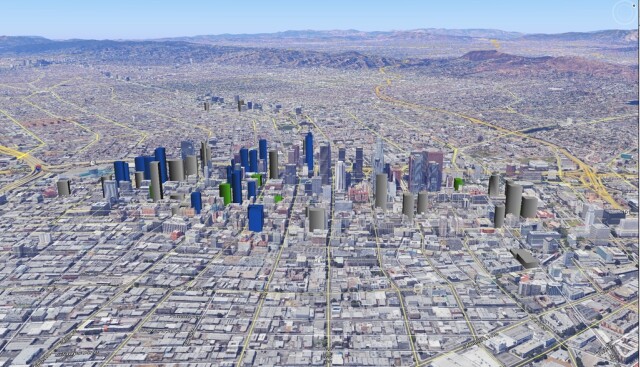 Rendering courtesy of Spantik via Skyscraper Page
So what are the new developments in the pipeline?
First, a bit of background. In 2010, the 54-floor, 667-foot, Ritz-Carlton tower was completed, adding a sole new feature to the skyline. The tower remained a lone point on the horizon for years as the recession put an end to any new construction. Then, around 2014, a small but steady stream of new development was announced. This past year, things really started to pick up, and, in the last quarter of 2016 alone, five skyline-altering developments have been slated for approval.
They include a project right next to Pershing Square— a 57-story tower with cantilevered pools. The building, flanking Perch at the northeast corner of 5th and Hill, would include a "sky lobby":

The tower would rise at 5th and Hill (CallisonRTKL)
In South Park, three new projects have been proposed—one by the prolific Vancouver-based development firm Onni, which plans to build a 48-story tower along Olympic Boulevard on a lot adjacent to the Mayan Theater.
The second is a proposed 700-foot tower at the corner of 11th and Olive. The tower is planned by the Miami-based firm Crescent Heights, which is responsible for the Ten Thousand tower in Century City.
Finally, Chinese firm City Century has proposed a massive $1 billion, three-tower project just north of the Ritz Carlton tower along Olympic Boulevard, reports Urbanize. The project, dubbed Olympia, was designed by renowned architecture firm Skidmore Owings & Merrill, and would include a 43-story, 53-story, and 65-story tower, notes the Los Angeles Times. The 65-story tower may be well over 800-feet, making it the tallest residential tower in the state.

The Olympia. (Rendering courtesy of City Century)
The Arts District is having its own boom. Beyond a spate of low- and mid-rise developments that seem to be announced each week, two mega-projects have come to light. The first is 6AM, a $2 billion project that will include two 58-story towers at the corner of 6th and Alameda. The project's designer is the Priztker Prize-winning Swiss architecture firm Herzog & de Meuron.

A potential view of the 6AM towers from above. (Herzog & de Meuron)
The second project is a massive hang-gardens-of-Babylon-like structure planned at 670 Mesquit along the L.A. River. The plan calls fortwo 30-story structures near the base of the future Sixth Street Viaduct.

670 Mesquit. (Rendering by BIG/Courtesy of Bjarke Ingels Group)
Add all this to the (at least) 15 towers currently under construction in and near South Park alone, and it's easy to understand why the skyline will look very different in just a matter of years.