This is an archival story that predates current editorial management.
This archival content was written, edited, and published prior to LAist's acquisition by its current owner, Southern California Public Radio ("SCPR"). Content, such as language choice and subject matter, in archival articles therefore may not align with SCPR's current editorial standards. To learn more about those standards and why we make this distinction, please click here.
LA Weekly Detour Festival @ City Hall, 10/6/07
Before you read more...
Dear reader, we're asking you to help us keep local news available for all. Your financial support keeps our stories free to read, instead of hidden behind paywalls. We believe when reliable local reporting is widely available, the entire community benefits. Thank you for investing in your neighborhood.
There was so much choice at this year's Detour Festival as French Electro duo Justice and British Indie darlings Bloc Party topped the bill however, one couldn't help but compare this year's lineup to last year's, the inaugural year, which featured Beck and Queens of the Stone Age and smaller acts like Of Montreal, Blonde Redhead, Basement Jaxx among others. While sporting more acts and another stage the overall quality or the acts was not the same.
Granted the folks at LA Weekly and Goldenvoice set the bar incredibly high with that lineup, this year's event just felt a little flat. There was a huge amount of variety and choice, but there wasn't that huge draw as there was last year.
However there was plenty to see and listen to. Join us after the jump for a look at some of the biggest groups.
A huge amount of hype surrounded Justice's set however as their album Cross is an amazingly well crafted effort and it sounded like an interesting prospect to see them bring this energy to the stage. I was on the fence about their live show however. I guess I just cannot get into watching two guys spin records for an hour an a half, while they are damn, damn good at it, its just not my cup of tea. I love the music they have crafted but live I am more take it or leave it.
I am a huge Bloc Party fan but had yet to see them live. I felt that Silent Alarm was a damn near perfect album and while not as solid, their latest, A Weekend In The City is a great album from front to back with a few real gems. This band is just on the cusp of total breakthrough and for good reason as their sound stands unique in today's music landscape and their energy and melodies are infectious. What Justice lacked in crowd engagement Bloc Party had in spades, however they did not have the same amount of hype or crowd that surrounded the Justice set. This is not to say they didn't put forth a great set and throughly entertaining set of both new and old tracks.
Other standout acts included Kinky and the Shout Out Louds. The fest was quite empty as the streets were deserted and mostly empty until the main acts came on. It is such a unique concept and idea for a fest to be run in the midst of downtown, but walking the block around city hall became quite tiring. It feels like the event was expanded for the sake of expansion rather than because of necessity. I do hope they can bring in some bigger talent for next year's installation of the fest and continue what, with time and patience can be a great event in LA.
Justice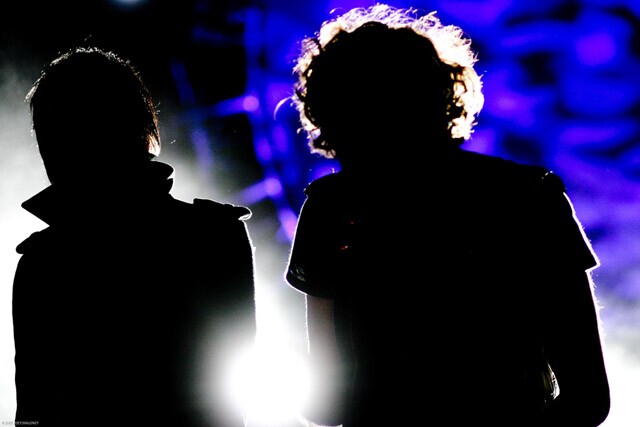 Bloc Party.

Moving Units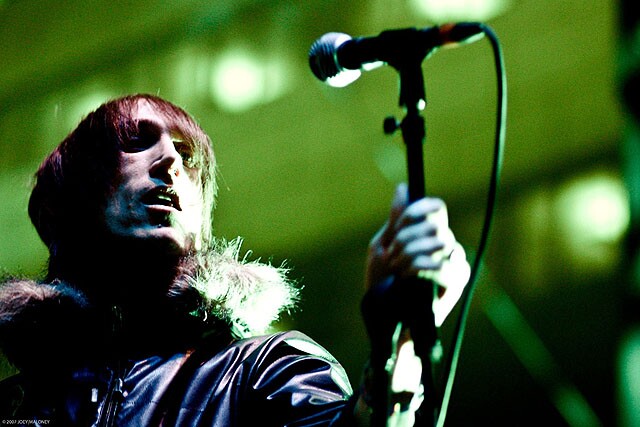 Teddybears

Satellite Party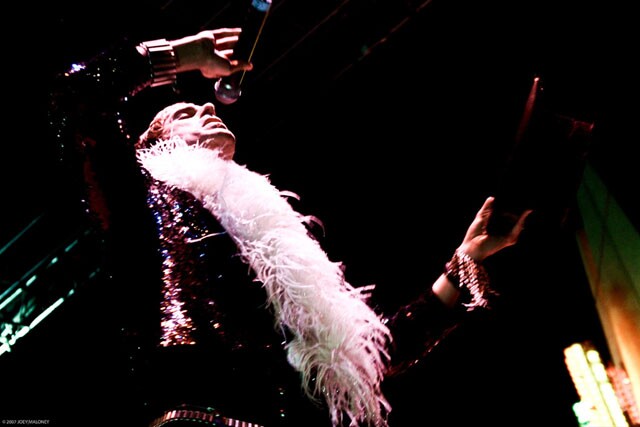 Autolux

Shout Out Louds

Noisettes

photos by Joey Maloney, LAist