This is an archival story that predates current editorial management.
This archival content was written, edited, and published prior to LAist's acquisition by its current owner, Southern California Public Radio ("SCPR"). Content, such as language choice and subject matter, in archival articles therefore may not align with SCPR's current editorial standards. To learn more about those standards and why we make this distinction, please click here.
Darlings, Carmageddon Is a Blessing, Will Keep Valley & OC Trash Out of Town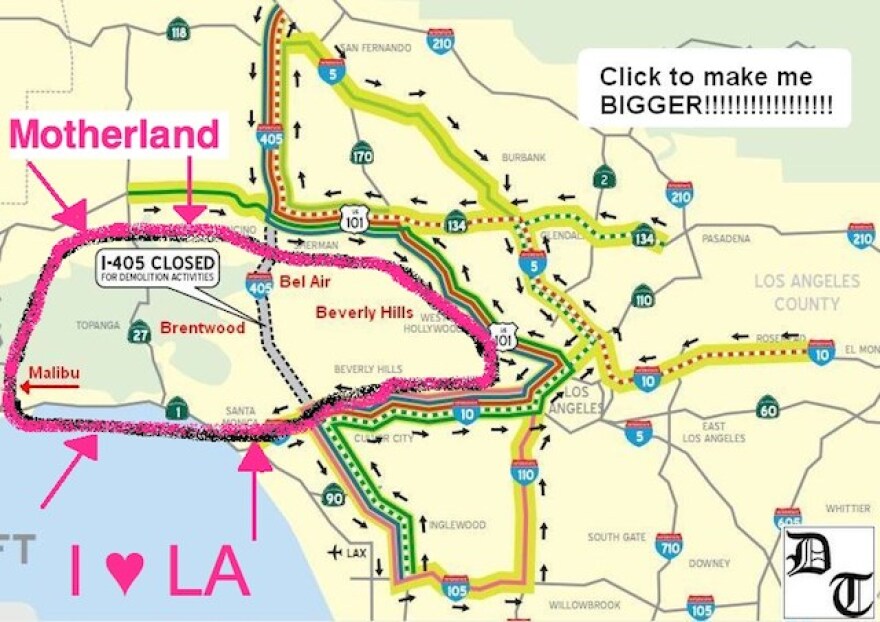 Stories like these are only possible with your help!
You have the power to keep local news strong for the coming months. Your financial support today keeps our reporters ready to meet the needs of our city. Thank you for investing in your community.
"Carmageddon my ass!" begins the Daily Truffle's, er, opinion piece about the meaning of this weekend's 53-hour shut down of the 405 Freeway between the 101 and the 10. Cause to panic? Mais, non, say the cultured bloggers of DT. This is a reason to celebrate, because for one weekend, the General Public (that's GP, for short, dears) will be kept at bay.
First, some geographic distinctions. Above the 101 is the Valley, which is full of unfortunate souls who aren't cool enough to not be Valley. And of course, anything below the 10 is, naturally, "Orange County" (which you can use as a verb, you know). Carmageddon means: "No Valley or Orange County people (or traffic) for two whole days!" Squeeeeee! (Or do we golf clap?)
The Truffle blogger explains the personal significance of having the "city" opened up and exclusive to non-Valley, non-OC types:
Since I was a young girl forced to carpool at John Thomas Dye, since my favorite tanning hole on Bellagio Road was rendered useless by 405 traffic noise and pollution, since the prices of homes in Bel Air plummeted because of said freeway hauling in the world, since housing developments appeared up and down the Mullholland overpass (a development is a development even if it has a golf course), since I started having to outrun GP in my earliest of club days, I have been waiting for this day.
Nevermind that some clever folks--L.A.'s version of NYC's "Bridge and Tunnel" crowd, natch, will find alternate routes to invade the sacred space, and that the great unwashed will crowd onto that unseemly thing called "public transit" (oh, the horror!). For DT, this weekend they, and you, their darling reader, can go to Hollywood or the beach and be free of the nasty GP. How? "Just take the West Gate for dinner and enjoy yourself some GP free parking and lack of crowds. PS - If you didn't get that reference, you may be GP."
Snap!