Buk's House Now a Landmark, Like It or Not
LAist relies on your reader support.
Your tax-deductible gift today powers our reporters and keeps us independent. We rely on you, our reader, not paywalls to stay funded because we believe important news and information should be freely accessible to all.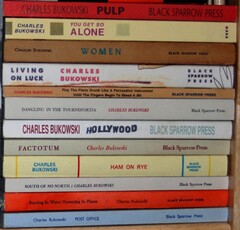 It's official - Buk's De Longpre house is now a landmark.
Those who love the Buk are thrilled about this news, especially after the court fight got nasty when lawyers for the property owners called Bukowski a Nazi. Once that offensive mess got cleared up, the debate about the value of Bukowski's legacy raged on for months. To achieve landmark status after such a fight - especially in a city that seems hell-bent on tearing down important historical buildings - is a win.
Yet many who dig what the Buk was about think the whole thing is a bit crazy. Linda Lee Bukowski said as much in her letter to LA Weekly last November, "Regarding the situation about making the place on De Longpre Avenue a landmark, may I just say that Hank wouldn't have cared a wink about it."
It is also interesting to note that the most vocal supporters for landmark status have much to gain from such a designation, as the location can eventually be added to tours of Hollywood.
Photo by dvanhorn via Flickr