This is an archival story that predates current editorial management.
This archival content was written, edited, and published prior to LAist's acquisition by its current owner, Southern California Public Radio ("SCPR"). Content, such as language choice and subject matter, in archival articles therefore may not align with SCPR's current editorial standards. To learn more about those standards and why we make this distinction, please click here.
Those White 'Botts' Dots' On The Freeway Are Being Retired
Stories like these are only possible with your help!
You have the power to keep local news strong for the coming months. Your financial support today keeps our reporters ready to meet the needs of our city. Thank you for investing in your community.
Botts' Dots. You've seen them and you've heard them if you've ever spent time driving on California's freeways. The little white bumps are used to stripe our lanes, and they are named after Elbert Dysart Botts (great name, btw), who helped develop them in the 1950s. The dots aren't just used as a visual marker—they also create a rumbly sensation (and sound) when you drive over them, which serves as an extra indicator for motorists when they veer off course.
There are as many as 20 million of these dots in the Golden State, but, as reported at Los Angeles Daily News, we'll be seeing less of them as they're being phased out by Caltrans.
Why are the dots being dropped? The reasons vary. For one thing, newer methods such as thermoplastic tape are more reflective than the dots, meaning they're much more noticeable at night. Also, Botts' Dots have been problematic when it comes to maintenance. When tested in the 1950s, they were shown to have a lifespan of about 10 years. Today, they're believed to last only 6 months before they need repairs, Michael Comeaux, a public information officer with Caltrans district 7, told LAist. The agency believes it's in part due to the increase in traffic volume on our roads (for instance, up in the the Bay Area, regional gateways have seen a 38% increase in traffic since 1992).
The need for repairs isn't just a matter of money, however. It's also an issue of safety, as Caltrans would have to close down entire lanes and have workers fix or re-install the dots by hand on the road. "There's an inherent element of less safety there, when you're out on the road, only a few feet away from cars that are going at freeway speeds," Comeaux told LAist, adding that the agency doesn't want to expose workers to that kind of condition if it's unnecessary.
But what about the rumbling sound/sensation that is so unique to the dots? As one motorist told the Daily News, he believe this aspect of the dot had actually saved his life. "I apparently fell asleep, and the next thing I knew, I was awakened by the vibration of going over the Botts' Dots," said Larry Zwart, a 69-year-old Huntington Beach resident. "It was a heart-stopping experience." Caltrans, however, said that a six-year study has shown that the dots don't have an appreciable effect on accident rates. And one intriguing factor of note: the dots are said to confuse self-driving vehicles and lead them to stray (which is, certainly, a terrifying prospect if self-driving cars do become the norm).
As for what we mean, exactly, by the "retirement" of the dots, we're not saying that there's a big initiative to target and remove all of Botts' babies. They just won't be installed anymore, and won't be replaced if they're uprooted via roadwork. "Caltrans will not actively remove the dots. However, they will be removed over time when crews do road resurfacing projects," Comeaux said in an email.
When asked if there would be a retirement celebration of Botts's Dots, Comeaux said that he hasn't heard of anything planned, but agreed that it'd be warranted (these guys gave us over 50 years of service!). "I think that's a great idea. Maybe we should do it," said Comeaux.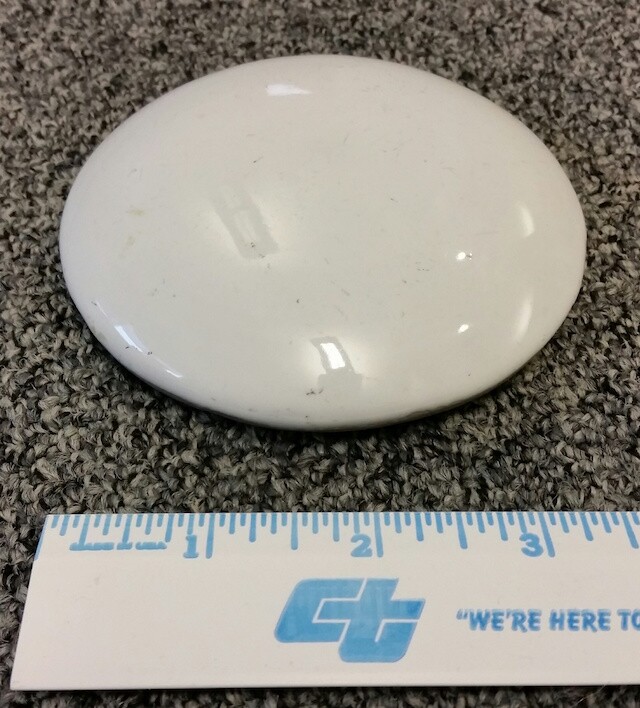 To give you a sense of the size of a dot. (Photo by Michael Comeaux)