This is an archival story that predates current editorial management.
This archival content was written, edited, and published prior to LAist's acquisition by its current owner, Southern California Public Radio ("SCPR"). Content, such as language choice and subject matter, in archival articles therefore may not align with SCPR's current editorial standards. To learn more about those standards and why we make this distinction, please click here.
Anti Prop 8 Measure Pushed to 2012 Ballot [Updated]
Stories like these are only possible with your help!
You have the power to keep local news strong for the coming months. Your financial support today keeps our reporters ready to meet the needs of our city. Thank you for investing in your community.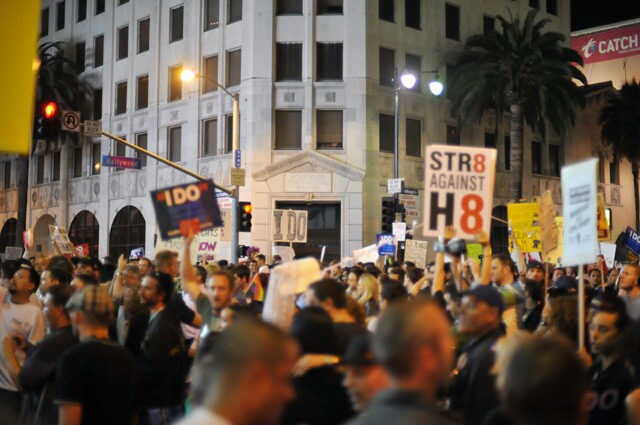 The Day of Decision Protest in Hollywood on May 26 (more photos here) | Photo by Tom Andrews/LAist
Backers of restoring gay marriage in California announced today that they will focus their energies on a 2012 ballot proposition, based on "information, research and feedback" from analysts, pollsters and the community-at-large. Equality California stepped back from attempting to win a measure on the 2010 ballot, but said in an e-mail that they refuse to wait until there is full confidence of winning, which could be later than the 2012 election.
"Waiting until we are confident we will win, while understandable, is not acceptable," EQCA said. "We must set a timeline that challenges us to do all the work possible to set us up for a victory. We must continue and expand the work that needs to be done. We must unite and organize and energize now so that we win marriage back."
The 2012 election also makes for good timing as it will be the next presidential election. A copy of EQCA's full e-mail and explanation on the 2012 move is below.
[Update]: Not All Want a 2012 Anti-Prop 8 Measure, Others Want 2010
Equality California's Announcement
For the first time in our state's history, our community has the ability to determine when voters get to vote on our rights. We get to choose the timing of an election on our equality instead of merely reacting to attacks orchestrated by the right wing on a timetable which suits their interests.
Some in our community want to go back to the ballot at the soonest possible moment; others want to wait until we are absolutely certain we can win. Equality California is committed to taking this issue back to the voters at the earliest time that gives us the strongest chance to win back our rights - permanently.
As we promised in May, Equality California has over the past 100 days, collected and reviewed as much information as possible. We have listened to as many people and perspectives as we could, in honor of one goal: so that we could make the best-informed, most strategic decision possible.
In the past 100 days:
* We added 18 field organizers that reflect the diversity of California; opened 9 new offices in the areas where we need to do the most work; and have recruited over 16,000 volunteers.
* We knocked on over 500,000 doors and had over 500,000 conversations at people's homes, on the street, at street festivals and farmer's markets and on the phone to persuade voters, and to build our core group of volunteers and supporters for the fight ahead.
* We raised $389,901 of our goal of $500,000 from our members to fund grassroots field work to persuade California voters.
* We enlisted 76,000 new donors who have either donated or pledged to support field canvassing work throughout the state.
* We actively participated in the coalition-led Get Engaged Tour, where polling results were presented at 35 gatherings in June and July throughout the state. Those who attended were asked their position on when to return to the ballot and what kind of campaign they wanted to see.
* We met with the leadership of LGBT organizations that work in communities of color to find out what they think it will take to carry out a strategic effort to move voters in their communities.
* We met with a number of the newly-formed grassroots organizations and listened carefully to their thoughts and concerns about moving forward. We joined coalitions with new grassroots groups.
* We held meetings with LGBT family organizations, and organizations that work with youth and in schools.
* We spoke with many clergy and held meetings with California Faith for Equality to get their insights about how to involve clergy and faith communities more actively in the next campaign.
* We conducted our own polling and reviewed polling results from the past few years to understand exactly what the trends show us and how different turnout scenarios (in gubernatorial elections compared to presidential elections, and primary elections compared to general elections) impact the likelihood of success for specific upcoming elections.
* We analyzed the top 100 donors to the last campaign, and we evaluated their willingness to participate in another campaign and what factors would determine their active participation.
* We spoke with more than two dozen political consultants and pollsters with track records in California.
* Perhaps most importantly, we've listened to our members and supporters about their thinking on this subject.
It is clear that those who support moving forward in 2010, those who support moving forward in 2012 and those who support waiting until we are confident we are going to win are all passionate about winning marriage back and are dedicated to achieving equality. And we are committed to working with every organization and person, regardless of their view.
After reviewing all the information, research and feedback from our coalition partners and the community-at-large and in view of our aggressive determination and dedication to win marriage back as soon as possible, we support committing our energy, resources and leadership to helping the community win a ballot initiative to restore marriage at the November 2012 election.
Waiting until we are confident we will win, while understandable, is not acceptable. We must set a timeline that challenges us to do all the work possible to set us up for a victory. We must continue and expand the work that needs to be done. We must unite and organize and energize now so that we win marriage back.
* What we've found on the ground is that changing the hearts and minds of Californians that do not currently support marriage for same-sex couples is slow-going but doable. It takes commitment, time and significant numbers of volunteers to undo the lies the other side has been telling for decades. Going door-to-door with the truth is working - we are so grateful for the work of all of the wonderful volunteers and our great staff of field organizers - and if we do this work at the level we need to we can have majority support by 2012.
* Many of our key allies, including leaders in LGBT communities of color and faith as well as the organizations that provide critical support services to our community (especially in this time of draconian budget cuts), feel that we need more time to build support without significantly damaging the important infrastructure our community has spent decades building and depends on.
* Younger, more supportive voters are much more likely to vote during the presidential election in 2012 than in a gubernatorial election in 2010, which will be comprised of more older, unsupportive voters. And the extra three years will add young people who are now 15, 16 and 17 to the voter rolls. All together, analysis demonstrates that we go in with 4% more support in 2012 than 2010 on these factors alone.
* Many of our community's most generous donors want to ensure that their contributions to win back marriage are wisely invested to create the best opportunity to win marriage back and have indicated support for a three-year education and political effort and are opposed to a 2010 campaign.
Equality California is 100% committed to winning marriage back, permanently and as soon as possible. We believe the best strategy is a three-year campaign to gain majority support in coalition with our partners: doing the research, knocking on doors, training volunteers, having conversations to change hearts and minds.
We know that some want to go back in 2010 and some want to wait until there is no chance of losing. We totally get it. We want to go back to the polls as soon as possible and win, too! And so we will work with our partners - including those who support 2010, those who support 2012 and those who want to wait until a later date - to do all the things we must do to win at the earliest possible time so we are in the best position possible whenever an initiative is qualified.
You can help by volunteering to talk to voters in your area about marriage. This work can't wait for 2012 - we must do it now.