This is an archival story that predates current editorial management.
This archival content was written, edited, and published prior to LAist's acquisition by its current owner, Southern California Public Radio ("SCPR"). Content, such as language choice and subject matter, in archival articles therefore may not align with SCPR's current editorial standards. To learn more about those standards and why we make this distinction, please click here.
A Park a Day: Brace Canyon Park, Burbank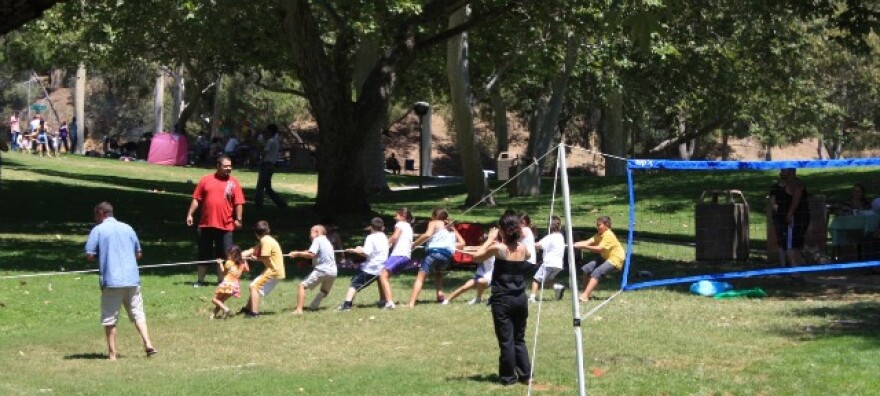 Stories like these are only possible with your help!
You have the power to keep local news strong for the coming months. Your financial support today keeps our reporters ready to meet the needs of our city. Thank you for investing in your community.
July is National Parks & Recreation Month, and all month long LAist will be featuring a hand-selected park a day to showcase just a few of the wonderful recreation spaces--big or small--in the Los Angeles area.
The first time we ever clambered up to Brace Canyon Park in the low Verdugo Moutains, we saw a baseball game going on (it turns out the diamond here is home field for the Guards of nearby Bellarmine-Jefferson High School). The next time, we caught some surprisingly serious playground hoops action. And just last weekend, we witnessed an all-out water gun battle, an evenly balanced tug of war contest, and a series of sack races. All accompanied by the soothing cadence of tennis ball thwocks from the public courts across Crest Ridge Drive.
Brace Canyon Park is where this elevated Burbank/Glendale neighborhood goes to play. Stough and Wildwood Canyon Parks a mile or two away are great for hiking and biking, and Brand Park--with its sedate teahouse, well-tended gardens, stately library and historical museum--is practically elegant enough to be a college campus. But Brace Canyon is for kids to run around and whoop it up in.
Even the playground here fosters little feats of daredevilry. Every youngster's glide across the zip line seems to culminate in a sudden stop and fall. A shaky logroll-slash-balance beam contraption has a concrete walkway running alongside it. And we can't imagine Burbank's landscapers intended the adjacent 30ish-foot dirt and rock incline to serve as an at-your-own-risk impromptu climbing course for tots and tykes. It does look fun, though.
Local families have also adopted Brace Canyon Park as something of a Kids' Birthday Party Central, with clusters of balloons surrounding most of the picnic table areas on weekend afternoons. You can even get a permit to set up a bounce house.
With panoramic views over the eastern end of the San Fernando Valley and plenty of tree shade, Brace Canyon Park is a convivial gathering spot and recreation area. It's spacious enough, too, for the peace-and-quiet crowd to establish informal zones of relative tranquility.