This is an archival story that predates current editorial management.
This archival content was written, edited, and published prior to LAist's acquisition by its current owner, Southern California Public Radio ("SCPR"). Content, such as language choice and subject matter, in archival articles therefore may not align with SCPR's current editorial standards. To learn more about those standards and why we make this distinction, please click here.
5.4 Earthquake Strikes Southern California*
Stories like these are only possible with your help!
You have the power to keep local news strong for the coming months. Your financial support today keeps our reporters ready to meet the needs of our city. Thank you for investing in your community.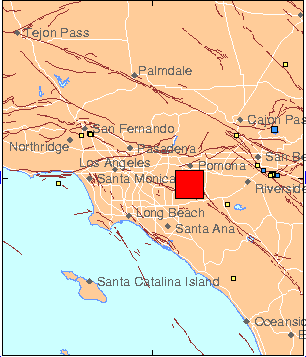 Did you feel that? Yes you did. That was a 5.4 magnitude earthquake (preliminary reports stated that it was a 5.8 and then 5.6) out of the Chino Hills area that struck at 11:42 a.m., according to the USGS, who considers this to be a "moderate" earthquake. Chino Hills is 29 miles southeast of Downtown Los Angeles.
It was a nice and long one too. 10 seconds? 20 seconds? (or maybe out time perspective was skewed)
CBS2 on air live is reporting that there are some cell phone tower outages and a 3.8 magnitude aftershock occurred shortly after. As of 12:25 p.m., there had been a total of 10 aftershocks. A cell phone call from our phone could not go through, probably due to the system being overwhelmed.
The Los Angeles Fire Department is reporting no immediate damage reported within city limits, but buildings were swaying in downtown. Closer to the epicenter, there are reports of some damage to objects inside homes and an intersection in City Terrace has been closed down due to flooding, possibly caused by the quake.
There is a one in 20 chance that this was a foreshock to a larger quake, according to CBS2, but we are more likely to feel a series of aftershocks in the upcoming weeks.
To compare, the major 1994 Northridge Earthquake was a magnitude 6.7 quake. "Each whole number increase in magnitude represents a tenfold increase in measured amplitude," according to the USGS.
Map of location embedded below and more info to come....