This is an archival story that predates current editorial management.
This archival content was written, edited, and published prior to LAist's acquisition by its current owner, Southern California Public Radio ("SCPR"). Content, such as language choice and subject matter, in archival articles therefore may not align with SCPR's current editorial standards. To learn more about those standards and why we make this distinction, please click here.
When is Too Much Food Not a Good Thing?
Our June member drive is live: protect this resource!
Right now, we need your help during our short June member drive to keep the local news you read here every day going. This has been a challenging year, but with your help, we can get one step closer to closing our budget gap. Today, put a dollar value on the trustworthy reporting you rely on all year long. We can't hold those in power accountable and uplift voices from the community without your partnership.
I can be cheap.
When it comes to food, I like thinking I'm getting a good deal…a great bargain…the best bang for my buck. Who doesn't like getting a hearty meal? But this weekend, I realized that sometimes too much food isn't always a good thing.
My breakfast buddies and I decided to chance the lines at the Griddle Café on Sunset and really dive into our Memorial Day weekend. We lucked out and got seated quickly (15 min) for a Saturday morning.
Now, I'm certainly not a light eater, and the two guys with me weigh about two bucks each, so they like their food, too. But when one of them – who'd never experienced the restaurant's Claim Jumper-esque portions before – suggested we each order an item, we quickly talked him out of it. So between the three of us, we ordered the following two entrees to share:
The "Tis the Season" – which are the Griddle Café's freaking awesome pumpkin pancakes, which includes pie filling and real whipped cream. Redi-Whip? What's that?

and

The "Chicago Charlie's" Scramble, which included sausage, potatoes, bacon, bell peppers, cheese, garlic, basil and oh, about a whole onion. The dish is served with garlic bread.
And this is what was left afterward: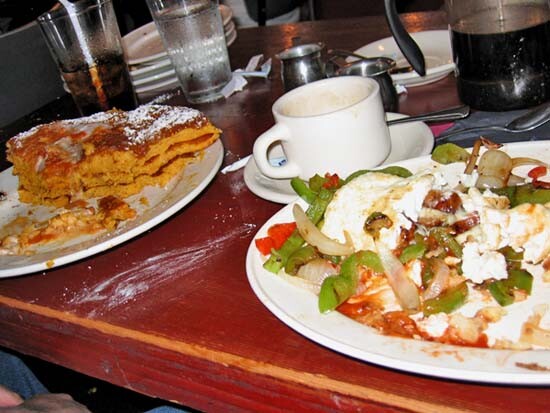 Now, we could have had two more people with us and we might have been able to finish those two entrees. The amount of food we were served for breakfast could have fed an entire tribe in parts of drought-ridden Africa.
And while we liked the food, the portion size gave us pause. (There's not an obesity problem in America or anything.) But if the three of us couldn't finish two entrees, then how much food does a restaurant like the Griddle Café waste in typical day? While there's certainly enough food left over to take home, how many people actually do? Pancakes and eggs aren't exactly the best food to eat for dinner.
So even though places like the Griddle Café certainly give us our dollar's value and our weight in food -- that might not be such a good thing. Sometimes too much food is just plain wasteful. Thinking about it just gives me heartburn.
Cruise off the highway and hit locally-known spots for some tasty bites.

Los Angeles-based restaurant owners rejoice as a new ordinance makes its way to the city council.

The new season of LAist Studios' WILD podcast is a fictional rom-com set in Southeast L.A. Diners play a big role in fostering conversation between the shows' two hosts this season. Here are host Erick Galindo's must-visit L.A. diners — whether you like breakfast or not.

The new season of LAist Studios' WILD podcast is a fictional rom-com set in Southeast L.A. Donuts play a big role in episode two of the show. Here are some of our favorite, wildly creative, and iconic donut shops in Los Angeles.

Cheap Fast Eats visits one of L.A.'s most distinctive neighborhoods for some nighttime bites.

How to get the best eggs in town without leaving your yard.