What Twittering Food Truck Cuisine is L.A. Missing?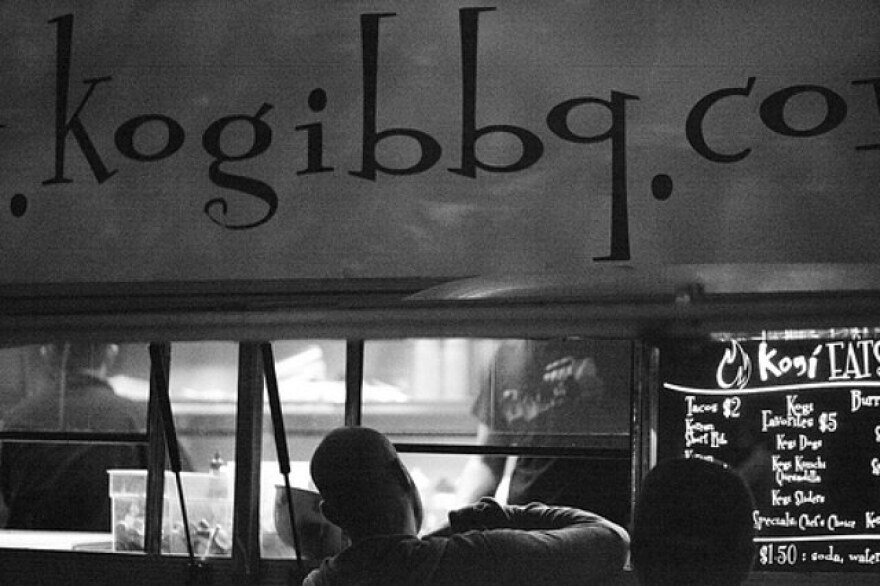 LAist relies on your reader support.
Your tax-deductible gift today powers our reporters and keeps us independent. We rely on you, our reader, not paywalls to stay funded because we believe important news and information should be freely accessible to all.
"This has officially gotten out of control," tweeted Angeline Vuong, a Citysearch community manager, in reference to LAist's growing list of designer food trucks that Twitter. That list, which was updated yesterday, includes 23 trucks plus six more, like the grilled cheese truck, that are coming to Los Angeles streets soon (add in this fact: a 2006 estimate has the number of taco trucks at nearly 4,000).
It all began with Kogi BBQ, a hybrid of korean and mexican, last November. The city's current stock of food trucks includes cupcakes, Vietnamese, BBQ, Japanese Burgers, sushi, Indian, shaved ice and Peruvian-fusion with breakfast, french fires and pupusas coming soon.
So that begs us to ask, what should be next? A truck that serves delicious pies? How about a sweet stir fry truck (or Mongolian BBQ)? Maybe we need a healthy salad one or a Zankou Chicken truck? The possibilities are endless. What do you think should be next? Comment below!