This is an archival story that predates current editorial management.
This archival content was written, edited, and published prior to LAist's acquisition by its current owner, Southern California Public Radio ("SCPR"). Content, such as language choice and subject matter, in archival articles therefore may not align with SCPR's current editorial standards. To learn more about those standards and why we make this distinction, please click here.
Recession Obsession: Samosa Chana
Stories like these are only possible with your help!
You have the power to keep local news strong for the coming months. Your financial support today keeps our reporters ready to meet the needs of our city. Thank you for investing in your community.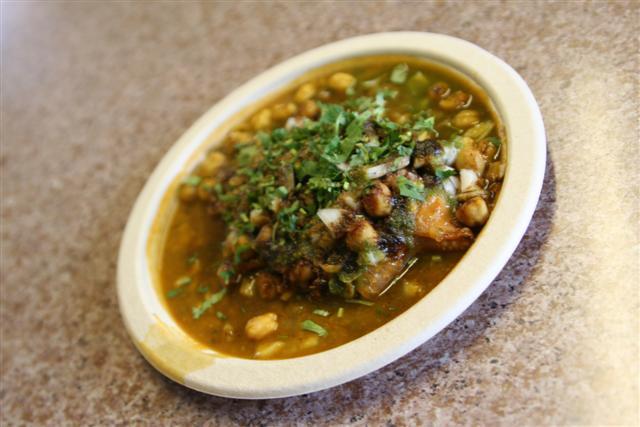 A Recession Obsession is, 1) a meal so great that it stays in your mind long after digestion's end, and, 2) plays nice with your sensitive wallet. Is there a better place than Los Angeles to eat a wide variety of amazing food that so happens to be inexpensive? Probably not. We're as lucky as we are well fed. In our last Recession Obsessions we went for surf n' turf wiith Ricky's Fish Tacos and Capitol Burgers
India Sweets and Spices is a local grocery chain with an attached vegetarian deli. They have eight stores in Southern California and have not escaped LAist's radar. The deli serves vegetarian and vegan specialties from both northern and southern India.
You may find more elegant surroundings than the plastic-laminated tables and walls plastered with posters from Bollywood movies, and you can definitely find better Indian food. But for a delicious and filling meal at only $1.99 you can't beat the fiery flavors of the samosa chana.
Most people are familiar with samosas -- deep-fried snacks of dough-wrapped potatoes, and peas dotted with mustard seeds. But at India Sweets and Spices you can go full throttle. Samosa chana is usually served in a large deli cup, but at the Atwater location it is served on a plate.
First they drown the samosa in a huge spoonful of chana masala (chola). Then it is like watching a sundae being made. The toppings can vary from deli to deli, but there are some standards. In Atwater Village's deli they top the samosa with chopped onions, mint sauce, tamarind sauce, and then cover the whole thing in a thick dusting of cumin and chat masala. Finally it is garnished with chopped fresh cilantro.
The fun thing about the samosa chana is that it is insanely hot. It is a challenge, an exercise in endurance, to finish the whole thing. Then you can douse the fire with cooling treats. Most people go for a mango lassi, but I wait for dessert because they have turmeric ice cream!
You can probably afford to sample other dishes, even splurging on $6 combos. Seriously, check out these low, low, prices. But those who have strayed from the samosa chana soon realize their error. There is nothing like it. Afterwards you can load up on Indian and British imports in the grocery. Bollywood music! Incense! Clothes! A world of sweets and spices!
3126 Los Feliz Blvd Los Angeles, CA 90039
9409 Venice Blvd Culver City, CA 90232
18110 Parthenia Street Northridge, CA 91325-3302
22011 Sherman Way Canoga Park, CA 91303-1852