Recession Obsession: Samosa Chana
LAist relies on your reader support, not paywalls.
Freely accessible local news is vital. Please power our reporters and help keep us independent with a donation today.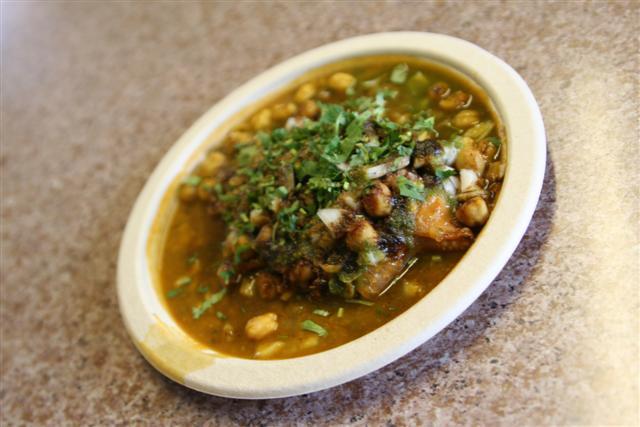 A Recession Obsession is, 1) a meal so great that it stays in your mind long after digestion's end, and, 2) plays nice with your sensitive wallet. Is there a better place than Los Angeles to eat a wide variety of amazing food that so happens to be inexpensive? Probably not. We're as lucky as we are well fed. In our last Recession Obsessions we went for surf n' turf wiith Ricky's Fish Tacos and Capitol Burgers
India Sweets and Spices is a local grocery chain with an attached vegetarian deli. They have eight stores in Southern California and have not escaped LAist's radar. The deli serves vegetarian and vegan specialties from both northern and southern India.
You may find more elegant surroundings than the plastic-laminated tables and walls plastered with posters from Bollywood movies, and you can definitely find better Indian food. But for a delicious and filling meal at only $1.99 you can't beat the fiery flavors of the samosa chana.