LAist Cookie Exchange: Gingersnaps
Stories like these are only possible with your help!
You have the power to keep local news strong for the coming months. Your financial support today keeps our reporters ready to meet the needs of our city. Thank you for investing in your community.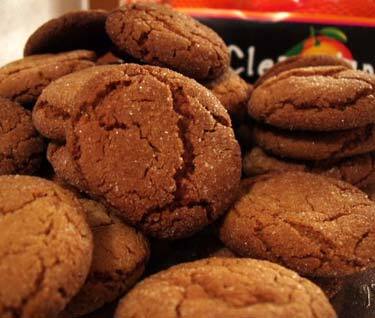 I can't remember a time when I wasn't baking cookies. My mom used to sit me up on the counter and let me pour ingredients into the mixer. I had to hold the measuring cup with both hands.
I started baking these gingersnaps one Christmas soon after I had moved out on my own. They are from one of those Family Circle cookbook sets with 15 volumes. I have made a few changes over the years.
I think using real butter and dipping the cookies in sugar is what makes them so addictive.
Recipe after the jump
GINGERSNAPS
2 cups all-purpose flour
1 tablespoon ground ginger
1 teaspoon cinnamon
2 teaspoons baking soda
3/4 cup butter
1 cup sugar
1 egg
1/4 cup molasses
Additional granulated sugar for dipping
Preheat oven to 350 degrees. Pour some granulated sugar into a bowl. Set aside.
Sift together flour, ginger, cinnamon and baking soda.
Cream butter. Gradually add sugar, mixing after each addition until well-blended.
Beat in egg and molasses.
Sift dry ingredients into mixer. Blend well.
Form dough into small balls by rolling in the palms of your hands.
Dip dough into granulated sugar.
Place cookies sugar-side-up, 2-inches apart, on an ungreased cookie sheet.
Bake 12 to 15 minutes, until tops are rounded and cracking. Cool.
Photo by Picturemommy via Flickr