This is an archival story that predates current editorial management.
This archival content was written, edited, and published prior to LAist's acquisition by its current owner, Southern California Public Radio ("SCPR"). Content, such as language choice and subject matter, in archival articles therefore may not align with SCPR's current editorial standards. To learn more about those standards and why we make this distinction, please click here.
An Appetite for Excellence: Aarti Sequeira Brings Her Savvy (and Smile) to Season 3 of "Aarti Party"
Support your source for local news!
Today, put a dollar value on the trustworthy reporting you rely on all year long. The local news you read here every day is crafted for you, but right now, we need your help to keep it going. In these uncertain times, your support is even more important. We can't hold those in power accountable and uplift voices from the community without your partnership. Thank you.
There's a hush inside the soundstage at the Culver Studios as dozens of crew members move stealthily through the dimmed space to get their work done. Behind the glow of monitors, people's heads are festooned with headsets and their eyes lowered, intent on the action on the screen. From another corner of the cavernous but close-feeling space a waft of richly-scented air reveals that there is some cooking going on. In the center of the workspace, a cheerily-colored set is busy with a team of people in a huddle, speaking in hushed tones, which is interrupted by a distinctive giggle--the kind of laugh that makes you stop and smile.That laugh belongs to Aarti Sequeira, and this is the set of her Food Network show "Aarti Party," which had its third season premiere just last week. Back when she was in the midst of shooting the series here in Los Angeles, we paid her a visit on the job, and sat down with the blogger (and former LAist writer) to find out what life after winning The Next Food Network Star and being a popular Food Network personality was like.
Sequeira's day starts at around 8 a.m., when she heads to the Culver Studios, which, fortuitously, are about five minutes from where she and her husband live. After some time getting dressed and made up, it's time to tackle how the shows will be plotted out. "We shoot an episode and a half a day," explains Sequeira in her trailer during the break between the first and second episode on the day's schedule. "Each show has four acts, and we do each act twice, and there are 13 episodes in a season."
We caught "Aarti Party" towards the end of the 13-episode shoot, as she worked on an episode inspired by her baby sister, who lives in the family's native India. Swordfish, a raw zucchini salad, and a dessert with the bonus logistical excitement of a flambé were on the menu. It turns out, coming up with those menus is all on Sequeira, and it can be a challenge.
"One of the hardest things is coming up with themes for each show," she explains. "I think a lot of people feel like when you get your own cooking show there's this whole team of people who are coming with the recipes for you, and the themes--and I do have a really fantastic team who help me and inspire me when I come up against a wall--but it really is up to each food personality to come up with the recipes and themes and everything."
The episode she just wrapped, for example, was born out of a wish to bring her far-away family into her new professional life. Unable to view the episodes in full when they air, Sequeira says she is limited to only sharing snippets with her relatives.
The food, like the Swordfish with Asian flavors she just whipped up a few times for the camera, is what Sequeira is most delighted with sharing with her viewers this season. "I feel most myself this season, because the food that I'm making isn't fully Indian." She explains a few dishes, like the Naan everyone has been bugging her to demonstrate on the show, that are indeed traditional Indian fare, but then rattles off a few very non-Indian dishes on the agenda with a smile.
"It just feels a lot more like how I cook," she says of her multi-cuisine recipes this season. Think Vietnamese Grilled Pork Wrap with Pickled Carrots and Mint, and a Thai Agua Fresca with coconut and lychee, for example.
It was a combination of her vibrant on-camera presence and her delicious food that landed Sequeira in the winner's seat for season 6 of the Next Food Network Star, and her series came back on the Food Network schedule as the current season of the talent-finding reality competition (now sans the word "next") is well underway. So what advice does Sequeira have for the current crop of culinary contenders?
"I have some practical things, and some philosophical things. Some practical things would be to [tell the contestants to] have at least 20 or 30 recipes ready to go. Because as soon as you win, you go into a meeting and [the Food Network staff say] 'all right, what do you want to make? What do you want to do?'"
Sequeira credits being a longtime food blogger for supplying her with the bulk of the recipes she put to work on the show, and as a base for the recipes she used when she began shooting the series.
But being shot into instant TV and food-world fame can be a lot for a new "Star' to handle. "Suddenly people know your name, and it's very overwhelming." To ensure you keep your cool, Sequeira says she'd tell a prospective show winner to treat their crew really well. She credits the congenial atmosphere of her set, and her resolve to show the team respect at all times as a part of her success.
"It really does feel like a family, as trite as that sounds, and when it feels like that it brings out the best in you. when you're the only thing that people see--they don't see the maybe 50 people on the set--if you're reacting negatively to something on the set, it's going to come out in your performance, and people are going to blame you, they aren't going to blame anyone on your crew."
Lastly, Sequeira brings her advice back to the main event: Food. "Cook like yourself," she encourages, in a piece of wisdom that seems to translate not just for those vying for a win, but for those of us who cook at home. "As a cook and not a chef--and I still struggle with a sense that my food isn't impressive or fancy enough,or it's not interesting enough--your food is really important. It's called Food Network, and if you can't talk about your food confidently, or get excited about it, and if it doesn't reflect who you are, then you're not going to be able to do a good presentation."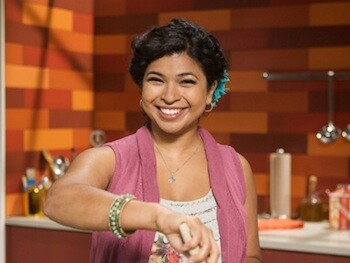 Photo via The Food Network
Thanks to her ability to cook with her heart and put on a solid presentation, Sequeira's show hit the airwaves right after viewers saw her being awarded the "Star" win. After that, of course, comes recognition, which Sequeira admits freely she welcomes. "I get recognized at least once a day, which is great--I love it, I don't have a problem with it--I think it's amazing." There is, however, a downside. "The thing about being in a public forum is that people will say whatever the heck they want to about you, and they will feel especially liberated to do so because they don't have to say it to your face."Although negative feedback is a part of the job of being a public figure, Sequeira says firmly that the wealth of positive feedback far outweighs any small instance of unkindness by strangers. Included are the many times she hears from fans who try out her recipes, who reach out to her via her blog, Facebook, and Twitter, to let her know their try in the kitchen with her dishes have fantastic results. The one thing she laments not having enough time to do is blog more.
Life has, indeed, changed for Sequeira, and not just in that her cookbook collection has quadrupled in the past year. She jokes that her husband has told her she can't buy another one until they move, which could happen in the near future. In the meantime, one difference from last year to now, she notes, is that these days she isn't worried about paying the rent.
The most significant change, though, is that Sequeira says she is really enjoying being a part of Los Angeles' culinary community. Sometimes, extra plates of food show up when the couple dine out, and when it comes to those great local chefs, she says she is "constantly humbled there are chefs who know who I am," adding, "I'm just doing this little cooking show, making my silly little ginger garlic paste--why do you know who I am?"
Although the current season has barely hit the airwaves, Sequeira already has her eye on her next projects, which include a new partnership with the Patak's brand which aims to "get people excited about Indian flavors," and getting to work on her own cookbook.
Still, things can be overwhelming still, even three seasons in. Landing her own Food Network show means "the world's your oyster, and that can be a lot to try to figure out. But I'm just taking one thing at a time. It's really important for me to put out a really good show, with recipes that are trustworthy, so i have credibility with people."
Sequeira says she still has a voracious appetite for words about food, which is just part of doing her job as a Food Network personality. She gobbles up as many blog posts, cookbooks, and articles about food and cooking, in the hopes she can stay up-to-date and use her expanding knowledge to be a better show host and cook for her fans.
Yes, she admits, her zeal is a bit nutty: "I've always been one of those people who wants to do the absolute best possible, almost to the point of lunacy." Then she smiles, and laughs. Crazy, schmazy. It's all good.
"Aarti Party" airs Saturdays at 9 a.m. on The Food Network.
How to get the best eggs in town without leaving your yard.

Beautiful views aren't the only thing drawing Angelenos to the region

Gab Chabrán reflects on growing up in L.A. in a Latino home that doesn't celebrate Thanksgiving and the traditions they formed instead.

Oklahoma-style smash burgers and Georgian dumplings make for some excellent cheap bites in Glendale

Husband and wife Felix Agyei and Hazel Rojas combine food from their heritages, creating a marriage of West African and Filipino cooking

Baby Yoda cocktails. Boozy Dole Whips. Volcanic tiki drinks. If you can dream it, they're probably mixing it somewhere on property.