In Which Jonathan Gold Punks Himself and Winds Up Reviewing the Arcadia Olive Garden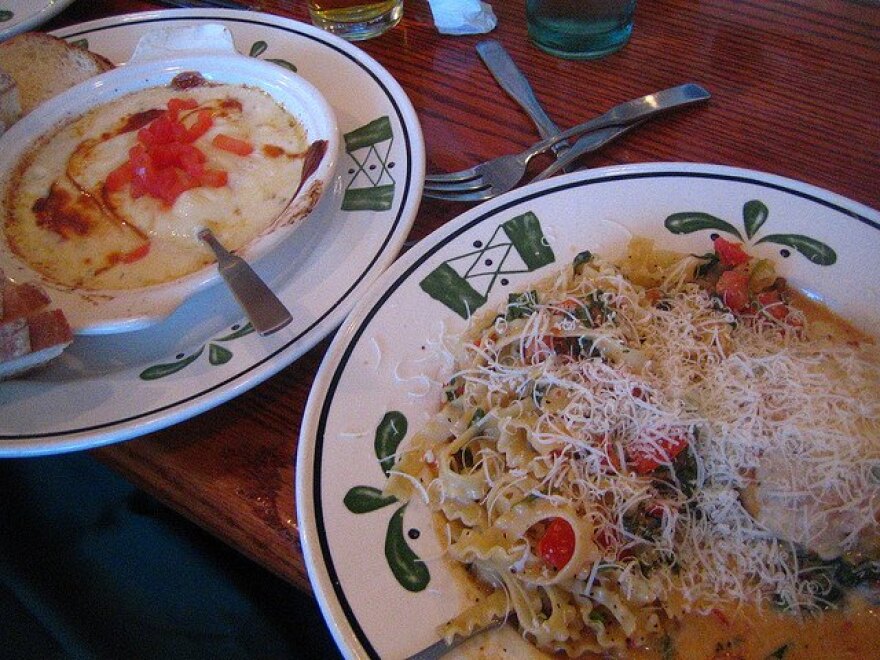 LAist relies on your reader support, not paywalls.
Freely accessible local news is vital. Please power our reporters and help keep us independent with a donation today.
What began as an April Fools' Day prank meant to rib his LA Weekly photographer, restaurant critic Jonathan Gold wound up punking himself by sitting down to a review lunch at the Arcadia outpost of the megachain the Olive Garden. In today's "Counter Intelligence," column, Gold breaks down how he came to dine upon a "Tuscan" feast of lasagna and those famous doughy breadsticks.
For those who have willingly lapped up the chain's schtick that they are as cozy as a Tuscan village cottage with a kitchen full of "academy" trained chefs, well, the Olive Garden might also have some beachfront property in Arizona to sell you. "Cooking with noodles doesn't make you Italian," reads in part the mini-bio for the Twitter feed of @OliveGardenHate, one of the best food (hatin') reads.
Gold explains that he was going to intercept his colleague at the door and whisk her off to a nearby steakhouse. But curse Los Angeles' traffic, because Gold was late, and photographer Anne Fishbein was already at a table when Gold showed up.
So dine they did. Here's Gold's thoughts on the meal he wished were better than what he'd expected all along:
I would like to say that I enjoyed the tomato-y pasta e fagioli, which was after all no worse than the clear-out-the-crisper soups I make all the time, and that the tenderness of the fried calamari was greater than the sogginess of its breading. I would also like to report that the lasagna rollata al forno was just as good as the remarkably similar lasagna cupcakes from Silver Lake caterers Heirloom L.A., which are something of a local fixation. They weren't, though — they just weren't. Nor was the moment when the waiter filled the tiny wine glass to the rim and said "That'll do ya''; nor the chef's excited tales of the Culinary Institute of Tuscany, nor Anne's delight at my abject misery.
For those who have delighted in the OG's "Tour of Italy" platters, or sopped up that tangy-sweet salad dressing or the sauce from their neverending bowls of pasta with those aforementioned breadsticks, you may wonder why the hate. Well, Gold admits that he's a snob, and always will be. Much like the myth that a great steak can be had for $9.99 (whattup, Sizzler?!) and that school lunch "nuggets" are real food, the food at the Olive Garden just isn't, well...good.