This is an archival story that predates current editorial management.
This archival content was written, edited, and published prior to LAist's acquisition by its current owner, Southern California Public Radio ("SCPR"). Content, such as language choice and subject matter, in archival articles therefore may not align with SCPR's current editorial standards. To learn more about those standards and why we make this distinction, please click here.
DineLA: Ciudad
Stories like these are only possible with your help!
You have the power to keep local news strong for the coming months. Your financial support today keeps our reporters ready to meet the needs of our city. Thank you for investing in your community.
Last week I put on a fancy dress and hit Ciudad. Of all the DineLA restaurants so far, this was the highlight. The open expanse of the room seemed a little chilly and impersonal at first, but little touches like homestyle drinking glasses and retro 1950s accents warmed the room. This restaurant runs with Disneyland-like efficiency. You know those musicals with dancing waiters twirling through the room in perfectly choreographed symmetry? That is what the service at Ciudad brought to mind. Even a party of 20 next to us could not throw a wrench in this well-oiled machine.
In lieu of a traditional bread basket, crisp breads arrive with two dipping sauces - an olive tapenade and a hummus with hints of various spices dominated by cumin that made it taste very much like an Indian samosa.
The first course of tamales negro set the tone for the entire meal. "The 2 Hot Tamales" put their own spin on Mexican food in a way that makes perfect sense. They tweak it just enough to intrigue the palate and sometimes leave you guessing, but with complete respect for the original dish. The tiny, almost transluscent sweet shrimp that tumbled from the tamale were so delicious I could have eaten a plateful of them and gone home happy. The Aji Amarillo Chile Sauce left a slight afterburn, but not enough to mask the delicate flavor of the shrimp.
I wondered if the masa was tinted with squid ink or huitlacoche. Of course, the word "huitlacoche" does not roll easily off of my tongue, so I asked, "Is this corn fungus?" Instead of giving me the strange look most servers give me when I ask questions like that, the waiter responded easily, "Huitlacoche? No. It is just the tiniest bit of squid ink."
My second course of carnitas was unembellished; they were simply killer carnitas. Why mess with perfection? Alongside a black bean puree and plantains, the yuca sat nestled in a cornhusk. I have never been a fan of yuca, but Ciudad made a believer out of me. The whipped yuca was soft and comforting, like mashed potatoes, and blanketed with cheese. Later when I asked what cheeses were so scrumptuous as to turn me on to yuca, I was surprised to learn that they were the usual Ranchero, Cotija and Fresca. I cook with those cheeses; you can find them in any grocery store. But Ciudad must have a farm-fresh supply - this was the difference between store-bought mozzarella and fresh buffallo-milk mozzarella.
The arctic char was offset with fresh fennel. The barest scent of licorice went surprisingly well with the flaky salmon-like fish. The fennel had been cooked in an herb-scented broth. Here they had me. My tastebuds were overwhelmed and beaten into submission by the exciting flavors. I have no idea what those spices were. Foiled!
The tres leche cake was unusually light and delicately flavored, plated with swirls of pomegranite and orange coulis. The coconut pound cake was solid, and the lemon curd made it seem like you were tasting with heightened senses
As I walked out amongst the downtown lights, I started walking towards the taxis. I was so relaxed and sated that I had forgotten for a moment that I wasn't on vacation.
Ciudad The DineLA Menu (213) 486-5171
445 S. Figueroa Street (it's on the left side of the northward traveling one-way street)
Los Angeles, CA 90071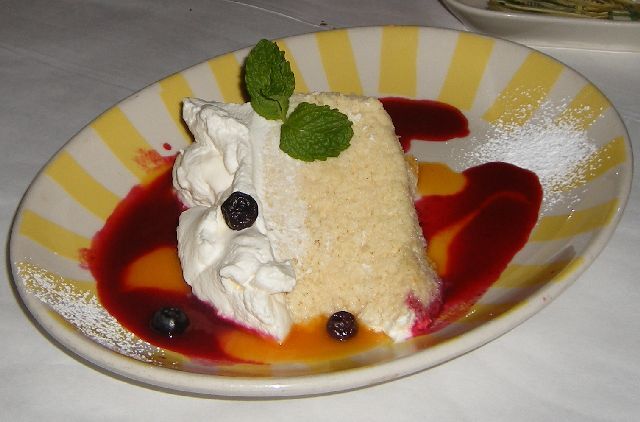 All photos by Elise Thompson for LAist