This is an archival story that predates current editorial management.
This archival content was written, edited, and published prior to LAist's acquisition by its current owner, Southern California Public Radio ("SCPR"). Content, such as language choice and subject matter, in archival articles therefore may not align with SCPR's current editorial standards. To learn more about those standards and why we make this distinction, please click here.
The 10 Best Diners In Los Angeles
We need to hear from you.
Today during our spring member drive, put a dollar value on the trustworthy reporting you rely on all year long. The local news you read here every day is crafted for you, but right now, we need your help to keep it going. In these uncertain times, your support is even more important. We can't hold those in power accountable and uplift voices from the community without your partnership. Thank you.
The diner has long been a symbolic sanctuary. The leather booths, the swivel chairs by the counter, the steaming mugs of coffee, the soft din of chatter; there's something about the picture that gives us a feeling of being home. It goes without saying that the food is always plentiful and satisfying, and mighty restorative if you happen to be nursing a hangover.
L.A. is home to a great deal of worthy diners, to be sure (and many of them go hand-in-hand with our legacy of Googie architecture). Here are some of our favorites; they range from the nostalgia-inducing, to ones with surprisingly dynamic menus. What they all have in common is that they'll always make you feel warm and welcomed; something we can all use a bit of.

(Courtesy of 101 Coffee Shop/Facebook)
101 COFFEE SHOP
It's very likely that your introduction to 101 Coffee Shop includes some mention of it being in the 1996 classic Swingers. That doesn't mean a whole lot, however, as the place underwent some renovations since the days of Vince Vaughn and Jon Favreau's nascent careers. In this case the changes are welcomed; with its muted lights and throwback styling, the interior reminds us of a different era without relying too much on straight-up kitsch.
The decor has gotten an upgrade since Swingers, and we imagine the menu has too. You'll find the usual hits like huevos rancheros, a breakfast burrito, and silver dollar pancakes. The lunch and dinner menus offer a bit more variety, providing selections such as a blackened catfish sandwich and a grilled albacore burger.
101 Coffee Shop is at 6145 Franklin Avenue, Hollywood. (323) 467-1175

Donuts at Nickel Diner (Courtesy of Nickel Diner/Facebook)
NICKEL DINER
In downtown L.A., where the terrain is in constant flux, certainties may be hard to come by. The Nickel Diner, however, has remained a constant. The food always comes out hot and plenty. And the dishes have a nice way of evoking the familiar, while adding a hint of the new. This is especially true for plates like the Sloppy Veggie Jo (a vegan take on the Sloppy Joe made with portobello mushrooms) and the buttermilk brined pork chop. You'll want to save room for dessert, however. No trip to the Nickel Diner is complete without a bite of the famed maple glazed bacon donut.
Nickel Diner is at 524 S Main St, downtown Los Angeles. (213) 623-8301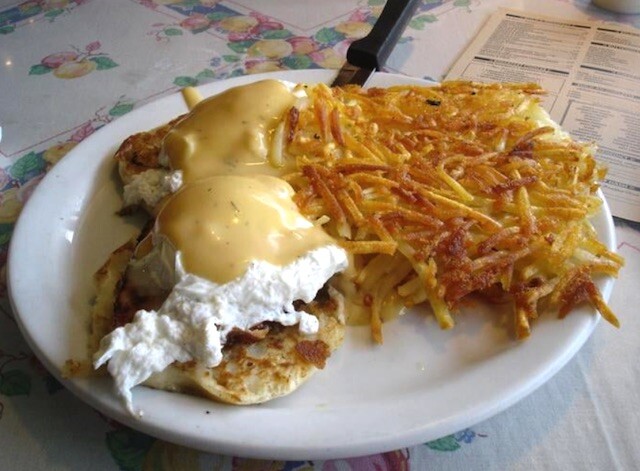 Eggs Benedict at S&W County Diner (Via Jasmine O./Yelp)
S & W COUNTRY DINER
While S & W keeps it concise, it also manages to come out with a menu that's the length of a small almanac. It includes favorites of Southern cooking such as biscuits and gravy, as well as big slabs of country fried steak (which also come with gravy). You'll also find everything from bowls of hearty chili, to meatloaf sandwiches, to enchiladas, and pork chops. The decor, which espouses a kind of sun-faded roadside kitchenette vibe, is quaint and inviting.
S & W Country Diner is at 9748 Washington Blvd, Culver City. (310) 204-5136

Pancakes at Millie's (Via Jason P./Yelp)
MILLIE'S CAFE
It's an understatement to say that a lot has changed over the decades on Sunset Boulevard in Silver Lake, but Millie's has remained a bastion for those looking for a hearty and reaffirming meal. The restaurant has been around since 1926, and, as explained on their website, does "everything the pain in the ass, Old-fashioned way, by hand, from scratch, because there is a difference."
The scrambles (in particular the machaca scramble) are filling, and the pancakes are perfectly fluffy—the "Monkey Banana" pancakes, which have a thin crisp on the outside and a very pliable interior, are especially gratifying.
Yes, the place can get packed, but it helps that the service is swift and on-point.
Millie's Cafe is at 3524 W Sunset Blvd, Silver Lake. (323) 664-0404

(Courtesy of Le Roy's Restaurant/Facebook)
LE ROY'S RESTAURANT
The pancakes at Le Roy's are picture perfect; pillowy, golden-brown, and stacked to the ceiling. They're indicative of the rest of the fare, which is so bountiful that it practically spills over your plate. And if you're a fan of potatoes, know that we've mentioned before that Le Roy's whips up some mean tater tots. There's also a vast roster of sandwiches, from the Rueben to the hoagie to a classic French dip. The spot, which has been around since 1976, is no-frills but also plenty welcoming.
Le Roy's Restaurant is at 523 W Huntington Dr, Monrovia. (626) 357-5076

Rae's (Via Rebecca B./Yelp)
RAE'S RESTURANT
The term "old-school" gets applied to anything that happened prior to last week. But it's the perfect way to describe Rae's, which has been serving Santa Monica for decades. From the Googie-inspired design outside, to the chairs by the counter, to the surf green walls, Rae's lets you know from the get-go that it's a holdover from a different era. The best part is that even the prices are old-school; you can get a fairly hearty and complete meal (plus tip) in the $10 to $15 range. While everything on the menu is good, we recommend the biscuits and gravy if you're looking for something particularly indulgent.
Rae's Restaurant is at 2901 Pico Blvd, Santa Monica. (310) 828-7937

Nick's (Via Bart F./Yelp)
NICK'S COFFEE SHOP & DELI
Aside from the taste of the food, the feel of the leather booths, and the aroma of the coffee, a diner is also marked by its sounds—namely, there's nothing like a sizzling grill to get you in the mood for some hash browns. At Nick's, you'll get a pretty good view of the cooks and the grill at work if you're settled up by the counter. And the interior stylings—both homey and splashed with character—gives the place a feel of familiarity (even if you've never been here before).
Of course, you're here to eat, not just to look at interior design. There's a sprawling menu that has everything you could possibly ask of a diner; regulars dig the simple servings of eggs Benedict, as well as the machacado con huevo.
Nick's Coffee Shop & Deli is at at 8536 W Pico Blvd. in Pico-Robertson. (310) 652-3567

French toast at the Coffee Cup Cafe (Courtesy of Coffee Cup Cafe/Facebook)
THE COFFEE CUP CAFE
The diner aficionado in you might argue that Long Beach's Coffee Cup Cafe doesn't look like a diner at first blush. Where are the fixed stools by the counter? But all the accoutrements are there: the surplus of steaming coffee, the bulbous syrup dispensers, the endless plates of pancakes and scrambles. Likewise, the Coffee Cup Cafe has been a go-to spot for those looking for some warm vibes and a replenishing breakfast.
The "Hank's Chicken Chile Verde" (a simple yet delectable plate of chile verde, chicken, jack &
cheddar cheeses, and black beans) remains a favorite, and the scrambles come out as a glorious mess.
The Coffee Cup Cafe is at 3734 E 4th St, Long Beach. (562) 433-3292

(Courtesy of The Original Pantry/Facebook)
THE ORIGINAL PANTRY
Yeah. OK. So the Pantry may not fit into your idealized version of a homey diner. There's often a long line. The prices are higher than you're used to. And sometimes you'll run into the filming of a Judd Apatow movie. But, putting all that aside, the Pantry is serious about stuffing you with food. The pancakes are the size of wind sails, and you can practically bludgeon someone with that slice of ham. And the sourdough bread is irresistible.
This goes without saying that the joint practically glows with that Historical-Cultural Monument status. It might just be the lighting, but the space has that certain sheen that marks it as an emblem of another time. As for the service, it's fast and efficient; the no-frills attitude is indicative of a veteran staff.
The Original Pantry is at 877 S Figueroa St, downtown Los Angeles. (213) 972-9279

Cindy's (Via Spencer L./Yelp)
CINDY'S EAGLE ROCK
You know Cindy's is the real deal the moment you pull into the parking lot; a glorious vintage sign (spelled out in various fonts) greets you to the restaurant. It's a good indicator for what you'll find inside: red booths, quaint wallpaper, hanging globe lamps that cast a warm glow.
The decor whets your appetite for diner fare, and the food doesn't disappoint. Outside of the usual favorites, you'll also find items on the menu that are a little less ubiquitous (at diners, at least). You can find a great bowl of gumbo, as well as a filling catfish po'boy sandwich.
Cindy's Eagle Rock is at 1500 Colorado Blvd, Eagle Rock. (323) 257-7375
How to get the best eggs in town without leaving your yard.

Beautiful views aren't the only thing drawing Angelenos to the region

Gab Chabrán reflects on growing up in L.A. in a Latino home that doesn't celebrate Thanksgiving and the traditions they formed instead.

Oklahoma-style smash burgers and Georgian dumplings make for some excellent cheap bites in Glendale

Husband and wife Felix Agyei and Hazel Rojas combine food from their heritages, creating a marriage of West African and Filipino cooking

Baby Yoda cocktails. Boozy Dole Whips. Volcanic tiki drinks. If you can dream it, they're probably mixing it somewhere on property.