Vin Scully Will Be Back For At Least One More Year Of Dodger Baseball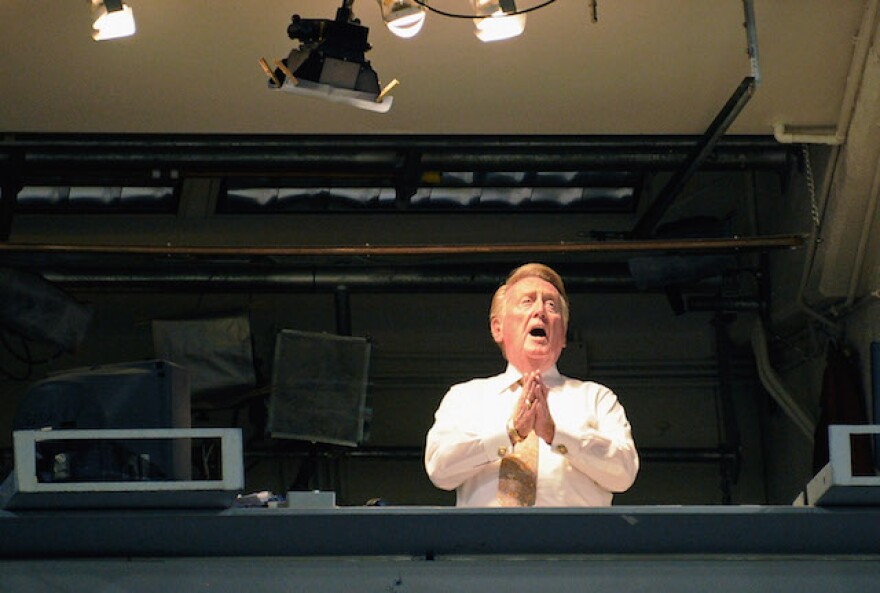 Stories like these are only possible with your help!
You have the power to keep local news strong for the coming months. Your financial support today keeps our reporters ready to meet the needs of our city. Thank you for investing in your community.

Most of you still can not watch Dodger games on TV, but you can take comfort in the fact that Vin Scully will be broadcasting them for at least one more season.On Friday night, after the second inning of the Dodgers' eventual 4-1 victory over the Chicago Cubs, the fans at Dodger Stadium were treated to a videoboard announcement featuring Jimmy Kimmel silently showing cue cards that read, "Vin... will... be... back! For one more year... (at least)... God bless us everyone." To hear the roar of the crowd build up with each cue card dropping is quite exciting:
"God willing, we'll all be back here next year," said Scully on the TV broadcast. "God willing."
His next season will be his 67th year as a professional broadcaster, a record that seems unbeatable. Through his career, which he started with the 1950 Brooklyn Dodgers, he has called three perfect games, 25 World Series and 12 All-Star games. He turns 88 in November, and primarily does home games and a few road games for the Dodgers.
"I talked it over with my wife, Sandi, and my family and we've decided to do it again in 2016," Scully said in a statement from the Dodgers. "There's no place like home and Dodger Stadium and we look forward to being a part of it with all of our friends."
"Vin makes every broadcast special and generation after generation of Dodger fans have been blessed to be able to listen to him create his poetic magic since 1950," said team president and CEO Stan Kasten.
After the game Dodgers starting pitcher Clayton Kershaw, who won his eleventh game of the season, told reporters in the clubhouse, "He's a big part of the Dodger experience—it's great to have him back."
God bless you, Vin Scully.