This is an archival story that predates current editorial management.
This archival content was written, edited, and published prior to LAist's acquisition by its current owner, Southern California Public Radio ("SCPR"). Content, such as language choice and subject matter, in archival articles therefore may not align with SCPR's current editorial standards. To learn more about those standards and why we make this distinction, please click here.
Vegoose Music Festival @ Las Vegas, NV, 10/27-28
Before you read more...
Dear reader, we're asking you to help us keep local news available for all. Your financial support keeps our stories free to read, instead of hidden behind paywalls. We believe when reliable local reporting is widely available, the entire community benefits. Thank you for investing in your neighborhood.
In it's 3rd year of existence, this past weekend's Vegoose Music Festival featured quite the impressive lineup. Boasting the final North American Show of the ever incredible Daft Punk and the final stop of Rage Against the Machine's reunion (tour), the fest also included great performances from Gogol Bordello, Muse, M.I.A. and many, many more.
Follow the jump for tonnnns (literally) of pics of Muse, Queens of the Stone Age, M.I.A., Gogol Bordello, Queens of the Stone Age, many more of Daft Punk and others...
Day One was the more packed of the two days, with performances by Gogol Bordello, M.I.A., the Shins, Queens of The Stone Age, Mastodon, Iggy and the Stooges and more spread over the not too expansive 3-stage set up just outside UNLV's Sam Boyd Stadium.
The night was caped off by an (insert hyperbole here) performance by the machine duo Daft Punk. Yes two dudes in robot helmets completely rocked my world!! It was not just their trademark dance grooves, but the whole show experience. Performing from the top of a giant LED pyramid the show was an aural feast, featuring some of the most impressive concert lighting I have ever seen. Everything you have heard about their performance is true and shame on you for missing it as now your only chances will be in Sydney and Mexico City.
Day Two was a much more mellow affair with sets from Ghostface Killah, Robert Randolph and the Family Band, UNKLE, Michael Franti and was topped off by the finale (maybe!) of Rage Against the Machine's tour of sorts. Rage was in top form, after a summer together they have regained that form that made them what they were at the turn of the decade. Zach and Co. seemed confident and comfortable as a band and hand their way with the Vegas crowd. The crowd itself was a much more civilized bunch than previous Rage shows, make no mistake they still moshed and got into it, but the overall blood-thurst from the Coachella show seemed to have subsided.
This was a very well put on event, the most relaxed and laid back festival experience I have had. The turnout was great, with such an eclectic mix of groups it was a crowd from all walks of life. Day One was a virtual costume party as everyone got into the Halloween spirit early. While not as jam packed with bands as other festivals, the spacing and time between groups made it possible to see full sets from almost every band you wanted, a great contrast to that of Coachella. This is an event that can most definitely improve and grow and be a top fest in years to come.
Gogol Bordello

Mastodon

Blonde Redhead

Public Enemy

Queens of the Stone Age

Infected Mushroom

M.I.A.

Muse

Iggy And The Stooges

Daft Punk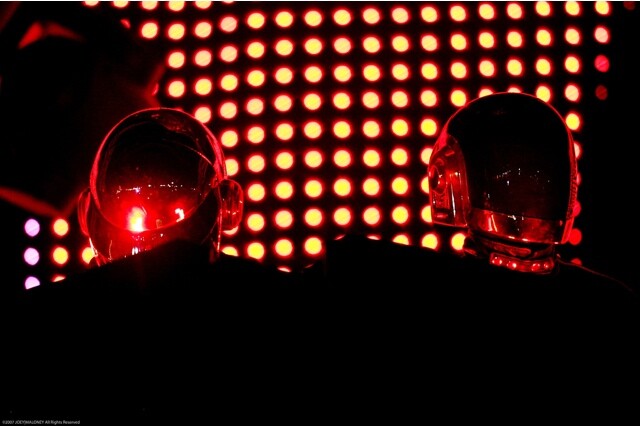 pics of the fans in their wild outfits and costumes here
All Photos by Joey Maloney/LAist