This is an archival story that predates current editorial management.
This archival content was written, edited, and published prior to LAist's acquisition by its current owner, Southern California Public Radio ("SCPR"). Content, such as language choice and subject matter, in archival articles therefore may not align with SCPR's current editorial standards. To learn more about those standards and why we make this distinction, please click here.
The LAist Bob Saget Interview - Saget to Appear in Anaheim, March 8th
Our June member drive is live: protect this resource!
Right now, we need your help during our short June member drive to keep the local news you read here every day going. This has been a challenging year, but with your help, we can get one step closer to closing our budget gap. Today, put a dollar value on the trustworthy reporting you rely on all year long. We can't hold those in power accountable and uplift voices from the community without your partnership.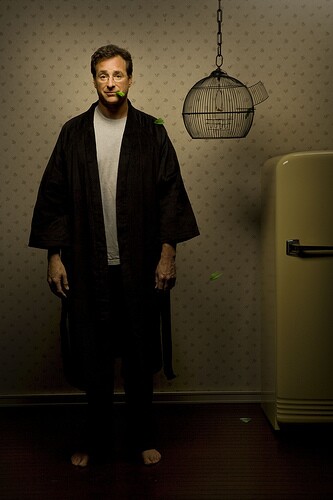 Bob Saget will perform at 4th & B in San Diego on March 7, The Grove of Anaheim on March 8 and The Joint at The Hard Rock in Vegas on March 21 as part of his national theater tour and we're lucky to have another chance at him.
Bob Saget is known to most people for all the wrong reasons.The cookie-cutter personas of "Full House"'s Danny Tanner and the "America's Funniest Home Videos" host that Saget played are network TV 'product' in the most capitalist sense of the word but this commodity isn't Bob Saget and it's not where he got his start.
There's a lot of buzz about the "raw" Bob Saget who has "surreptitiously surfaced" over the past decade on Howard Stern, in cameos in Half Baked and "Entourage", featured in The Aristocrats, and in his HBO Special that aired last Fall. What's behind the buzz is that Saget's act is so incongruous with the goody-two-shoes characters he so adeptly played so long ago. Some people are shocked (shocked!) at the language in his act and have expressed disappointment or even, the horror, disillusionment - somebody, please, keep these people away from razors or other sharp implements, and BTW, Iraq did not attack the United States on September 11th, 2001.
LAist interviewed Saget via a hilarious cell phone call that took us from his hotel room at the Hard Rock in Las Vegas, down the elevator, through the casino, and into a Cadillac Escalade that was driving him to an engagement. It was, as Saget said, "essentially (an) interview that's a commercial for the iPhone and AT&T's wireless coverage in Las Vegas."
LAist: Bob Saget, thanks very much for talking to us in advance of your upcoming Anaheim show. I think your HBO Special was really great and don't understand what people are so uptight about(?)
Bob Saget: Well thanks for that, that's very flattering. I think a lot of people have a problem with the swearing which I think is off because there are so many other comedians out there who really do swear a lot more than I do. It's true that I do curse a lot in the special and I don't curse that much at home although I do really like to say the word "fuck", it just makes me feel good - "FUCK!" you know, but the fact is that I have three daughters and I don't just walk around saying "fuck" all day. Now there are people I do know that somehow don't swear or curse at all and I just don't know how they can exist like that, it's inconceivable. I do have to say that there are some people in my family that I have disappointed with the swearing, like an aunt of mine, who just can't stand that I'm doing that in my act. After the special it was a goal of mine to write cleaner material for this tour but I'm not sure about the success of that effort now that I think about it.
LAist: There's also the history of your career, "Full House" watchers are people that didn't know you were a comic with an act comprised of strings of very funny and subconscious tangents usually capped by a few innocently strummed but subversive guitar songs [Note: Amazon reviewers of Saget's HBO Special DVD seem to think he just picked up the guitar onstage recently, not 30 years ago].
Bob Saget: Yes, there are those people. While it was great to be working on a show with such reach, that was a while ago, and I was a different person. There have been the times when I go outside to take the trash out and somebody will yell out the car window, "Hey, it's Danny Tanner!" and I'll say "No, I'm a guy named Bob". But here we are, years later, and I think I've changed a lot, I've had experiences and gone through changes, people have died, and those kind of things change you. I think I used to 'care' a lot more, and now I don't hold back as much. I do a lot of self-deprecating. Rodney Dangerfield used to tell me, "Insult yourself before someone else does" so I jump right on that in my act: "How could someone say these things? Who could be so sick?" I feel like I'm really riding the razor's edge, I could go down easily in one way or another but I get on a roll and the crowd start clapping, yelling, even standing up to keep me going, it's incredible and I'm really thankful for that.
LAist: Your act really is, and this is even true for what you were doing 25 years ago, a series of peaks, where you go on these runs of stream-of-consciousness connections, with really, some awful ideas [like admonishing audience members to not engage in bestiality], and then apologizing for the idea, letting slip another one, as if you can't control it, and just build and build until you reach an obvious peak to let the audience recover and then you begin again. You don't just come out on the stage, with some kind of crutch like a funny voice, or a one-liner repeated endlessly, or some long anecdote, or props - what we get is you revealing what are connections that most people probably have but think are unmentionable.
Bob Saget: [Laughs] You've really been paying attention and that is what happens and it's a thrill to be on what is a roller-coaster with the audience. I just don't know how it's going to turn out.
LAist: So you knew Rodney Dangerfield? I know you were on the HBO documentary about Don Rickles, and hey, last week I saw your "Full House" cast-mate John Stamos sidestage when Rickles was on "The Late Late Show With Craig Ferguson". Obviously you have a lot of respect for these pioneers of comedy.
Bob Saget: Oh yeah, I was fortunate enough to be a part of a class of comedians that Rodney brought to HBO through a show that was filmed at his club. Sam Kinison, myself, oh, and Rita Rudner who is performing right down the street [in Vegas]. And Don Rickles is still out there, never backing off, he's playing The Grove next month, you should see him. He's just been so supportive. Let me tell you this story, this is several years ago, I finished doing a gig and I get into a car with Stamos and we head over to Dean Martin's widow's place, to meet up with Rickles and his wife, and who else is there but Bob Newhart and his wife. Rickles and Newhart are best friends and they travel the world together and everything. So we sit there and hang out for the night with Rickles and Newhart, it was just incredible to be there with these guys, geniuses.
LAist: You're on this comedy tour this year but over the last several years you've had a lot of pokers in the fire, with just "Entourage", The Aristocrats, Farce of the Penguins which a friend of mine mistakenly rented for her kids, and "How I Met Your Mother" as just some of the stuff you have going on.
Bob Saget: "Pokers in the fire" is what I call it too. I've known some of the "Entourage" writers for years, even worked with them on a script before, and they had written the neighbor character to be pretty tame to start with but with some adjustments we made it edgier and that's what people got - it was a lot of fun. The story behind the penguin movie is just unbelievable by itself. I had this idea, kind of as a joke really, to just re-voiceover March of the Penguins and a friend of mine got me a meeting at Warner Brothers where I said, "I want to redo The March of the Penguins with me as the narrator instead of Morgan Freeman and it will be R-rated" and incredibly they called me back for a second meeting!! And at that meeting, of course, they said "This is a joke right?" So I decided to do it myself and just bought every piece of penguin stock footage out there, except for National Geographic which we couldn't get a hold of. And with "How I Met Your Mother" I've known Neil [Patrick Harris] since he was a kid, and so many other people on that show, since I've had that long network experience.
LAist: So how do you feel about your upcoming Anaheim show, bringing your Saget-unbound act to the West Coast and beyond in 2008?
Bob Saget: I love doing my shows in these old theaters like The Grove - they're just beautiful and I think they provide a great experience for the audience. These shows have been really great, and I feel so fortunate to be getting the reception that I have, which is overwhelmingly positive. To tell you the truth, I've never enjoyed performing more than I am right now and I thought that just wasn't possible. I do want to mention that I'll be back in LA next month, hosting a fundraiser that I've helping put together for a cause I actively support which is the Scleroderma Research Foundation. This year we got John Mayer to perform as a musical guest along with many others, so it's going to be a great show for a great cause [Wednesday, April 16th]. Thanks for doing this interview with me, you guys really know your comedy.
Bob Saget performs at The Grove of Anaheim on Saturday, March 8th. Doors @ 6:30pm, Show @ 7:30pm
Donald Trump was a fading TV presence when the WGA strike put a dent in network schedules.

Pickets are being held outside at movie and TV studios across the city

For some critics, this feels less like a momentous departure and more like a footnote.

Disneyland's famous "Fantasmic!" show came to a sudden end when its 45-foot animatronic dragon — Maleficent — burst into flames.

Leads Ali Wong and Steven Yeun issue a joint statement along with show creator Lee Sung Jin.

Every two years, Desert X presents site-specific outdoor installations throughout the Coachella Valley. Two Los Angeles artists have new work on display.