This is an archival story that predates current editorial management.
This archival content was written, edited, and published prior to LAist's acquisition by its current owner, Southern California Public Radio ("SCPR"). Content, such as language choice and subject matter, in archival articles therefore may not align with SCPR's current editorial standards. To learn more about those standards and why we make this distinction, please click here.
Steven Sater Speaks Out on Life after Spring Awakening
Before you read more...
Dear reader, we're asking you to help us keep local news available for all. Your financial support keeps our stories free to read, instead of hidden behind paywalls. We believe when reliable local reporting is widely available, the entire community benefits. Thank you for investing in your neighborhood.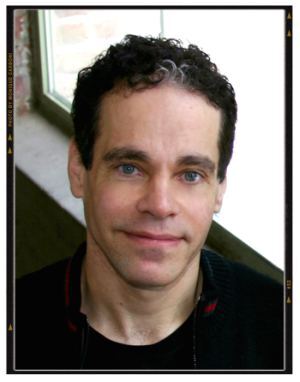 Steven Sater
by Stephanie Taylor for LAistPerhaps best known for his hit musical Spring Awakening, Steven Sater is an award-winning poet/lyricist/writer whose work spans stage, screen and the recording studio. A rock 'n roll remake of an 19th century German coming of-age story about teenage sexuality, Spring Awakening won a litany of awards including a Tony Award for Best Book and Best Score, the Drama Desk and Outer Critics' Circle Award for Best Lyrics, the 2008 Grammy Award for Best Musical Show Album and the 2010 Olivier Award for Best New Musical.
Sater's most recent stageplay, New York Animals, is currently running in a workshop production at L.A.'s very own Rogue Machine. With 21 characters played by four actors, the play follows its lively personalities through one very long day and night in Manhattan, revealing how even the most seemingly disconnected paths can cross. Sater spoke with LAist about the development process, choosing LA over New York, and what life feels like post Spring Awakening. Excerpts from the interview follow:
LAist: So what was your inspiration for New York Animals? Could you tell me a little bit about the development process?
Sater: I wanted to capture the heart and character and interconnected nature of all the solitary, anonymous individuals who are living in New York City and how we get caught up in one another's stories without even knowing what part of them. Ultimately, we are connected in some profound, great way. I grew up in the Midwest, and when I first moved to New York City, I was taken and caught up with life in the city and the world..….I worked on the show many years ago with a couple of scenes and then I started trying to create a journey, a place that is instinctive. I tried to create a different type of story and a different way to tell the story. It was optioned for TV, then adapted, but it had never been done. My neighbor Caroline Aaron was always asking me, "Can we get the play on?" I was busy with several movies, a number of new stage musicals and the play. She was part of a new theater company, the Rogue Machine, and she asked if we could just get it on its feet, see what we have. [Artistic director] John Flynn had a tremendous appreciation of where it fit in the heritage of dramatic theater. I was [initially] not at all involved in the production, I was too busy, but once they got it on its feet I was quite involved. It's been a tremendous experience because I've been able to do so much work… There is something about playwriting that is also sculptural, when you have the play in front of you with the people who are doing it. It's been a great playground.
Coming off the success of Spring Awakening, you could have chosen to work with a number of theaters. Why Rogue?
It really happened completely serendipitously through Caroline and because John had such an appreciation for the show. If we were going to be able to get the show on its feet, I wanted to do it in a low-key way. I didn't want to premiere in a big way, I wanted to do something a little off the radar. They have really honored their creed as a theater. They have always put me first as a writer in trying to serve the text and trying to put the text to life. I think John made some bold choices in the direction of the show.

How would you like to see New York Animals continue to evolve?
I'm continuing to work on it, to refine the structure I always had in my heart and mind…that is actually quit abstract and simple. This production has not gone down that road. I've learned from this how important it is for me to write that into the script and how important it is for me to be able to stage the show. It was talked about, and John is trying to include some of those elements, now it's a question of how long [the show] it will run. I just gave him a set of changes everyone is very excited about, and I think will strengthen it. Next week is probably a very good time to see the show.
You're coming off the heels of enormous success with Spring Awakening. Do you feel any artistic pressure to match its success? How do you respond to that pressure?
I think that in a very profound way my point of view about life has been altered by the success of Spring Awakening in that I think dreams can come true. I've always believed a pure cry from one heart will resonate in the hearts of others. Spring Awakening has proved that to be true, to trust my vision. I don't feel a tremendous pressure to succeed in the same way. Spring Awakening took so long over those years, [writing partner Duncan Sheik] Duncan and I were already developing musicals, workshopping another show then headed to Broadway. I don't feel, "Oh my God, what am I going to do next and how it will succeed?" I want to touch people, I want to continue to affect how people feel about themselves. Spring Awakening has been in 24 countries, and so many young people have told me what the play has meant to them and how it has given them the courage to go on. It has given me the opportunity to work with such amazing people. I have such, amazing creative people in my life. I don't feel the pressure. I guess I do feel I have to protect the work of mine that's seen, that I have to make it as a good as I can.
Any additional thoughts before we wrap up?
I'm really grateful to Rogue Machine for doing the show. It was my first experience with an equity-waiver theater, and I really have gotten a lot out of it in terms of working on the show. We got it on its feet, I was quite involved and able to really work on the show because it was a workshop. I'm also glad people can come see it. And for me, it's really nice to be able to do theater so close to home.
New York Animals is running as a workshop production Thursdays, Saturdays @ 8p.m., Sundays @ 3 p.m. through July 25. After July 25, Thursday - Saturday @ 8 p.m., Sunday at 3 p.m. through Aug. 8. Rogue Machine is located at 5041 Pico Blvd, LA. Tickets are $25.