This is an archival story that predates current editorial management.
This archival content was written, edited, and published prior to LAist's acquisition by its current owner, Southern California Public Radio ("SCPR"). Content, such as language choice and subject matter, in archival articles therefore may not align with SCPR's current editorial standards. To learn more about those standards and why we make this distinction, please click here.
Southern California Finally Gets Some Creepy Clown Sightings Of Its Own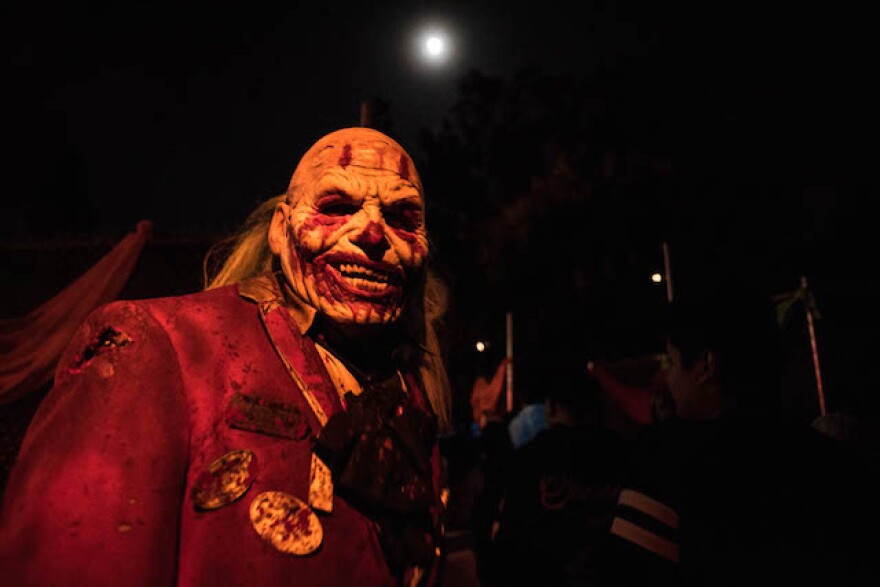 We need to hear from you.
Today, put a dollar value on the trustworthy reporting you rely on all year long. The local news you read here every day is crafted for you, but right now, we need your help to keep it going. In these uncertain times, your support is even more important. We can't hold those in power accountable and uplift voices from the community without your partnership. Thank you.

Finally, it is Southern California's turn to obsess about creepy clowns skulking around after dark. Numerous reports of roving packs of clowns have surfaced all over the United States lately. In fact, clown sightings have been so prevalent that Heavy did a state-by-state list of where a person might encounter one. Just the other day, a group of some 500 students at Penn State hit the streets to go clown hunting, and in Kentucky, they even arrested one.
But over here in sunny California, the only thing we've been worried about lately is earthquakes. We hadn't seen a lurking clown since 2014, when the Wasco Clown terrorized Kern County and later inspired a series of copycat clowns. The Wasco Clown turned out to be a husband-and-wife team doing an art project together, while the copycats revealed themselves to mostly be prankster teens. One of them was arrested on suspicion of annoying a minor after chasing a fellow teen around in his clown get-up.
However, it appears it is now our turn to engage in Coulrophobia 2016. Police in Lancaster are warning of a group of clowns, allegedly armed with cutlery. According to police, the clowns are an ensemble of unidentified men who have, at least three times, approached various pedestrians. None of the encounters resulted in a robbery or anything particular unpleasant, it would seem. Just your run-of-the-mill creepy clown sighting. What do you call a group of clowns anyhow? A herd? A murder? A posse, or is that only if they are insane? Apparently, sometimes you can call a gathering of clowns a clown alley.
Meanwhile in San Pedro, two clowns startled employees at the local elementary school on Tuesday at about 8 p.m.
"They didn't say nothing," employee Carolyn Ricks told ABC 7. "All you can see were the eyes, and they were just standing there like zombies, side-by-side, not saying nothing, no emotions, just standing there. …I didn't know what to do."
The clowns had a sign, witnesses said, but what it actually said was unclear. The clowns did not harm anyone.
Another clown was spotted up north in Modesto, just wandering about.
According to NBC Los Angeles, an Instagram account called @wearecomingtocali promises future clown sightings in L.A., Culver City, Pasadena, Compton and other cities. The page shows a mixture of both hellish clowns and various landmarks where those clowns would ostensibly be prowling.
This particular post states that the clowns will be at Carson High School in the near future.

Notably, some of those clown photos are actually borrowed from The Wasco Clown's late-night strolls two years ago.
There's also a Twitter account that apparently just tweets out alleged clown sightings. These are not vetted sightings, and therefore, one must assume that many if not all of them are fake.
Similarly, numerous videos on social media where adventurous clown hunters take to the streets and just happen to come across one are equally suspect.
According to The Guardian, the first clown sighting of 2016 occurred in Greenville, South Carolina over the summer. A little boy peered into the woods and spotted two clowns. He told his mother, Donna Arnold, they whispered to him, and she told reporter Matthew Teague that she suspected the clowns were attempting to lure her child into the woods. Entering the woods revealed an abandoned home, which apparently had been recently purchased by a non-clown woman who was fixing up the joint. When Teague returned to Arnold to tell her he believed the clowns were a hoax, she told him she saw a clown hit her car with a chain and showed him the dent.
Then Flomo Klown, a self-admitted killer clown, popped up on Facebook and began terrorizing Flomaton, Alabama. Floma Klown turned out to be a 22-year-old woman who was arrested on suspicion of making threats.
In the long history of clowns as a menace, few clowns have actually been a danger. There was, of course, Illinois serial killer John Wayne Gacy who, on occasion, moonlighted as Pogo the Clown at children's parties. And in 1990, a woman opened her door in Wellington, Florida to reveal a clown bearing flowers and balloons. The clown then pulled out a gun and fatally shot her. Though there have been suspects in the slaying, the case remains open to this day.
Yet real killer clowns are quite rare, at least compared to their fictional counterparts. There are dozens of clown antagonists in horror, like IT's Pennywise, the Killer Klowns from Outer Space, and American Horror Story's Twisty. (Technically, Pennywise is a demon spider from another dimension who merely presents as a clown, but I digress.) Clowns as evil is such a trope that you can't visit even one Halloween amusement park attraction without running into a cackling, red-nosed villain.
It is believed that clowns scare us not because they are inherently evil, but because we all watched IT as kids when it aired on basic cable, and because of a principle known as the uncanny valley. That basically means that we're uncomfortable when something is humanoid, but not human enough to seem genuine and not abstract enough to be cute. The same logic applies to wax figures, dolls and dummies.

(Image via Wikicommons)
Real clowns are apparently offended by the whole thing, with at least one of them saying he's been harassed. Jordan Jones, who works at a haunt in Maryland, said he and his fellow actors have been profiled as the woods-hiding type of clown when he's just an actor trying to make a buck this Halloween season.
"Everyone took this as a joke but it's really become serious now, and I just want all these teenagers to know that it's not a game anymore. You're ruining my job and other actors around the world," he complained to Fox 43.
In a move that is impossible to take seriously, he started a Facebook page called Clown Lives Matter.
But Yeoh is the first to publicly identify as Asian. We take a look at Oberon's complicated path in Hollywood.

His latest solo exhibition is titled "Flutterluster," showing at Los Angeles gallery Matter Studio. It features large works that incorporate what Huss describes as a "fluttering line" that he's been playing with ever since he was a child — going on 50 years.

It's set to open by mid-to-late February.

The new Orange County Museum of Art opens its doors to the public on Oct. 8.

Cosplayers will be holding court once again and taking photos with onlookers at the con.

Littlefeather recalls an "incensed" John Wayne having to be restrained from assaulting her and being threatened with arrest if she read the long speech Brando sent with her.