This is an archival story that predates current editorial management.
This archival content was written, edited, and published prior to LAist's acquisition by its current owner, Southern California Public Radio ("SCPR"). Content, such as language choice and subject matter, in archival articles therefore may not align with SCPR's current editorial standards. To learn more about those standards and why we make this distinction, please click here.
Silver Lake Band YACHT Sell Their Sex Tape Online After It Leaks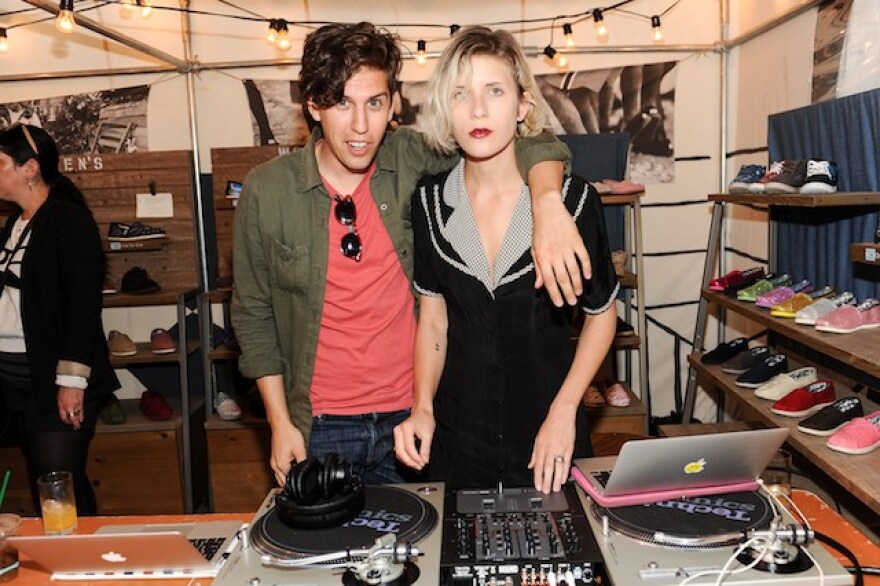 Support your source for local news!
The local news you read here every day is crafted for you, but right now, we need your help to keep it going. In these uncertain times, your support is even more important. Today, put a dollar value on the trustworthy reporting you rely on all year long. We can't hold those in power accountable and uplift voices from the community without your partnership. Thank you.

Silver Lake band YACHT have decided to take matters into their own hands after their sex tape was leaked online.Jona Bechtolt and Claire L. Evans, who make up the primary members of YACHT and have been "romantic and artistic partners since 2006," made the announcement in a Facebook post on Monday, writing:
[T]oday, due to a series of technological missteps and one morally abject person, a video that we made privately has been released to the public. We have commenced legal proceedings against the aforementioned person, but now that it could potentially circulate, we feel like it's important for you to know what happened and why.
Bechtolt and Evans added they were "in an awkward situation where the art that we made for us and us alone is being viewed by anyone who has the inclination to hit play—a true and humiliating blurring of the public and private," and asked fans to not watch the video and participating in this "exploitation."Their tone changed a few hours later when in a comment on the original Facebook post, the band said they would be selling their sex tape online, writing, "We're not as savvy as the Kardashians, but something occurred to us this morning: we could try and distribute the video directly to you ourselves."
The two said the move was an attempt to be "as YACHT as possible" and take ownership of the situation. (The tech-savvy duo are also the creators of the 5 Every Day app.) If you are so inclined, you can head over to the site put together by the band for the legal sale of the tape at the cheekly URL fuck.teamyacht.com.
For just $5, you can download the video, which they warn may contain content "uncommon to some, and possibly off-putting." If you feel bad about all this, they assure you, "That's okay—we're not here to judge."
Of course, for journalistic purposes I decided to purchase the tape (I'm sure my boss will expense it) but was left dismayed when this was the page the purchase took me to:

Come ON guys.
Furthermore, I have yet to receive a confirmation email that any purchase was made or one that provided a link to download the video. Even more puzzling, I don't see a $5 charge on my card for the purchase. Did I just enter my credit card info into the void? That's comforting.
So does this tape exist? That remains to be seen, but it has a few early fans:
[h/t: Pitchfork]
Donald Trump was a fading TV presence when the WGA strike put a dent in network schedules.

Pickets are being held outside at movie and TV studios across the city

For some critics, this feels less like a momentous departure and more like a footnote.

Disneyland's famous "Fantasmic!" show came to a sudden end when its 45-foot animatronic dragon — Maleficent — burst into flames.

Leads Ali Wong and Steven Yeun issue a joint statement along with show creator Lee Sung Jin.

Every two years, Desert X presents site-specific outdoor installations throughout the Coachella Valley. Two Los Angeles artists have new work on display.