This is an archival story that predates current editorial management.
This archival content was written, edited, and published prior to LAist's acquisition by its current owner, Southern California Public Radio ("SCPR"). Content, such as language choice and subject matter, in archival articles therefore may not align with SCPR's current editorial standards. To learn more about those standards and why we make this distinction, please click here.
Panty Lines and Sunny Pop: Let's Independent @ Boardner's, 6/26/07
Support your source for local news!
Today, put a dollar value on the trustworthy reporting you rely on all year long. The local news you read here every day is crafted for you, but right now, we need your help to keep it going. In these uncertain times, your support is even more important. We can't hold those in power accountable and uplift voices from the community without your partnership. Thank you.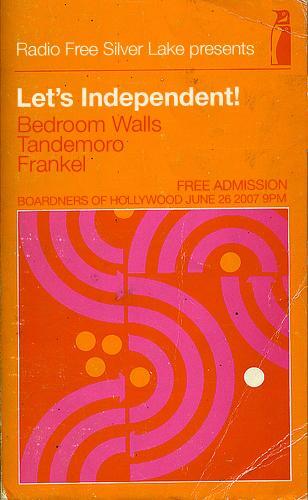 Joe Fielder's three ring indie-circus took to Boardner's last night for the monthly Radio Free Silverlake event, "Let's Independent." With an entry price of FREE, the place was packed. Outdoor, under the tent by candelabra light, Bonnie and Clyde played silently on the giant screen and LAist henchmen lurked and lingered, collecting the vital details and the choicest informations as they pertain to the music and the masses. Also, we brought a flask of Nicaraguan rum.
Frankel. Only saw the end of their echoing and vibey sad-sounding set. Musically, it was lovely and on key. Vocally, it was a little suspect. But I think that was on purpose. Either way, there was something Julee Cruise about it (see: echoing and vibey).
Tandemoro. A Loggins-esque looking lead singer with a Ben Folds voice-crush bopped around the stage just a few tokes shy of being jammy. Belting funny and corny lyrics, he did an impressive shoulder-shrugging fertility dance in time with a clever foot-sliding maneuver. Led around by the confident and commanding bass stylings of Bill Watterson, the band felt anchored, not overpowered. Add in some bloopy sound effects and digital scratching and you have a modern little sunny-pop party. Their song about electric stairs was my favorite.
Bedroom Walls. Despite a screaming intro by someone who wasn't Octavius, this band (having clearly just eaten a rhubarb-quaalude pie) took the stage quietly and played an equally subdued set with an odd, round-robin, musical-chairs stage show. They all looked a little uncomfortable and somewhat unsure as to how they got to there. Adam Goldman's (tight white suit and slim fit ladies undies aside) incongruous arena-rock moves seemed wholly ill-matched for this type of dreamy romanticore minimalism. I mean, the band features a prominent xylophone, for twinkies' sake! And speaking of the lovely lass, she wins most interesting to watch in the band. However her Britta-like croons seem deflated of gloss and feeling. Even coy and affected shows personality. Do you need hugs? Based on the rave reviews on their myspace page it's safe to say their studio efforts convey a very different feeling than their live show. Noted.
The evening's thank yous go out to Brooke for the space pen (it writes upside down, underwater, and on my hand), Leslie for the "microfiche" memory stick and Sarah for the unabashed autograph aggregation.
Evidence of shenanigans after the jump...
But Yeoh is the first to publicly identify as Asian. We take a look at Oberon's complicated path in Hollywood.

His latest solo exhibition is titled "Flutterluster," showing at Los Angeles gallery Matter Studio. It features large works that incorporate what Huss describes as a "fluttering line" that he's been playing with ever since he was a child — going on 50 years.

It's set to open by mid-to-late February.

The new Orange County Museum of Art opens its doors to the public on Oct. 8.

Cosplayers will be holding court once again and taking photos with onlookers at the con.

Littlefeather recalls an "incensed" John Wayne having to be restrained from assaulting her and being threatened with arrest if she read the long speech Brando sent with her.