This is an archival story that predates current editorial management.
This archival content was written, edited, and published prior to LAist's acquisition by its current owner, Southern California Public Radio ("SCPR"). Content, such as language choice and subject matter, in archival articles therefore may not align with SCPR's current editorial standards. To learn more about those standards and why we make this distinction, please click here.
Photo Essay: CA Boom V
Stories like these are only possible with your help!
You have the power to keep local news strong for the coming months. Your financial support today keeps our reporters ready to meet the needs of our city. Thank you for investing in your community.
Chillaxing at CA BOOM V | All Photos & Captions by Caroline On Crack and Zach Behrens for LAist
This past weekend was CA Boom V, a West Coast design show that gathered some of the best of the best design and architecture from the United States. Whether it was non-traditional, modern or contemporary, it was there at the Barker Hangar in Santa Monica. Curbed LA was there doing architecture tours and below is some of the exciting design items found.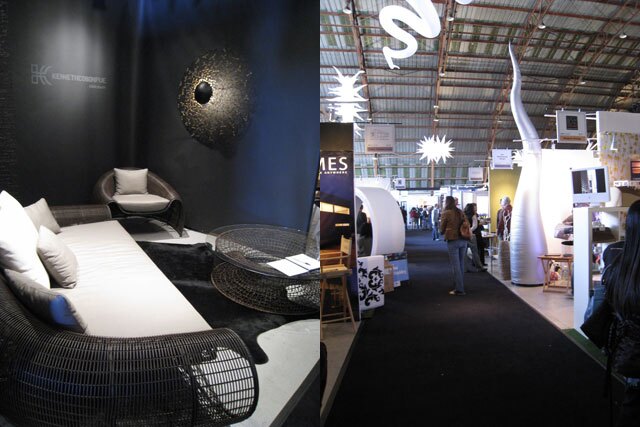 Who is this man and why should you know who he is? He is Julius Shulman, most well known for his famous 1960 photo of the Case Study House #22 with Los Angeles below
Harveys at seatbeltbags.com is a Santa Ana based company. While they focus on bags at the moment, this chair prototype will be available in March 2009, selling for $1200. No specific carmaker is favored in the seatbelt production line.
CA Boom V is so hip, it had its own soundtrack
Futuristic 1960s egg shell baby chairs from Bloom Baby
Also from Bloom Baby, baby rocking chairs
Icarus lamp and butterflies from Plushpod on 3rd Street
The outdoor patio eating, chilling, wine cocktail drinking area
Shelf from Ku Ambiance in West Hollywood
$1000 skateboards from Italian woodmakers, Bottega Montana
From Clay & Wood, a wife and husband team off of La Tuna Canyon in the Valley
From Not Neutral on Larchmont, the Los Angeles plate costs $50 and comes in a collection of four out of three.
By Long Beach based artist, David Gilmore
Some doghouse greenrrroofs from Sustainable Pet Design based in Ventura County
2nd Shadow Lamp by
, $195
So pretty, here it is again from
Of Van Nuys,
Infinity Rings
Rug made of recycled bike tire tubes ($1,199) from Plushpod. Could be used for sound insulation, children's play room, or to butch up a guy's room.
Eames chair
It's the Fanny Pack, but updated from Silent Revolution. It's called the Ammo Bag ($78)
Special thanks to Caroline on Crack for photos, lounging and editing!