This is an archival story that predates current editorial management.
This archival content was written, edited, and published prior to LAist's acquisition by its current owner, Southern California Public Radio ("SCPR"). Content, such as language choice and subject matter, in archival articles therefore may not align with SCPR's current editorial standards. To learn more about those standards and why we make this distinction, please click here.
Pencil This In: The Polyphonic Spree in Concert, It's a School Night at the Roosevelt and NerdMelt's BEATdown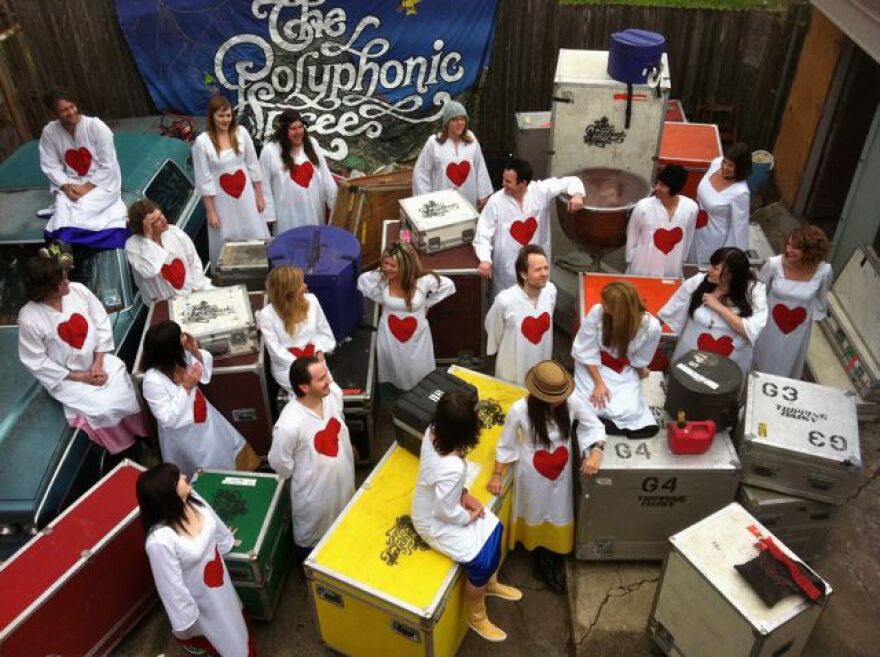 Before you read more...
Dear reader, we're asking you to help us keep local news available for all. Your financial support keeps our stories free to read, instead of hidden behind paywalls. We believe when reliable local reporting is widely available, the entire community benefits. Thank you for investing in your neighborhood.
It's a little quiet tonight on the event front in LA, but we found three things worth checking out. It's a School Night takes over the Hollywood Roosevelt (not Bardot) with live music and DJ sets; the Polyphonic Spree plays the El Rey; and NerdMelt presents another installation of the comedy-meets-rap show, the BEATdown. Read on for all the details.
FILM
What a great cure for a case of the Mondays. The 21-member Polyphonic Spree takes over the El Rey Theatre en masse tonight. Led by Tim DeLaughter and Julie Doyle, the Spree's touring for the first time in more than four years to promote their new orchestral/choral/happy music. Opening is the New Fumes, headed by Daniel Huffman, former Polyphonic Spree touring guitarist. Doors at 8 pm. All ages. Tickets: $20.
BEATDOWN
Tonight at 8 pm, NerdMelt hosts another episode of The BEATdown. Comedian Eliza Skinner and beatboxer Joshua Silverstein host five comics and one audience volunteer in a six-round battle of freestyle rap battles decided by the audience. Think of Eminem in 8 mile with a sense of humor. $8 in advance, $10 at the door.
MUSIC
It's a School Night moves to a new venue tonight for one night only. Live acts and DJ sets happen poolside at the Hollywood Roosevelt Hotel, starting tonight at 9 pm. Performing live tonight are US Royalty, Nick Waterhouse and Leila Broussard with a special Drake Doremus DJ set to end the night. Free with RSVP for those 21+; $10 for 18+ with RSVP. 9 pm.
BOOK
Tonight at 7 pm, Book Soup welcomes author William Dear who'll discuss and sign his book, O.J. is Innocent and I Can Prove It: The Shocking Truth about the Murders of Nicole Simpson and Ron Goldman. Though Simpson was found guilty in the court of public opinion, Dear, a private investigator, says he has more than 16 years of investigation and evidence that proves O.J. was not the killer. He makes the "controversial but compelling case that it was, in fact, the 'overlooked suspect,' O. J.'s eldest son Jason, who committed the grisly murders."
*Pencil pick of the day
Want more events? Follow me on Twitter (@christineziemba). Or follow Lauren Lloyd—who takes care of Pencil on Wednesdays (@LadyyyLloyd).