On TV Tonight: First Lady Challenges Iron Chefs in Season Premiere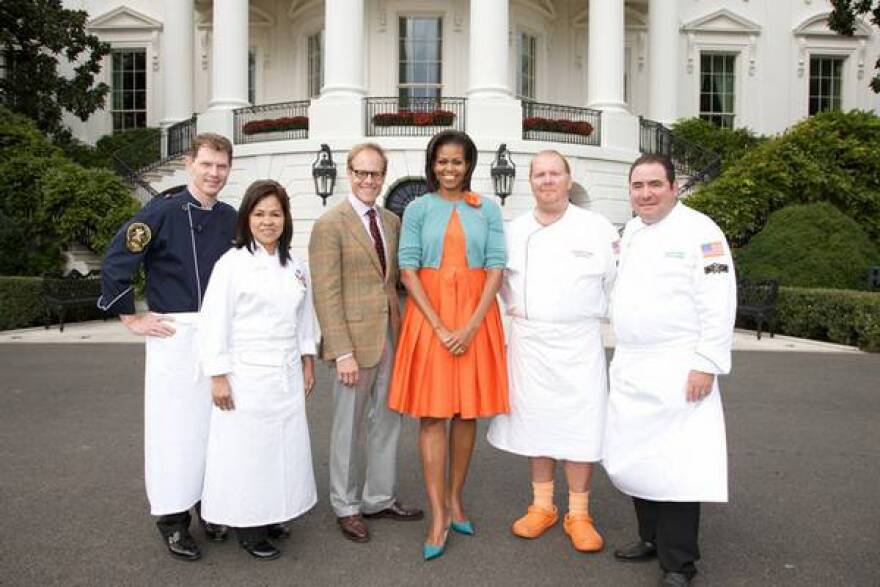 LAist relies on your reader support, not paywalls.
Freely accessible local news is vital. Please power our reporters and help keep us independent with a donation today.
Tonight the Food Network's Iron Chef America's season premiere is a 2-hour episode with some very special guests, and it's a show we've been looking forward to for some time now. Facing off in Kitchen Stadium will be White House executive chef Cristeta Comerford and Bobby Flay versus Mario Batali and Emeril Lagasse, as the two teams try to take on the heat while using the unique secret ingredient. While usually the item or category is somewhat of a surprise to participants and viewers, tonight we know already that it's First Lady Michelle Obama who will assign the chefs the task of working with anything grown in the White House garden.
Mrs. Obama is making this appearance as part of her campaign to make kids healthier from school lunches to gardens and beyond. Here in Los Angeles, where our climate is favorable for some pretty amazing year-round growing, and where our kids can use all the help we can give them to be healthy, tonight's ICA episode is a lesson we can all benefit from--and enjoy watching. If you want to geek out, you can watch as Air America liveblogs the episode, or keep tabs on the issue via Twitter; we suggest: @Obamafoodorama and @thewhofarm.