This is an archival story that predates current editorial management.
This archival content was written, edited, and published prior to LAist's acquisition by its current owner, Southern California Public Radio ("SCPR"). Content, such as language choice and subject matter, in archival articles therefore may not align with SCPR's current editorial standards. To learn more about those standards and why we make this distinction, please click here.
Interview with Youth Group - Aussie Rockers Discuss Aliens, Laser Skirmish, and Their New Album
Support your source for local news!
Today, put a dollar value on the trustworthy reporting you rely on all year long. The local news you read here every day is crafted for you, but right now, we need your help to keep it going. In these uncertain times, your support is even more important. We can't hold those in power accountable and uplift voices from the community without your partnership. Thank you.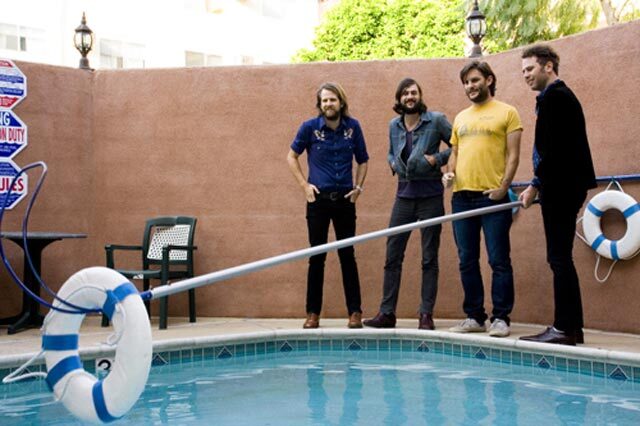 Photos by Benjamin Hoste /LAist
Let it never be said that Youth Group are sissies. After enduring a fourteen hour flight from Sydney to LA, through untold horrors otherwise known as "customs" and "baggage claim," the Australian band still managed to put up with my meeting them at the Custom Inn Suites in Hollywood for our interview. If our places were reversed, I would have been a howling, drooling grump, refusing to talk to anyone as I crawled back to my room to sleep off the jet lag. But lo, Youth Group were bright and cheerful; a little slap-happy perhaps, but more than game for a stop at the Starbucks at the corner of Franklin and Highland to talk music. Bless them.
Youth Group has been a hit in their native Australia since forming back in the late 90s, but it wasn't until their second album, Skeleton Jar, hit the States in 2004 that they began to register stateside. Often compared to Brit bands the Doves and Coldplay, Youth Group has a mournful, almost ethereal sound that tends to tug on the listeners heart strings (which is why its used in so many silly teen dramas like the O.C. and Gossip Girl. Not that I watch those shows. Cough.) Their lyrics often pour forth an honest sense of whimsy which is rare from most acts today, who are usually more dedicated to being "real." With songs like Shadowlands, Skeleton Jar, and Babies Dreams, Youth Group are comfortable with exploring the unknown realms of their imaginations. Their new album The Night Is Ours is due to be released on April 7th, but for those of you who are impatient, Youth Group will be showcasing some of it at the Spaceland tonight.

Do aliens exist?
Toby: I haven't seen any.
So are you ruling it out?
Toby: No.
Cameron: There are probably aliens, but they just call themselves something else.
Patrick: I worked for Cameron's friend making sandwiches with a girl named Cindy. She constantly brings up this story about how she saw aliens in London when she was 21.
How did she know it was an alien?
Cameron: It was kicked out of the country the next week. It's visa had expired.
Toby: Today when we got to LAX, we noticed that the sign at customs for aliens had now been changed to say visitors. It's a lot friendlier.
Cameron: It's nice. It's a friendly way of saying, "We're glad you're here, but you're going back!"
Patrick: (laughs) Yeah, I believe in visitors, not aliens.

What made you pick up instruments?
Patrick: I learned the guitar by figuring out John Lennon'sHappy Christmas (The War Is Over.).
Danny: I'm a drummer, so I'm not really a musician. I was just always tapping on stuff and it just evolved. They just said, "Hey tap on this while we're playing."
Toby: My dad had a Bob Dylan songbook, and you know the song The Ballad of Hollis Brown that only has one chord? I learned on that. We had a book of all of his greatest hits and I learned to play them all. It was pretty easy.
Patrick: I bet if you tried to do it now, it would be so hard. When you're fourteen it's so easy to do things like that.
Toby: Certainly, I've never tried to do anything self-taught of that magnitude since.
What's your writing process like?
Patrick: We're controlled by aliens. (laughs.)
Toby: We're getting more collaborative as the band gets older.

So what were you before?
Toby: Well...
Patrick: Toby writes most of the songs.
Toby: There are some songs that Cameron started. He wrote the music part, and I wrote the lyrics for. But it started off as my songs. I had this idea about how they should be played in my head.
So The Night is Ours is being released in the States in April, that's got to be very exciting.
Toby: I suppose local releases are becoming less and less relevant.
Patrick: Did you download it?


What? Um, I was given it.
Patrick: I am all for downloading.
Toby: This guy, you should have heard him last month. He was going to download an album a day for the whole year.

Really? What is the best thing you've heard so far this year?
Patrick: Yeah, I'm running behind. There's this Scott Walker thing that I listen to over and over. Oh and also there's this band called the Hercules and Love Affair. Although I'm sure I can't listen to that forever, but I quite like it.
Toby: I have this idea for illegal downloading. I would have it set up so that every time you download a song you could see the budget of the record being taken away. You could actually see the point where the artists can no longer afford to record.
Cameron: It could also be a photo of a band starting off really happy and then getting sadder and sadder as more people download their album.

What's the weirdest thing about touring in America?
Cameron: The soy milk is really sweet over here.
Patrick: Every time you go to a bar, the bartender has loads and loads of tattoos. Everywhere you go, at rock band venues, they are just covered in tattoos. It's really really strange.
It's a requirement over here. They won't hire you otherwise. You gotta look tough.
Toby: It's America. What's wrong with you? Of course there are tattoos.
Danny: In Australia if someone has heaps and heaps of tattoos it either means that they're into really American music or they've been in jail or something. But I want to come back to the "What is weird about America?" question because I feel like there must be more.
Patrick: Like Texas or Houston, Galveston, I couldn't believe how much it stinks there. I can't believe people live there. It's inhabitable.
Toby: Or Buffalo!
Patrick: Oh yeah, Buffalo. Buffalo is weird. The whole place is weird.

In your new single, All This Will Pass there is a lyric that says "He's not a saint. He's just a man." Who are you talking about specifically? Is it a general "he" or is it more specific?
Toby: Well, it's not capital H He that's for sure.

Oh that hadn't even occurred to me.
Toby: That song is from the point of view of a girl, but I guess that line is her trying to explain the situation she's in to herself. So she's trying to justify his behavior.



Is it hard to write from a female perspective?
Toby: I've been told that I do it a lot. I haven't really noticed writing more songs from the female perspective than the male.
Danny: He watches the movie What Women Want all the time and takes notes.

What's the worst job you've ever had?
Danny: My cousin owns a bowling alley, and I've been dabbling in it recently. Some weird things happen during Laser Skirmish. Do you have Laser Skirmish in America?
You mean Laser Tag?
Danny: Yeah, yeah. I did it once for this corporate group. One guy came out and said, "Yeah, that was pretty good, pretty good, but not as good as the real thing." And I was like, "Oh I've never done paintball before," and he answered, "No, the real thing." (laughs) I just backed away from him and said something like, "You just put your pack over there and I'll take care of the rest of your stuff. It's cool."
Toby: The worst job I ever had was selling computers at lunch time at my university. It didn't last very long. I was supposed to sit down next to people and go, "Hey, you like compact computers? They're really good." It lasted one lunch time. It was very cheapening. You know the last song on the record is about shit jobs. Is that why you're asking?

Yeah.
Toby: Oh no, have I stolen your next question?
Uh, no. I didn't like that one anyway. If you could change one thing about the music industry what would it be?
Patrick: I heard on the radio that someone was trying to change the pay rate on the radio from the publishers to the performers.
Danny: Who's doing that?
Patrick: I think it's Billy Corgan. It's someone like that. It would have been nice to have been paid for our cover of Forever Young.

You didn't get paid for that? Does all the money go to Alphaville?
Patrick: Of course, it's their song. We didn't see any money from that song.
What's the weirdest thing you ever saw on stage?
Patrick: One of the weirdest things I've ever seen on stage was when we were in Kalgoorlie, which is a desert town in western Australia, and this girl came up on stage and put her arms around Toby. She was sort of singing or whatever, but then she put her hands between his legs.
Toby: Cheers. Yeah, she groped me.
Danny: He was sexually assaulted on stage.
What did you do?
Toby: What can you do? I just kinda went, "Waa? Hey!" and jumped to the side.
Danny: He took his top off.
What album can you not live without?
Toby: I've been listening to the Fall lately. They've got this greatest hits album, 50,000 Fall Fans Can't Be Wrong. It really gets me going in the morning. I've also been listening to the Fleet Foxes' album as well.
Patrick: The Ruby Suns, not their first album but the one after. It makes me feel a certain feeling. (laughs) It makes me feel happy.
So what's up next for you guys?
Patrick: We're actually going to be in the States for the next three months. We're going to New York and Boston for a little bit, but then we'll be back here to play a few shows in May.
Well thank you very much for talking to us.
Thank you!
Youth Group will be playing at Spaceland tonight with Nico Stai, Red Riders, and Josh Pyke. It's FREE! You really have no excuse not to go.
But Yeoh is the first to publicly identify as Asian. We take a look at Oberon's complicated path in Hollywood.

His latest solo exhibition is titled "Flutterluster," showing at Los Angeles gallery Matter Studio. It features large works that incorporate what Huss describes as a "fluttering line" that he's been playing with ever since he was a child — going on 50 years.

It's set to open by mid-to-late February.

The new Orange County Museum of Art opens its doors to the public on Oct. 8.

Cosplayers will be holding court once again and taking photos with onlookers at the con.

Littlefeather recalls an "incensed" John Wayne having to be restrained from assaulting her and being threatened with arrest if she read the long speech Brando sent with her.