This is an archival story that predates current editorial management.
This archival content was written, edited, and published prior to LAist's acquisition by its current owner, Southern California Public Radio ("SCPR"). Content, such as language choice and subject matter, in archival articles therefore may not align with SCPR's current editorial standards. To learn more about those standards and why we make this distinction, please click here.
Photos: Seven Gorgeous Historic Theaters Opened For One Night In DTLA
Before you read more...
Dear reader, we're asking you to help us keep local news available for all. Your tax-deductible financial support keeps our stories free to read, instead of hidden behind paywalls. We believe when reliable local reporting is widely available, the entire community benefits. Thank you for investing in your neighborhood.
Unique to Los Angeles is its Broadway District. Twelve beautiful, historic theaters exist in along six blocks of Broadway, each with its own unique story and design. Though the blocks have changed much over the years, the theaters have remained, making this the biggest theatre district on the National Register of Historic Places. All opened between 1910 and 1931, and several have been restored and entertain patrons today while others are typically not open to the public. On Saturday night, the district hosted Night on Broadway, a seven-year anniversary celebration for the Bringing Back Broadway initiative led by Councilman José Huizar. In addition to street performances and activities, seven theaters opened their doors and invited the public in to see a show and take a peek. Here's a look at their architecture and some insight into their history.

(Photo by Mike Hume via the LAist Featured Photos pool on Flickr)
Million Dollar Theatre
Million Dollar Theater is at 307 S. Broadway. This theater opened in 1918 and was built by Sid Grumman, who would go on to build both the Egyptian Theatre and Chinese Theatre in Hollywood. Million Dollar would cater predominantly to show in Spanish-language films, especially in the '70s and '80s when Gonzalo L. Checa, who worked with the Metropolitan Theatre Corporation, began booking stage shows featuring prominent Mexican and Latin celebrities. In later years, the theatre would serve as a church before shutting down in 2006. In 2008, it reopened and today, screens the occasional film.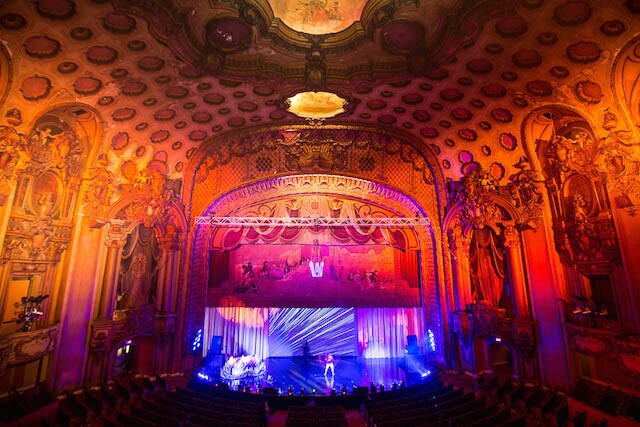 The Los Angeles Theatre (Photo by Tod Seelie/LAist)

The lobby of the Los Angeles Theatre (Photo by Tod Seelie/LAist)

The L.A. Theatre is seriously lavish (Photo by Tod Seelie/LAist)
Los Angeles TheatreThe Los Angeles Theatre sits at 615 S. Broadway. It opened in 1931 and is notable for the lavish French baroque architecture, which can be seen inside. Funding for the theatre was aided by Charlie Chapin, who wanted to premiere his film City Lights there. It closed in 1994, though does work as a filming location for television and films. The lobby here, notably, has some impressive chandeliers.

Palace Theatre (Photo by Tod Seelie/LAist)
Palace Theatre
Palace Theatre at 630 S. Broadway was a vaudeville and movie theatre opened in 1911. This is the oldest of the Orpheum theaters in the U.S. The theatre was restored in 2012, and Weird Al filmed a parody video here last year.

Tower Theatre (Photo by Mike Hume via the LAist Featured Photos pool on Flickr)

Tower Theatre (Photo by Tod Seelie/LAist)
Tower TheatreTower Theatre is located at 802 S. Broadway and opened in 1927. This Baroque Revival theatre was designed by S. Charles Lee, who also designed the Los Angeles Theatre. Notably, this was the first theatre in L.A. that could play movies with sound and held the secret premiere for The Jazz Singer, a film famous for being one of the first features with dialogue, or a 'talkie.'

Orpheum Theatre (Photo by Mike Hume via the LAist Featured Photos pool on Flickr)
Orpheum TheatreOrpheum Theatre at 842 S. Broadway was the last Orpheum vaudeville theatre built in L.A., opening in 1926. It received a $3 million renovation in 1989, and is now a venue as well as a filming location.

The entrance to The Globe (Photo by Tod Seelie/LAist)

The Globe (Photo by Tod Seelie/LAist)
The Globe TheatreThe Globe opened in 1913. At one point in time it was called the Morosco Theatre, named after the theatre producer who built it, Oliver Morosco. It closed in the '80s, but the auditorium was eventually used as a nightclub after the theatre floor was leveled. The theatre then closed again for renovations in 2011. Their historic marquee was relit in June 2014. Their grand reopening, according to Bringing Back Broadway, is 'soon.'

The Theatre At The Ace Hotel (Photo by Tod Seelie/LAist)
The Theatre At The Ace HotelThe Theatre at the Ace Hotel, formerly known as the United Artists Theater, was built for the United Artists film studio in 1927. The theatre was restored along with the rest of the building, opening as the Ace Hotel in January 2014. In addition to the theatre, the hotel has a restaurant and numerous bars, including one rooftop pool bar that overlooks downtown Los Angeles, making it a prime spot for a night out. (See some vintage photos of the theatre here.)